BRAWLEY — Two Imperial Valley distance runners — Arcy Selk and Curtis McLaurin — have logged speeds fast enough to blaze a trail down to the 2021 Boston Marathon taking place Monday, Oct. 11.    
Runners must win a qualifying race to compete in the Boston Marathon. A qualifying race is normally a marathon before the Boston Marathon. There are different times for different age groups and what is special about this time is that it's the only Boston Marathon ever run in October. 
Seven minutes were taken off qualifying times this year, so Selk and McLaurin had to log even faster times to qualify. 
Selk and McLaurin marked their qualifying times at the Saturday, Jan. 30, Yuma Marathon. McLaurin placed seventh overall at 3:04 and change, while Selk won her division at just over three hours.
The official results for Yuma Marathon times were released in the summer, then submission for the Boston Marathon applications opened based on time. Next, the process required official time and identity verification. After a three-day wait, confirmation letters and emails were sent out to notify all qualifiers. 
Anyone from around the world can apply, but only an allotted number of runners were designated to each age category. Two percent of applicants were accepted for each age group. To get in means that you are competing against runners from around the world in your age group.
This is McLaurin's third Boston Marathon and Selk's first. 
As per participants, there are 20,000 runners overall which equates to roughly 150,000-200,000 who put in to run the Boston Marathon.    
"Since I've ran it before, I just want to finish it," said McLaurin. "I don't have a particular goal. This is my grand finale and last marathon. I just want to finish the race healthy. That is the main goal this time."   
Selk has been running for six years. "I just want to finish (the Marathon)," she said. 
This will be Selk's 10th marathon, running everywhere from Washington state, Oregon, and Nevada to New Mexico.
"I would run 5K then jumped to 100 miles, then worked back down to half-marathon, then full marathon," said Selk. "(After the first marathon), I noticed that training makes you stronger. It's not just about being fast. You also have to have strong legs."
Selk specializes in ultra-marathons, which are races that exceed 42.2 km as opposed to marathons which top out at 42.195.  
"Since I prefer ultra-marathons, I wasn't really interested in the Boston Marathon until coach Curtis suggested that we should go for it," said Selk. "He trained me for three months. Coach Curtis taught me that I had to do different routines like uphill and tempo."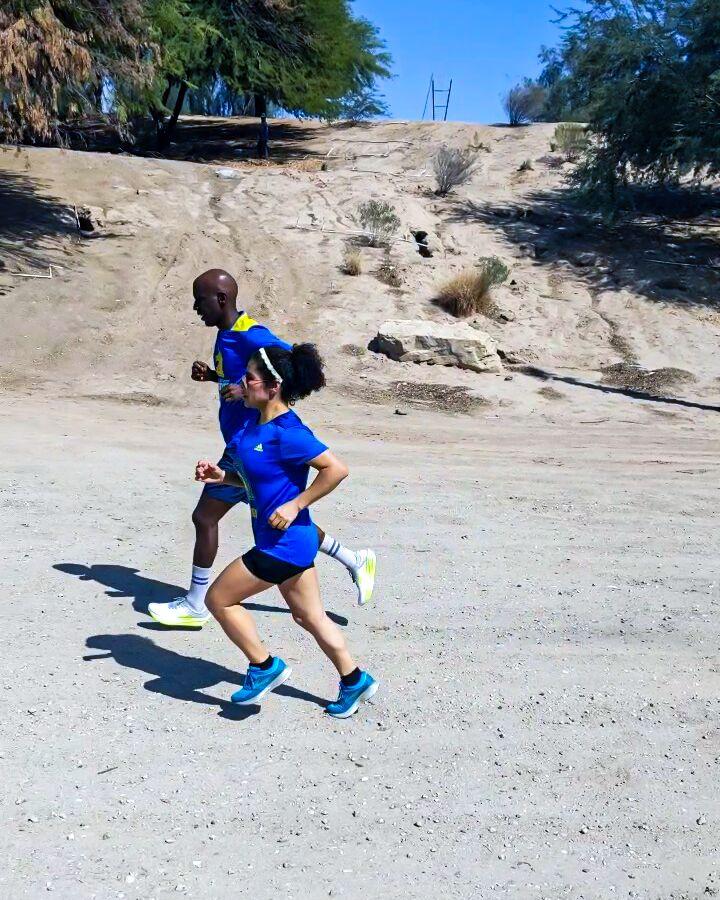 McLaurin has been running since he was 12 at different distances. 
"I run for fun, for therapy as a lot of us runners do," said McLaurin. "As you get slower, you just run farther. That's the goal for distance runners. We're fast at shorter parts, and we get better as we grow. Running is definitely a technique sport. Learning technique helps the runner become even stronger as they grow."
The Boston Marathon course has different terrains and is challenging. 
The Marathon actually starts in Hopkinton, Massachusetts and runs into Boston. 
As per runners, through the course, the first part is a low-grade downhill which gets flat for a little while before they hit rolling hills. At mile 20, the course traverses 'heartbreak-hill' at which point the runners run up other hills then a downhill ensues into the main city of Boston for the finish line. 
"The main challenge is being there with people, for the first time, that everybody is the same," said McLaurin. "There are many obstacles that we face as Valley runners, but we represent the Valley so that's what our life is about. Everybody out here in the Valley faces challenges that nobody could truly understand."
Selk and McLaurin can be tracked online during the race at baa.org which begins Monday, Oct. 11 at 6 p.m.