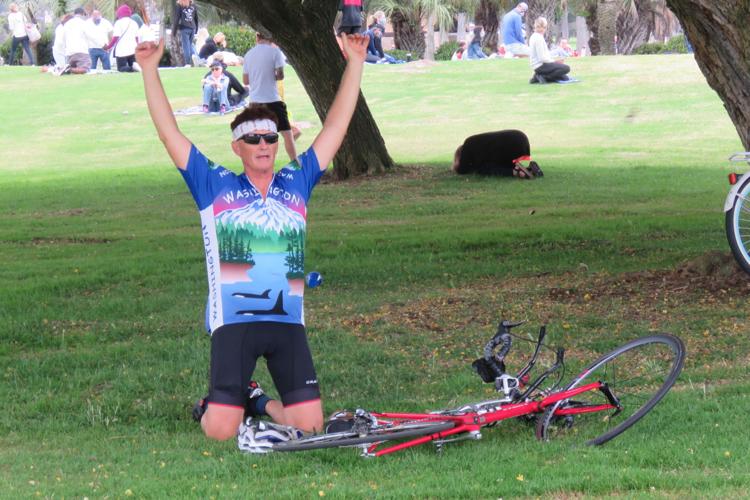 San Diego — One hundred thirty-five churches participated in We Pray San Diego Saturday, June 20, from 9 a.m. to 10 a.m. Thousands of people, surpassing the official registered count, lined the streets of eleven different San Diego locations to pray for healing for the City, families, and the Country.
Organized by Pastor Miles McPherson of The Rock Church in San Diego, but brought to life by many more, the one-hour event showed people of all colors joining together peacefully for a shared belief that their Creator would listen to His people if they called out to Him. 
"The fallout from COVID-19 is tearing our country apart," McPherson said. "Death, illness, bankruptcy, suicide and the division of racism is tearing us apart, and that's why we believe the only answer is to pray. We will pray out to the Father on this Father's Day weekend."
Hundreds wore masks and practiced social distancing. All became quiet and reverent at 9 a.m. sharp. Some stood, some kneeled, some bent clear to the ground, and others held hands high, praying either silently, or quietly. A few men prayed aloud in Chinese. It was misty just prior to start time.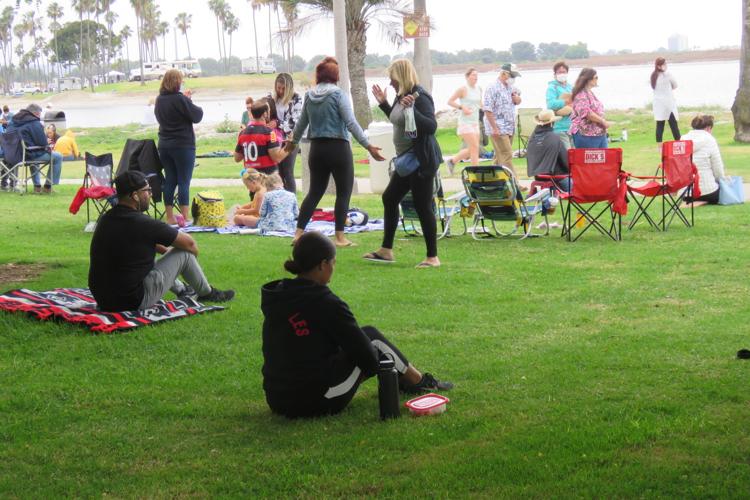 The Rock Church provided links to online audio guides for the downtown livestream in Spanish and in English. Prayer guides in Spanish and English could be followed online or printed ahead of time. There also was a link to instrumental music to listen to while praying. There was a multi-page Bible story to print out for children to color.
The guides suggested beginning with admiring God by quoting Psalms 29:9: "Give unto the LORD the glory due His name; worship the LORD in the beauty of holiness." The guide suggested spending two minutes thanking God for all He has done for them personally, then two minutes just admiring God for who He is and how good He is. 
Next was the admonition to wait on God.
Lamentations 3:25-26 was read, "The LORD is good to those who wait for Him, to the soul who seeks Him. It is good that one should hope and wait quietly for the salvation of the LORD." All were asked to just wait and listen to God for two minutes.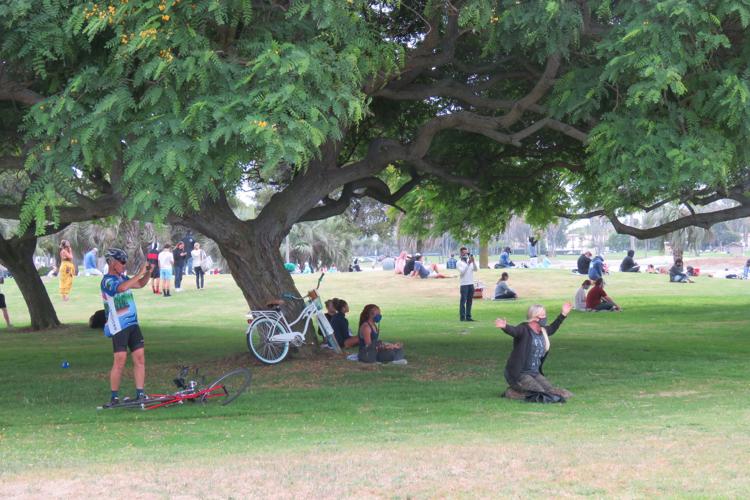 James 5:16 was read, "Confess your trespasses to one another, and pray for one another, that you may be healed, the effective, fervent prayer of a righteous man avails much." 
Confession followed with two minutes on habitual and intentional sin, unintentional sin, unforgiveness, bitterness, and admission of any wrongful judgment, or racism.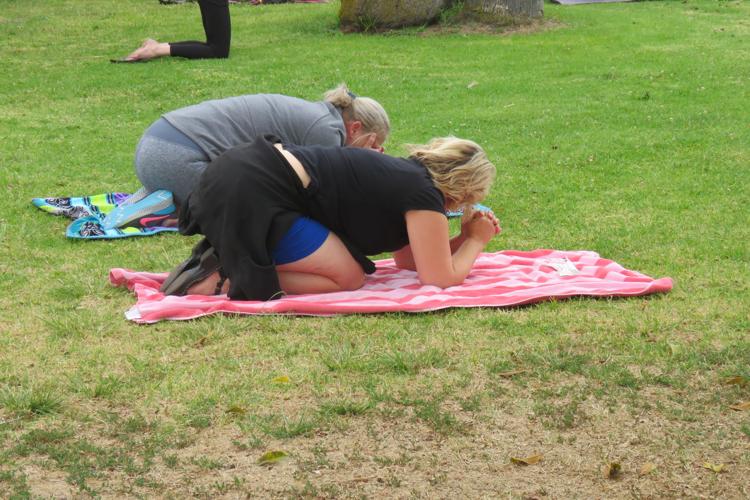 Intercession guided by Ephesians 6:18 followed for hospital workers, COVID patients, law enforcement and black individuals, families, and church leaders.
Online, maps were provided to prayer locations outside San Diego in San Marcos, Oceanside, Chula Vista, and Spring Valley. The remaining seven sites were in San Diego.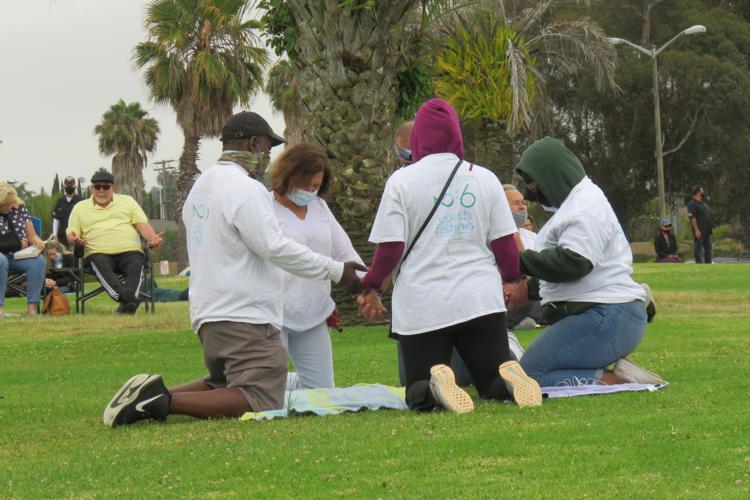 #Wepraysandiego pic.twitter.com/ppW3FoNYYM

— John Neill (@johneneill) June 22, 2020
https://t.co/NbEbe4x3WT Asked us to do a 30 second video for the event. Thank you church family. Thank you Pastor Miles McPherson and the Rock Church. Hallelujah! Thank you Jesus Christ. pic.twitter.com/hBeZPO8vjx

— Taylor Michael Holt (@Taylor_M_Holt) June 21, 2020
Had to add some more #'s for reach beyond those who came to the event.https://t.co/N7NRjHlKP4 #Wepraysd #Wepraysandiego #Revival #HolySpirit #SanDiego #IntercessoryPrayer #PrayforUSA #Prayforournation #NationalDayOfPrayer #Delieverance

— Adam Stadtmiller (@AdamStadtmiller) June 21, 2020
Not only did we join #LaMesaStrong bu also was part of https://t.co/k2j3dmEgYN where 110 churches in the community took to the streets to pray. What an honor to pray for our city, state and nation. Together we stand, divided we fall #unite #togetherwecan #pray pic.twitter.com/G8X2YjDLKK

— Voice Overs with Marcia! (@VOswithMarcia) June 20, 2020
#WePraySanDiego #ChulaVista pic.twitter.com/PPNrisOLuD

— Laura Marie Miller (@LauraMarieMill2) June 20, 2020
#WePraySanDiego West Location Footage https://t.co/N7NRjHlKP4

— Adam Stadtmiller (@AdamStadtmiller) June 20, 2020
we came. we believe. we pray #WePraySanDiego

— Bryan Fuentes (@bfuentesss) June 20, 2020
Inland Location #WePraySanDiego pic.twitter.com/q3kwXpLfEH

— Jireh Advincula (@beastmodejireh) June 20, 2020
#wepraysandiego (@ Mission Bay Park) on #Yelp https://t.co/OAPvoUrFFw

— kim (@kimdc) June 20, 2020
#WePraySanDiego prayed for my work family this morning pic.twitter.com/gqqrGI3Lqv

— LisajaneSDx (@ljscootergirl) June 20, 2020
Successful event #WePraySanDiego pic.twitter.com/pw7fVmTo9M

— Velia (@Rafizgirl) June 20, 2020
An amazing morning participating in #WePraySanDiego Prayed for:- Healthcare/First Responders - COVID-19 patients - Unity - Racial inequality - Wisdom for our leaders - Loved on my prayer list - Thanking God for all he has done for me- God to bless all of our futures pic.twitter.com/YRYokzU8qs

— Marcy Lanoue (@MarcellineML) June 20, 2020
Jesus we love you! #wepraysandiego #JesusweloveYou #sandiego https://t.co/pWUIGgbpNf

— Mary (@MaryGoings) June 20, 2020
#wepraysandiego #wepraysd @ San Marcos, California https://t.co/kHihyKzOKN

— Erika Walker (@erikadyerwalker) June 20, 2020