After an unexpected death in my family that necessitated a trip to Tennessee, I am excited to be able to continue the travel journals of Christ Community Church's recent trip to explore Greece and Rome where we followed portions of Paul's second and third missionary journeys. If you have missed the previous five articles, you can catch up by accessing them through the Desert Review's online version that is available in the "religion" section of the newspaper. 
I concluded the fifth article as we left Corinth, Greece, and returned to Athens, where we settled in our hotel for the evening. It is from here, that I will pick up our travels.
Reflecting back on the fabulous day we spent in Corinth, reviewing literature on this phenomenal city when I returned home and reading pertinent Biblical scriptures of Paul's experiences in Corinth, confirmed to me that it was the most memorable of all the cities we visited. I only wish we would have had more time to explore the area. It was here in Corinth between 51 and 53 A.D., during Paul's second missionary journey, that he wrote his letters to the Thessalonians. First and Second Thessalonians are thought to have been Paul's earliest letters to the many churches he established in his thrust to preach the Gospel of Christ.
In this 1975 reconstructed photo image by E. Moutopoulos, it is fascinating to view this archaeological artist's impression of what ancient Corinth may have looked like at its "height of glory" when Paul visited the city.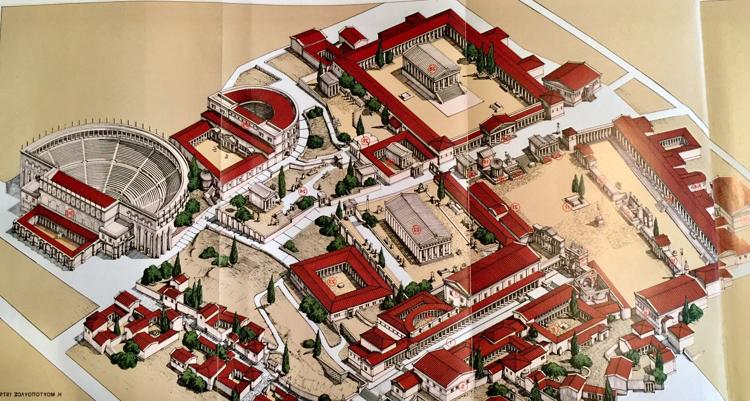 After a much-needed evening's rest in Athens, we departed on a direct flight to Naples, Italy. At this point, we were embarking on a diversionary route from Paul's journeys. There are many places Paul went that were impossible for us to travel on this trip and it is necessary to understand the events that followed Paul's departure from Corinth before he arrived in Rome — our final destination point!
From the scriptures (Acts 18:18-23), we know that a few weeks after his trial (possibly in the winter of 53 A.D./spring of 54 A.D.), Paul left Corinth with Aquila and Priscilla, went to Cenchrea and then sailed across the Aegean Sea to Ephesus where he stayed for a while. He promised to return soon before he left for Caesarea. From Caesarea, Paul went on to Jerusalem and back to Antioch in Syria followed by visits to Galatia, Phrygia and other provinces in Asia minor to support the churches he had already established on his second missionary journey.
Biblical theologians have marked this return to those regions as the beginning of his third missionary journey. It was sometime during this third missionary journey that he visited Corinth again to reaffirm his concerns for their decadent lifestyle and their need for change.
When Paul did return to Ephesus in approximately 54 A.D., he remained there for three years, preached in the synagogues, baptized many Christians and performed numerous miracles. It was in Ephesus that Paul wrote First Corinthians.
When trouble arose in Ephesus, Paul left for Macedonia and Acadia before going to Jerusalem again. En route, he visited some Ephesian elders in Miletus, brothers/sisters in Tyre of Syria, believers in Ptolemais and stayed at the home of Phillip, the evangelist in Caesarea for several days. Paul then prepared for his long-awaited return trip to Jerusalem. It is here that Paul was arrested, beaten and bound in chains after he was mobbed in the temple by some Jews that had been roused against him from the province of Asia. After speaking eloquently before the crowd and determining he was a Roman citizen, the commander freed Paul from his chains and ordered the leading priests into session with the Jewish Sanhedrin. It was here that a ruckus broke out between the Sadducees and the Pharisees, and the commanding officer quickly ordered soldiers to take Paul away to keep him from being "torn apart!"
Paul was eventually sent to Caesarea where he stood trial before Felix, governor of Caesarea, where he was imprisoned for two years, and remained there until a new governor, Festus, arrived and re-opened his trial. It was 60 A.D. when Governor Portius Festus began his reign. At this trial, Paul appealed to Festus claiming his Roman citizenship and his innocence demanded an appeal to Caesar in Rome. 
About this time, King Agrippa had arrived in town with his sister, Bernice, and he had desired to hear Paul defend his case. Paul once again eloquently shared the gospel message with King Agrippa. It was agreed by everyone that Paul had done nothing wrong that was worthy of death nor imprisonment and that he could have been set free if he had not demanded to see Caesar! (Acts 19–Acts 26). God had fulfilled Paul's heartfelt desire to go to Rome in a very interesting and unique manner.
With Paul setting sail for Rome and our group flying into Rome, via a one-day stop in Naples, we were going to be in the same city in which Paul spent the last years of his life.
Naples proved to be a very interesting city, and while there we had a chance to visit Pompeii. The earliest historical documentation of settlement in Pompeii dates back to the eighth century B.C. when it was occupied by the Oscans; it was much later that it came under Roman control, in 89 B.C. In the first century A.D., between 12,000 and 15,000 people resided in this city. Though the scriptures do not mention it, since Pompeii is only about 142 miles from Rome, one would wonder whether Paul, while he was under house arrest in Rome and free to move about, ever went to this area?
In 62 A.D., Pompeii was badly damaged by an earthquake followed by incomprehensible damage with the eruption of Mount Vesuvius in 79 A.D. This volcanic eruption killed all of the inhabitants and buried the whole city beneath 13 to 20 feet of volcanic ash and pumice. Pompeii never rose from its ruins and the site was virtually abandoned. The first signs of the buried city "coming to light" was between 1594 and 1600 when a channel for the waters of the Sarno River was dug. However, excavations were never pursued and it wasn't until 1748 that the first excavations were started under the King of Naples, Charles of Bourbon. Minor excavation attempts continued, and in 1920 greater efforts were made to explore the city. 
The object of the more recent excavations beginning in the 1960s has been to present the houses and streets of Pompeii as they were when inhabited and to allow visitors to see a complete vision of what the city possibly looked like in its heyday.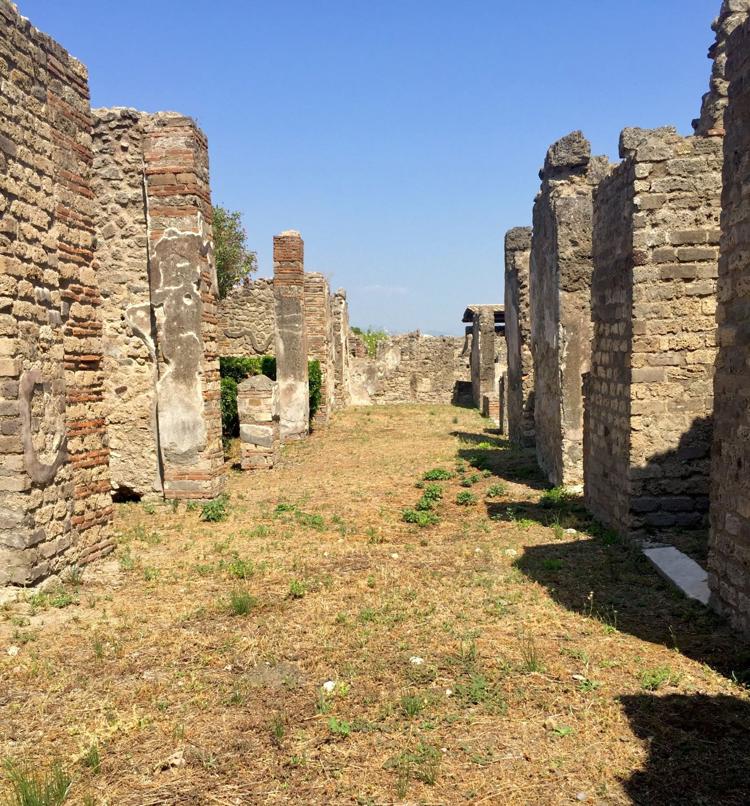 As visitors, we were taken on a formal tour where we saw many houses, the interior of many homes, the Basilica, a marketplace, the forum, several temples, a small theater (Odeion), a bakery, a brothel, a bath area, and we walked on roadways that enabled us to visualize the lifestyle of the early residents of Pompeii. We also had a chance to view some of the entombed human bodies that were caught unexpectedly in the avalanche of ash and pumice!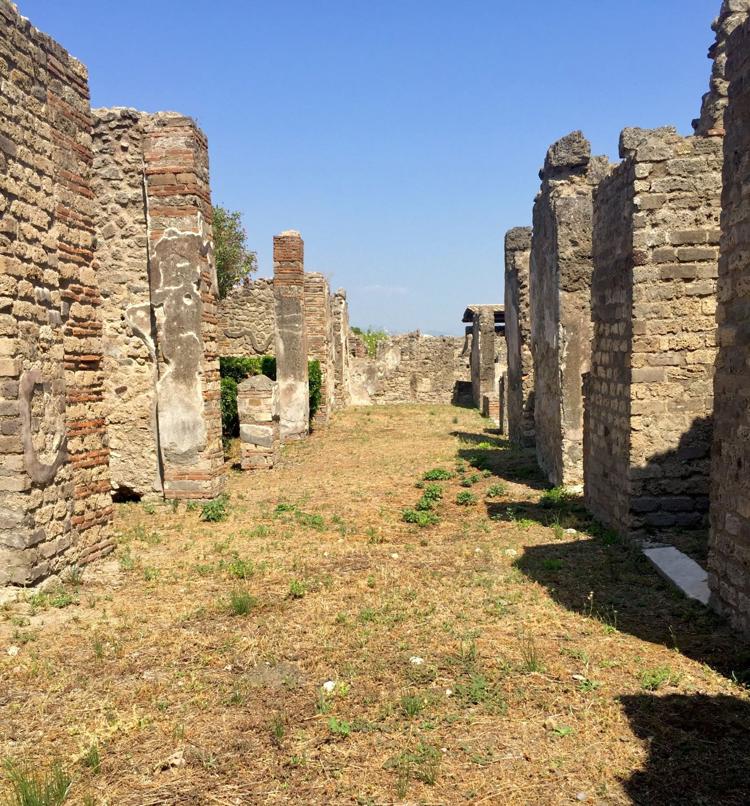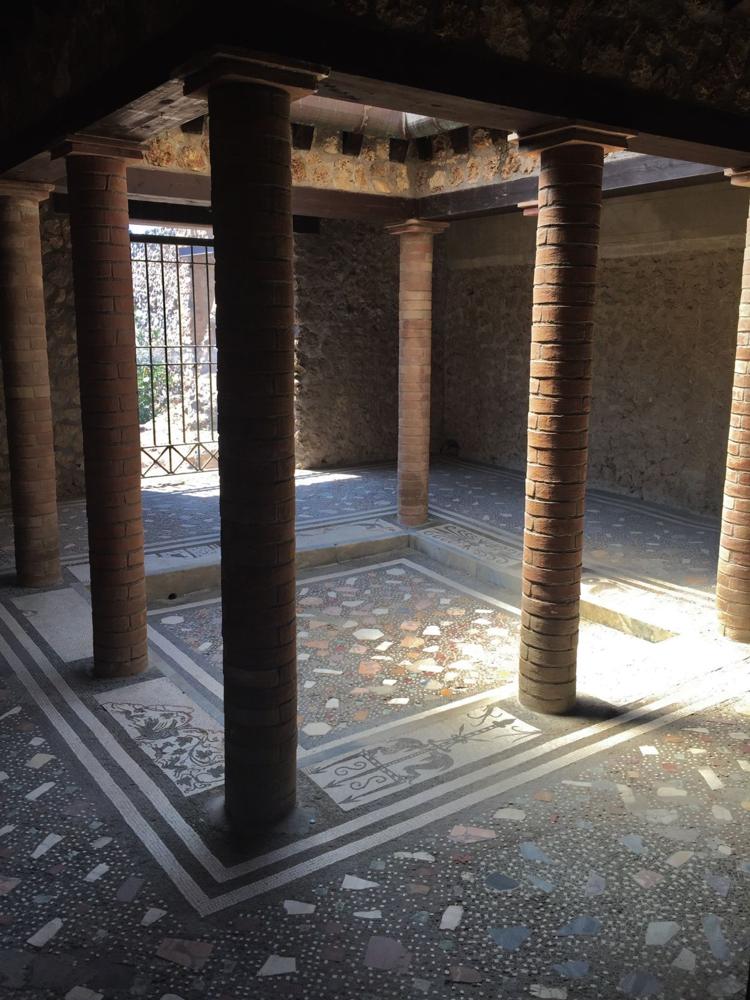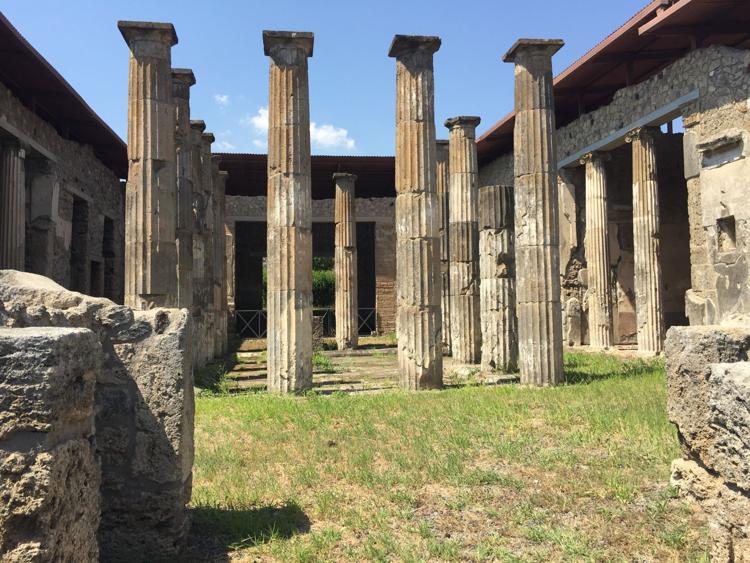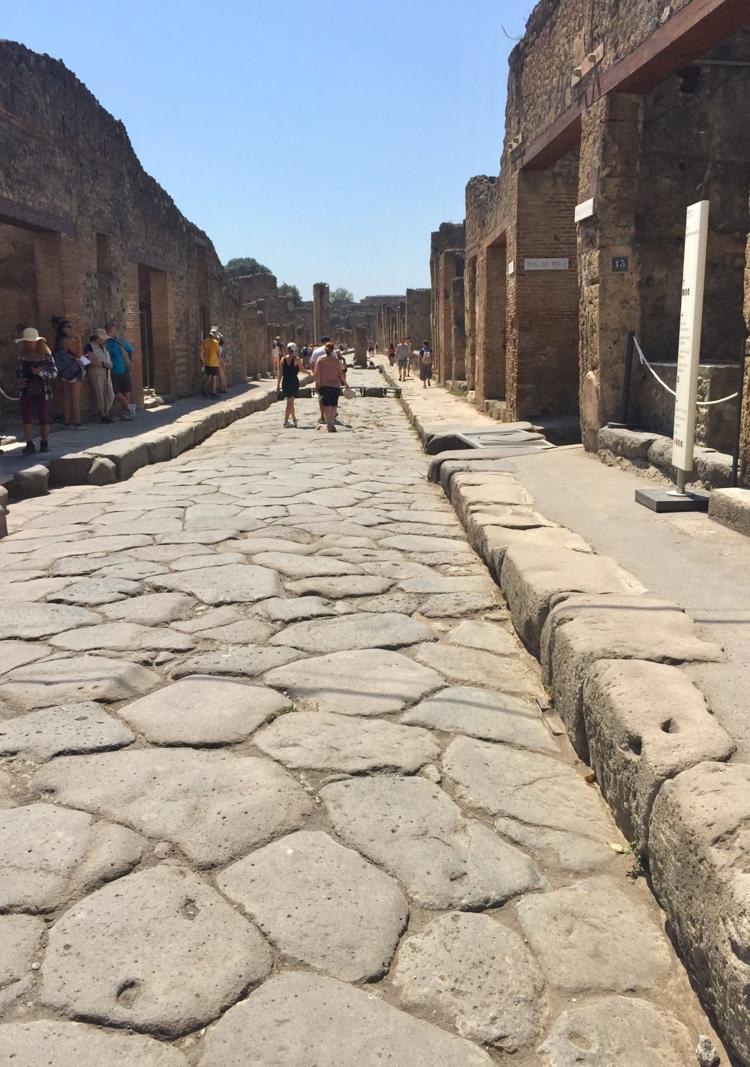 Living in an area as we do here in the Imperial Valley where periodic earthquakes occur, I am grateful that we do not also have a volcano nearby! The overwhelming surprise of Pompeii residents in 79 A.D. was emphatically and graphically recognized as we toured this excavated city. 
After our Pompeii tour, we ventured on to Rome, had dinner together and a restful night's sleep in preparation for an exciting four days in Rome to come.