BRAWLEY — Hundreds of youth gathered under one roof to worship and pray over the entire valley Wednesday, Sept. 22 at Gateway Church of Brawley.
Imperial Valley Youth for Christ (YFC) hosted their annual Pre-Pole Rally event where they bring together dozens of youth groups from various local churches to praise God in worship and share moments of prayer dedicated to their schools, local government, families, friends, and neighborhoods. This year's theme for the event was "AFLAME: Never let the fire in your heart go out. Keep it alive."
Some of the youth groups present at the event came from Holtville First Assembly of God Church, Cornerstone Community Church of Holtville, Trinity Baptist Church of Holtville, First Christian Church of El Centro, El Centro Christ Community, Remnant Church of Imperial Valley, First Baptist Church of El Centro, Christ Community Church Brawley, Gateway Church of Brawley, and many more.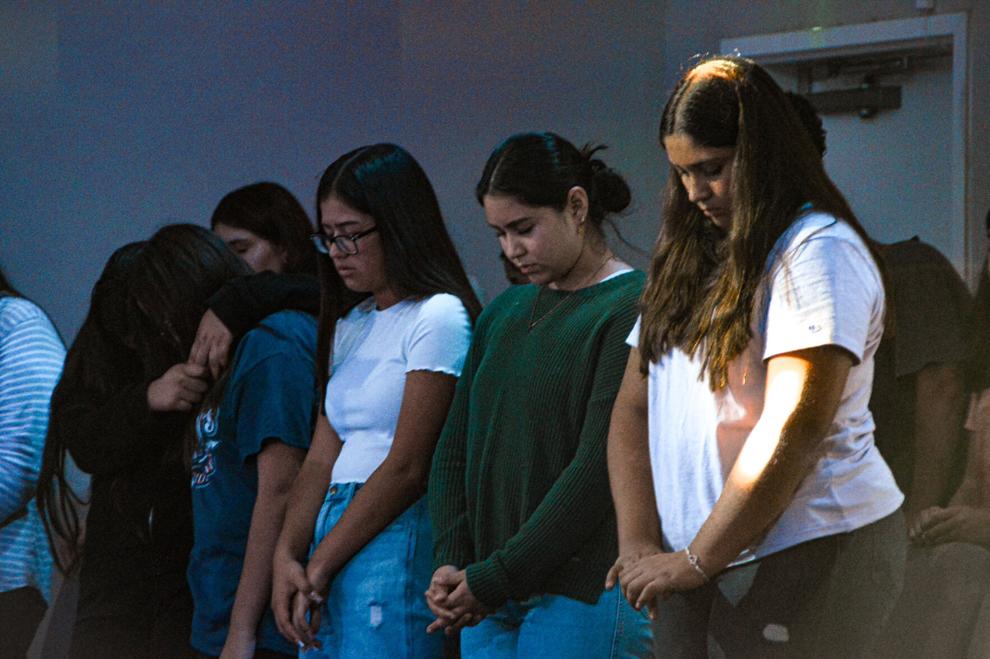 According to Campus Ministry Director Leena Jones, the event is meant to kick-off the school year with a night of prayer and worship. The rally prepares the students for the upcoming 'See You At The Pole' event where students gather around their local flagpoles at their school to pray over their school and city, which takes place a week after the Pre-Pole event. 
"It's a great way to bring all of the youth ministries in the valley together so students get an idea that their God is bigger than just their own youth group or school," said Jones. "It gives students time to reflect and praise Jesus for the opportunity to have a relationship with Him and share it with their fellow students."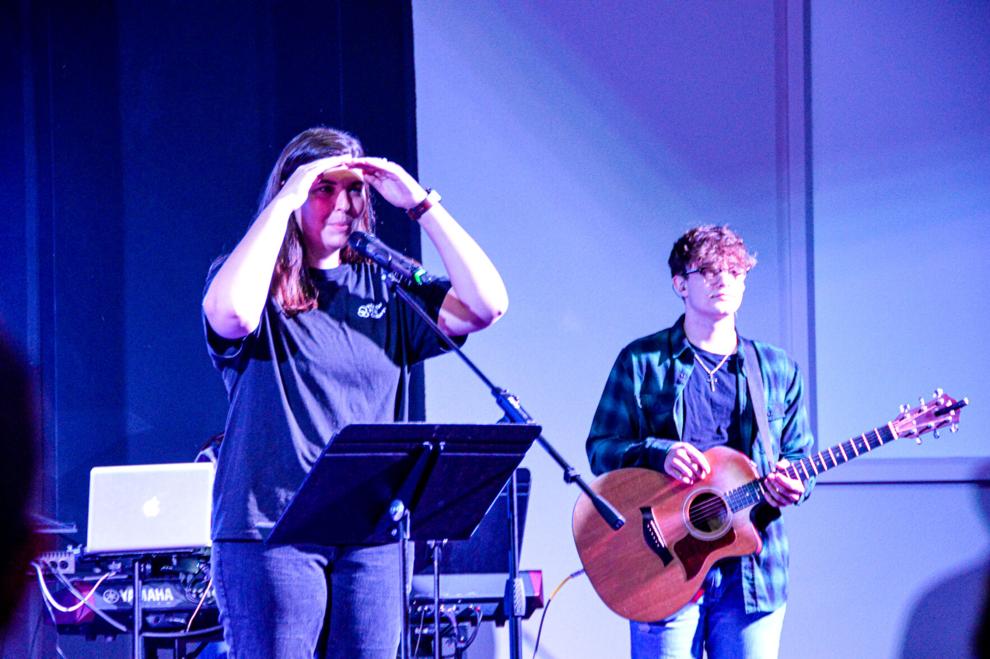 She explained that the rally equips every student with the ability to pray over their school's and community's needs, as well as encouraging them to not be afraid to praise God in public and share their faith with friends at school.
With offices in El Centro, YFC is actively engaged throughout the Imperial Valley. Through their on-campus ministry, Campus Life (CL), YFC is working with over 1,200 students weekly. As a para-church ministry, YFC seeks to assist local churches in reaching young people for Christ. 
"I've seen a difference in the students who we have praying tonight as well as the students in attendance," said Jones. "They're taking their relationship with God a lot more seriously than what we've seen in the past."
To wrap-up the night, YFC's CL Intern and Christ Community Church Brawley Youth Director Caleb Dobranich took over the stage and gave a message that uplifted students to not be idle in their faith but rather on the alert.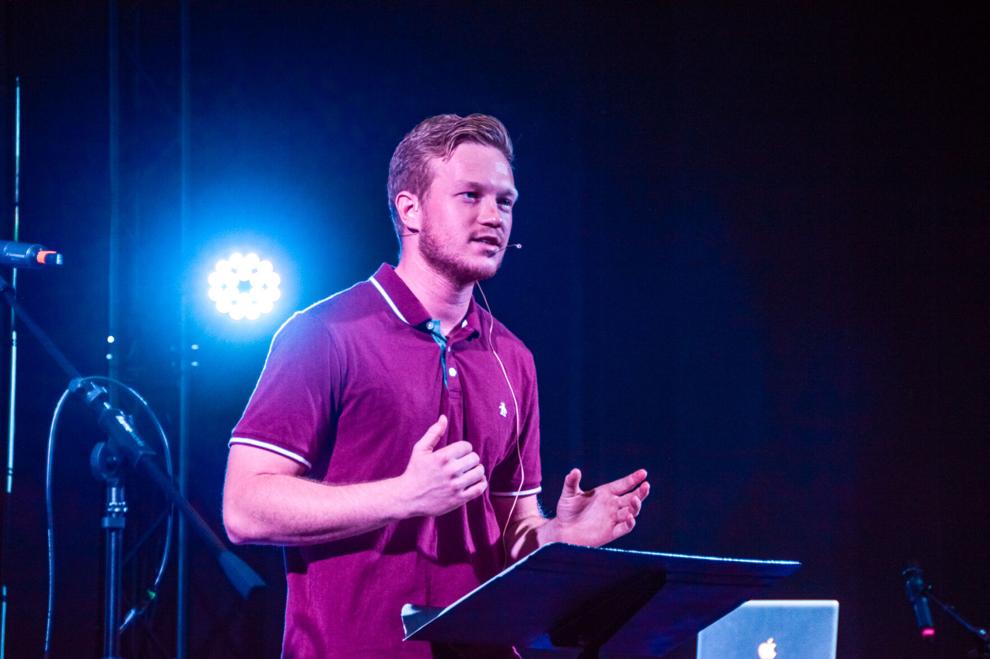 Dobranich read the following: "Do not be slothful in zeal, be fervent in spirit, serve the Lord. Rejoice in hope, be patient in tribulation, be constant in prayer" (Romans 12:11-12). 
"These words written by the Apostle Paul are God's commandments for us," said Dobranich. "These are not just good ideas but this is how God expects us to live and when we do these things we will glorify God and reap the blessings that come from living in obedience." 
Dobranich explained to the youth that Jesus did not call them to a life of comfort but rather to a life of combat – a spiritual one. 
"You are to use the weapons that Christ has given you because the weapons of our warfare are not of the flesh but they are mighty to destroy strongholds," he said.
"One of the weapons that Christ has given you is intercessory prayer and the preaching of the Gospel," he said. "So when you gather around your flagpole next week, you are not just saying words but you are fighting back the kingdom of darkness and of the evil one, and you are actually advancing God's kingdom." 
Dobranich urged students to consider being the vessel that God wants to use to reach their friends. 
"God's Gospel is not just going to fall out of heaven," said Dobranich. "He is calling us to preach the Gospel and I pray that next week as you gather with other saints that you would consider that maybe He is calling you." 
Sixteen-year-old Imperial High School student and CL Student Leader Jennifer Figueroa said that she was very excited to be a part of this year's rally because she missed out last year due to the pandemic. 
"This year I understand God more and I know more about His love," she said. "I think being involved in this kind of stuff is good for me and it's an opportunity for me to talk to people about God and be closer to Him." 
According to Jones, CL is currently pending the approval of five more clubs and will hopefully kick-off later in the winter, and is looking for volunteers eager to join the ministry and serve God. 
"CL is always looking for volunteers and we will gladly accept anybody who is passionate about Jesus and wants to share that passion with students," said Jones. 
CL clubs will be kicking off next week on seven local campuses: Brawley Union High School, Imperial High School, Frank Wright Middle School, Central Union High School, Southwest High School, Holtville High School, and Westmorland Junior High. 
If you'd like to know more about YFC or CL, you may visit their website, Instagram, or Facebook. Their office is located at 395 E. Main Street in El Centro.