Happy New Year! We hope everyone had a joyful Christmas and New Year. We received our Christmas present early on the 20th of December as we welcomed Samuel Jedidiah Hawk at 8.3 pounds and 20.5 inches long into this world. We are overjoyed at the many prayers God answered throughout pregnancy and in Samuel's birth.
Many of you know with our first child, Nathan, that we had complications that resulted in a scary emergency Caesarian. While being pregnant with Samuel and after much prayer, we decided to try for a natural birth.
In Thailand, the healthcare system is not the same as in the U.S. I believe Thailand is at least 10 years behind the U.S. in many medical practices. With that being said, attempting a natural birth after a Caesarian is not common here, and very few doctors and hospitals will allow it. Through a divine meeting we were able to see the only doctor in Chiang Mai who would permit attempting a natural birth.
There were many conditions that had to be met in order to attempt this, such as weight gain, the size of the baby, and going into labor 100 percent naturally. Once in labor, no medication can be given, because they want the mother to be able to feel everything in case there are complications.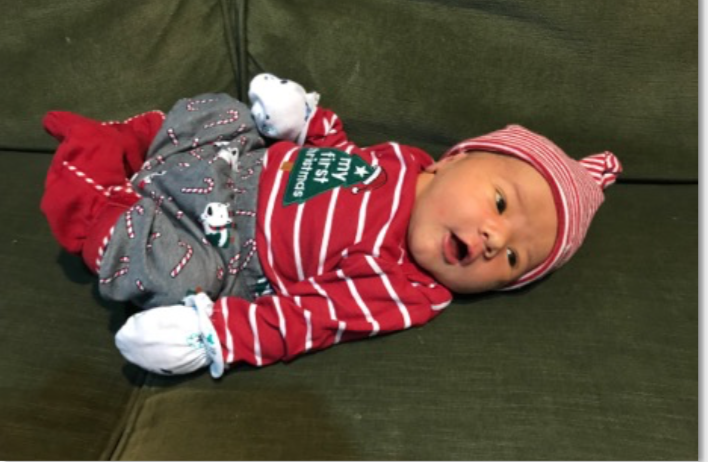 As we went past our expected delivery date, I began to feel a greater peace in whatever birth God had in store for me and that it would be a redeeming experience and nothing like the first.
At 41 weeks and two days, I finally went into labor. Throughout the pain of childbirth I was reminded of Jesus on the cross, and with each contraction I couldn't help but dwell on the pain Christ felt for us as he hung there.
I felt an overpowering thankfulness, not just in receiving a natural birth that I had long prayed for, but also for Christ and His love demonstrated for us. As each contraction came, I thanked God for the pain. As crazy as it sounds, I was in complete awe and thankfulness of Christ's suffering for me and in some small way, the joy of a new life, Samuel, coming. 
I love the verse, "I can do all things through Christ who gives us strength". That was my focus during child birth to put Him at the center and praise Him for He gave me the strength! I encourage each of you with this new year to know when Jesus is in the center, you can achieve things you thought you never could and even in pain find thankfulness.
Hannah House Christmas Party
One week after our big outreach party to the neighborhood, we quieted things down and had our annual Hannah House Christmas party. It was a great time to spend with the Hannah House girls and the Emmanuel Home as we ate, exchanged gifts, did a little fashion show and had a ginger bread house competition.
It was a blessing having my parents in town. We were able to spend some good time talking and they helped us watch Nathan as well as ministered to others who knew English.
Yillia and Yoyo (two Chinese friends of ours) both shared how they wanted to be baptized, and so while my parents were here, my dad got the opportunity to minister to them further and baptize them both! One other significant ministry time came when my mom took Pin through the Steps to Freedom in the Bondage Breaker book by Neil Anderson. This was important since Pin will be able to take what she learned and lead the girls in the home through it as well.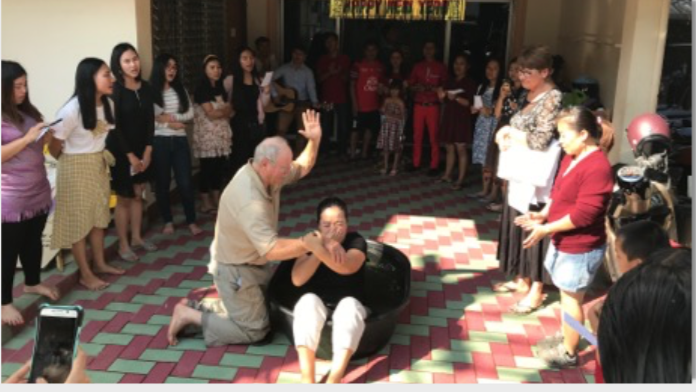 Prayer requests:
• That God will lead us this new year as we finish up our class over the next two months and see even more girls graduate.
Praise:
• That Ashley had a successful natural delivery. Honestly, it seemed pretty miraculous how God worked everything out so well, especially since our doctor wasn't even there!
• That my mom was willing to stay later and leave after Christmas so she could help us with Nathan while we adjusted with the new baby.
Disciple Thailand Ministries
If you would like to partner with us, you can do so by going online at disciplethailand.org or making your check out to Disciple Thailand Ministries and sending it to:
Trinity Baptist Church P.O. Box 776, Holtville, CA 92250