(Shirley and Xen Jones joined Christ Community Church in El Centro on their trip to visit places the Apostle Paul stopped in his second and third missionary journeys.)
Last week I left you reading about the "Temple of Romulus." Standing next to this temple was another spectacular site, the "Temple of Antoninus and Faustina!" This temple was erected in 141 A.D. and was built by Emperor Antoninus in honor of his deceased wife, Faustina. When he died and was deified in 161 A.D. it was re-dedicated to both Antoninus and Faustina by Antoninus' successor, Marcus Aurelius.
It stands 56 feet high with Corinthian columns that originally supported a horizontal structure on which a triangular gable was placed that was decorated with sculptures. It remains standing today in the Roman Forum and was converted to a Catholic Church in the 11th century.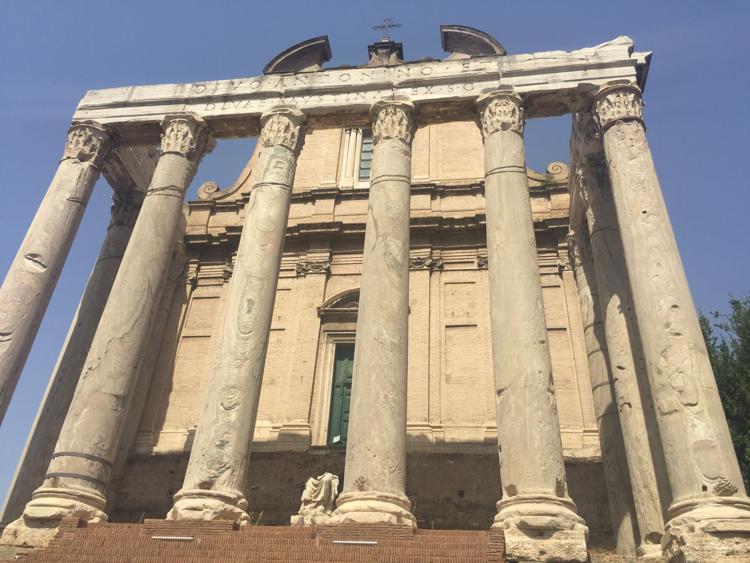 Also, in the Roman Forum was the "Temple of Castor and Pollux" (erected to the mythic twins born of the love of Jupiter and Leda). It was erected in 484 B.C. This structure was built in gratitude for the victory at the Battle of Lake Regillus (a battle where the Romans saw victory over Tarquin). It became a meeting place for the Roman Senate during 509-27 B.C., was a gathering place for speakers from 27 B.C. to 476 A.D., as well as being used by the Office of Weights and Measurements, and a depository for the Senate treasuries.
It was enlarged and reconstructed in 117 B.C. and again restored in 73 B.C. In a fire that destroyed it in 14 B.C., Tiberius rebuilt it in 6 A.D. It then went into much disrepair and by the 15th century, only three columns remained. Its original corners had eight columns and its sides had 11 columns.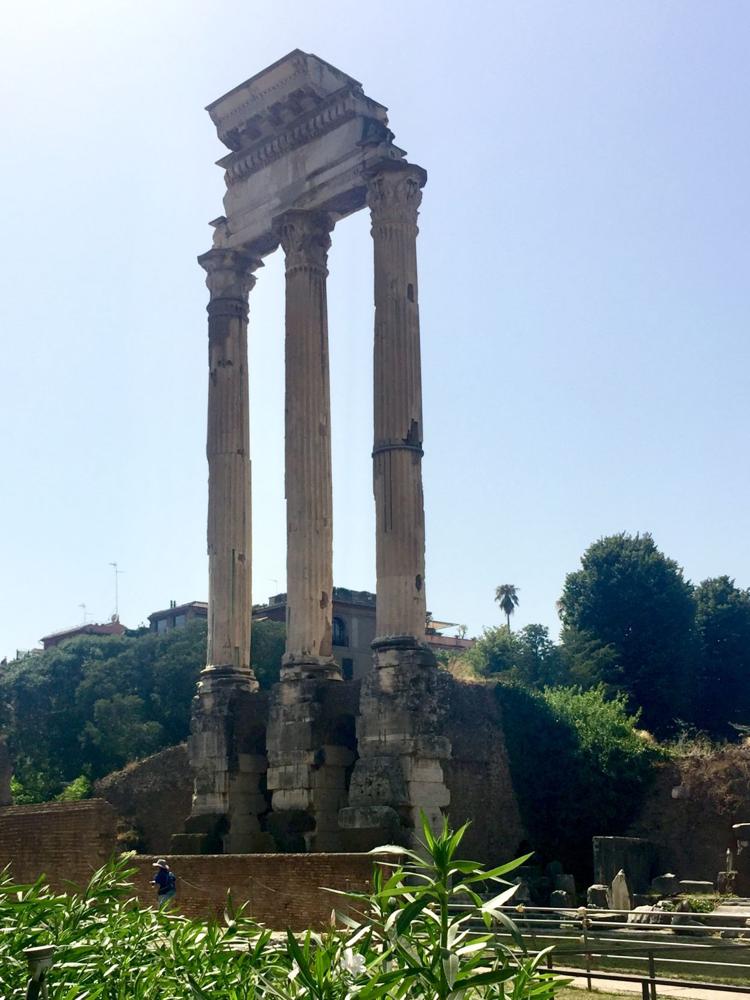 Close to our view of the "Temple of Castor and Pollux" on our walk through this portion of the Roman Forum, we saw the "Temple of Vesta." The exact date that this circular shrine was built is unknown. However, it is known to be one of the oldest in the Roman Forum. It is known that the worship of Vesta goes back to as early as the 7th century B.C. The temple was rebuilt many times, it was completely destroyed in 1549 A.D. The rubble was used to build churches and papal palaces and it was finally reconstructed in 1930. This shrine was really not a temple but used as a storehouse for legal wills and documents of the Roman senators. It also contained cult objects as well as a statue of the Roman god, Minerva.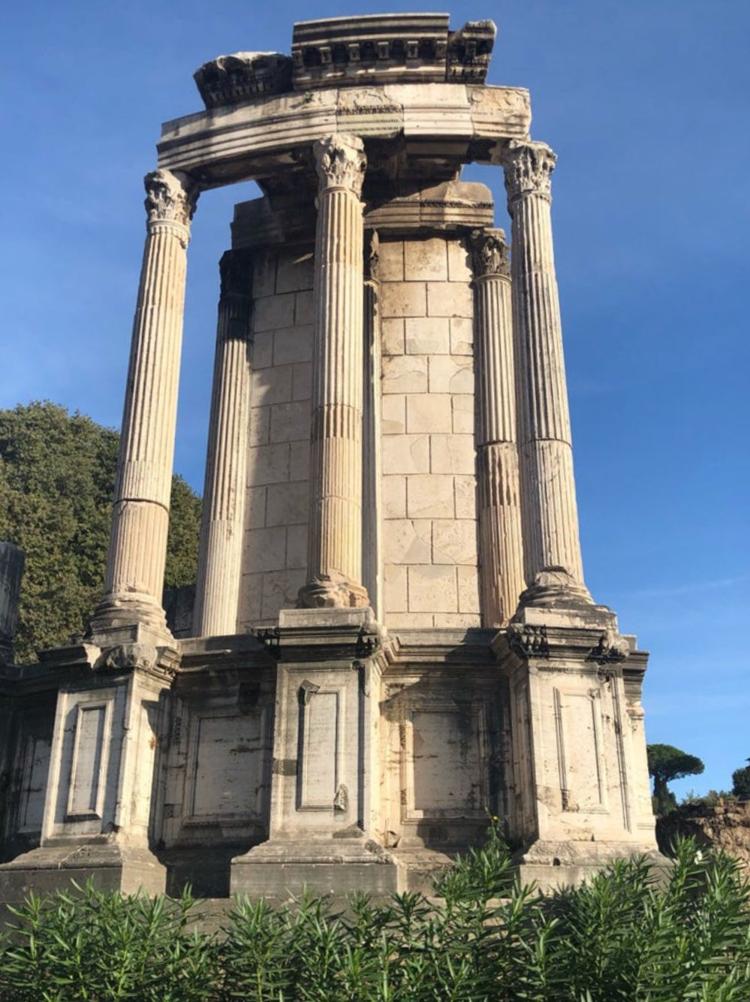 On the south side of the Roman Forum, stood the "Basilica Emilia." We were able to see the remains of its entrance arch—it was a spectacle to behold. This basilica, where justice was once administered, was erected in 179 B.C. The present entrance arch now represents several re-building efforts between 80-14 B.C. The last was completed in 22 A.D.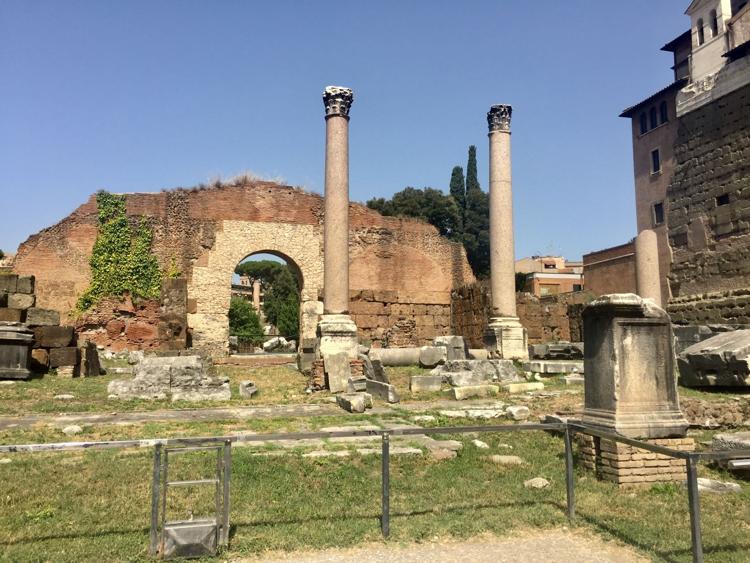 As we walked down the back side of the "Parco Archeologico de Colosseo," we had our last opportunity to have a glimpse of the several forums through which we had passed. It was an impressive sight to see this overview and to realize that this was once a thriving, active, and important political city.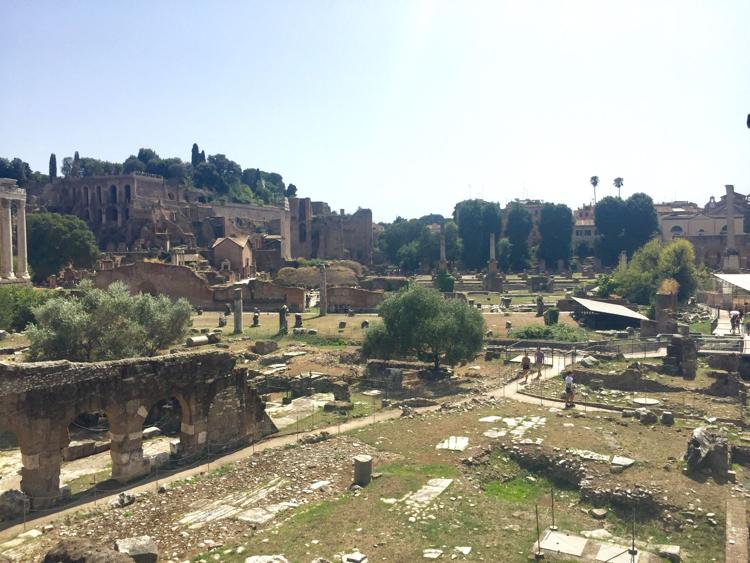 What Paul saw when he was brought to Rome during his two years of court-ordered house arrest, is uncertain. We do know, from archaeological digs, many of the structures were added after his death. What he did see, limited as it may have been, surely was impressive as well as disturbing. He must have realized so many of the structures he saw were built to god's other than Jehovah God. His heart surely ached for them to know the Living God, Christ.