BRAWLEY — The official reopening of the Christ Community Church (CCC) campus in Brawley was held after the campus' first Sunday service back since the pandemic closures of March 2020.
The service — which saw an overflow of the church area — was held at 10 a.m. Sept. 12, with the official ribbon cutting at 11:30 a.m., and the subsequent celebration going until about 1 p.m.
The outdoor celebration saw about 200 people enjoying church-provided vendors giving away free tacos, coffee, pastries, a gift raffle, churchgoers utilizing a photo booth, and socializing at shaded tables to "just give people an opportunity to just celebrate, hang out, and build relationships," said CCC Brawley Campus Pastor Sean Arviso.
Arviso said though the Brawley campus has been reopened since May 12, 2021, with Wednesday evening services, "people are just excited" to get back to Sunday services.
The outdoor celebration saw vendors give out 155 taco plates and over 5 gallons of nitro cold brew latte by noon, the vendors said. All food and drinks were provided by the vendors, courtesy of the church.
"They just want to know the Lord and experience the new life that Jesus offers, see the community, and be impacted as well," Arviso said. "People are just ready to jump in."
Arviso said the mission of Christ Community Church Brawley campus is to "love God with everything that we are" and the church's vision is to "see all of Brawley, and beyond, come into a relationship with Jesus."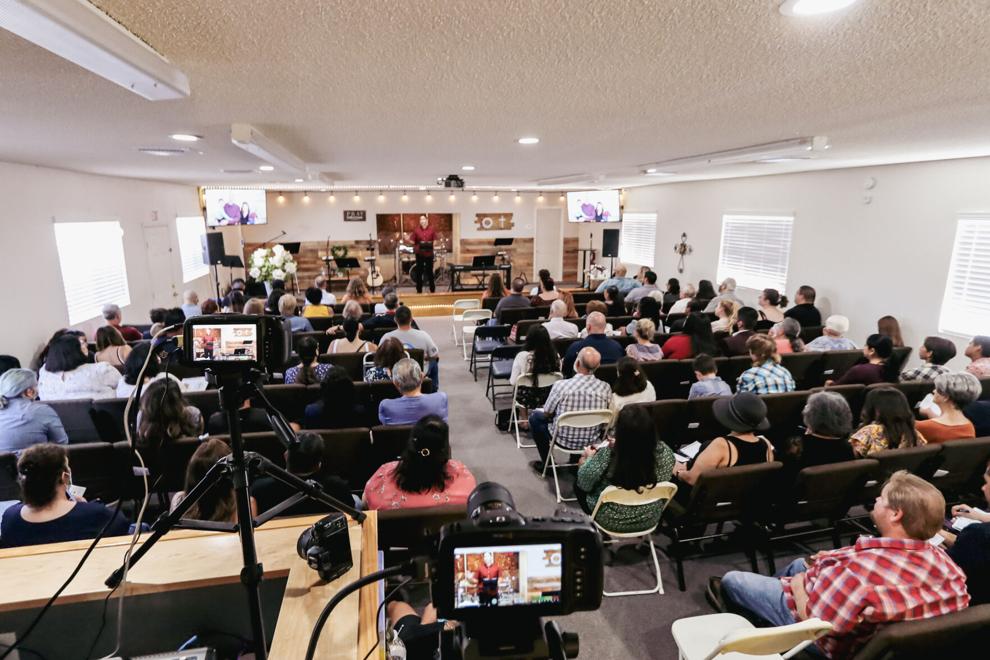 "We're serious about our goal," the pastor said, "which is why we are very intentional about doing things with the community. We do a lot with the city, the police, the community cleanups and the schools. We've (also) got lots of things in the pipeline for this community."
Brawley CCC also had other new launches Sunday, Arviso said, including the start of "Lifegroups."
In Lifegroups, Arviso said church members come together in small 10-to-20 person groups in their homes to reflect on the Sunday sermon, scripture, eat, and "build relationships with one another" in fellowship. Signups for Lifegroups can be found at Brawley CCC Lifegroups.
A three-week marriage series also began, which will culminate in a couples dinner event on Sept. 26 at the main CCC campus in El Centro. The date night-type event will be $25 per couple including free childcare, according to the CCC website. Online registration for the event can be found on the website at CCC Couples Dinner.
Though CCC also has the audio of their services archived on their website, Pastor Arviso said the church is looking at re-starting their Community Conversations podcast in the near future, which talks about topics pertinent to the community.
"We really believe that God gave His Church to be of service to the world," Arviso said. "We want to see other people experience the life-changing message of the Gospel."
"I mean that's really what it's about," he said. "We're just excited to serve the community."
"Obviously as you can tell, people want to experience God, His word, and fellowship," Arviso said of the well-attended event, "so that's why I announced we're immediately jumping to two services next week."
Starting Sunday, Sept. 19, the Brawley CCC campus will hold 8:30 a.m. services without childcare in addition to the 10 a.m. service with childcare, with the possibility of a third 5 p.m. service later developing if the church sanctuary is still full, Arviso said.
CCC will continue to also livestream their services on their church website, ccciv.org, with some clips later uploaded to their social media pages such as Facebook, the pastor said.
For more information on Christ Community Church Brawley campus, contact Pastor Sean Arviso by email at sarviso@ccciv.org or by telephone at 760-791-4639. For information on CCC events, contact the Christ Community Church main campus in El Centro at 760-337-9400.
---