Does the City of Brawley and the State of California really care about disabled persons, for whom ADA ramps were designed? People in public office should aim to make things easier for disabled persons. Isn't that what they said while they were running for office?
Figure this: Because of a grant to pave ONE block in a neighborhood, the state required ramps to be put on ONLY two corners of the intersection. If the city moved to another block where the ramps actually fed to a sidewalk, no state government money would be allocated for the paving. 
The same nonsensical action happened on the south corner of this block. There are no sidewalks on the east side of South Rio Vista. There are sidewalks on the west side of the street.
If they had they put the ADA ramp on the west side, across the intersection, disabled persons could access the sidewalk. The location in which the City of Brawley decided to install wheelchair ramps is useless. In addition, the City of Brawley's decision has ruined water friendly and aesthetically pleasing desert design.
Apparently, the State of California funded paving for only one block of South Rio Vista while city funds are paving the REST of Rio Vista. No new ramps are required when we are footing the bill locally.
It makes no sense and is a disincentive for future projects that would improve curb appeal. After investing thousands of dollars to install a low-water use yard, a substantial part of the landscape is destroyed, for what benefit?
One would expect notification for such action. The notification was a matter of days, just before the "no parking" signs were placed to indicate that roadworks would be underway. The inadequate notice practice is unfair and, in our opinion, intended to prevent the homeowner from legally enjoining the changes.
At this point, the work has been going on for almost three weeks. No effort to repair what is left of the yard has occurred and valuable plants are missing their automated watering system, which the city contractor said would be repaired and made right.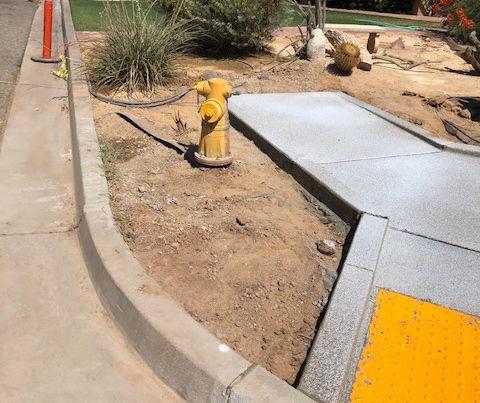 All of this is bad enough but add that these actions are taken against a widow who would otherwise have effective and voluminous support from her husband in challenging the city's actions.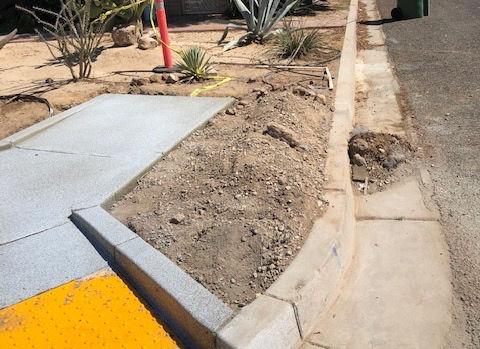 As you can see in Picture 1 and Picture 2, there is no sidewalk to access the yard where the obtrusive ramps have been deployed. Picture 3 shows a beautiful ADA ramp that has no use to any person, disabled or otherwise.
As you can see in Picture 4 of the intersection, had the ramp been installed on the northwest side of Allen and Rio Vista, disabled persons could make use of the installation.
These sorts of actions usually come with some acknowledgment of the "Greater Good," but who benefits from it?