Preface by Justus R. Hope, M.D.
Getting To Know The Physicians
Dr. George Fareed is a tall, fit and soft spoken man. Like most people, he has many facets that makes up his personality, but he is also gifted with an inherent aptitude for medicine, an abundance of patience and energy. Fareed is a beloved small-town doctor with a wealth of experience and a big education which is a perfect fit for the somewhat sleepy Imperial County located in California.
He was named the CMA Rural Physician of the Year in 2015 and holds a long list of accolades throughout his distinguished career. Early in his career he served as a professor at both Harvard and the UCLA Medical schools.
Words alone cannot express my respect and deep admiration for Fareed. The Fareed the world knows is the son of Dr. Omar John Fareed, a legend during his time, a medical missionary who worked with Dr. Albert Schweitzer, and a doctor with a heart who imbued the same values in his son, George. The younger Dr. Fareed began his medical career with training at Harvard Medical School. 
After graduation, Fareed studied recombinant DNA, and taught at Harvard and UCLA Medical Schools. He published research and eventually left academics for a job in industry. While serving at XOMA Corporation and Advanced Antigens in biotech research, he developed processes that led to three US patents. 
Subsequently, Fareed spent time following in his father's footsteps as a medical missionary in Africa. Fareed possesses that rare combination of altruism, empathy, and medical knowledge so sorely lacking in many of today's physicians. Like his father, George spent time as the Team Physician for the US Davis Cup, treating greats like Andre Agassi, Pete Sampras, and Jim Courier. 
In 1991, Dr. Fareed left academics for his real love, patients. He became a country doctor in the sleepy desert town of Brawley, California, where he became a pillar of its community. He served as the physician for the local football teams while at the same time treating the tennis greats, and he shared his legendary compassion with both. 
One of his high school student athletes described Dr. Fareed as the "most compassionate doctor I have ever known."
Fareed established the first HIV clinic in Brawley, and with incredible foresight, began cocktail drug treatment before it became the standard of care. Not surprisingly, when the COVID-19 Pandemic struck and the Imperial Valley became the California epicenter, Fareed led the way out. 
He associated with Dr. Brian Tyson, a young Urgent Care Center director from El Centro, and together the two physicians led the nation in the use of repurposed drug cocktails to save virtually all of their 6,000 patients.
In 2015, the California Medical Association presented Fareed with the distinguished Plessner Award, given to the California Rural Physician of the Year. I was fortunate enough to cross paths with the great Fareed during my lifetime, and he has served as a mentor and colleague during a time that medicine has lost its ethics and forgotten its Hippocratic Oath. Fareed, Dr. Tyson, Dr. McCullough, Dr. Risch, and Dr. Zelenko have led by example, and these men of medicine continue to shine the light of truth and science during one of our nation's darkest episodes.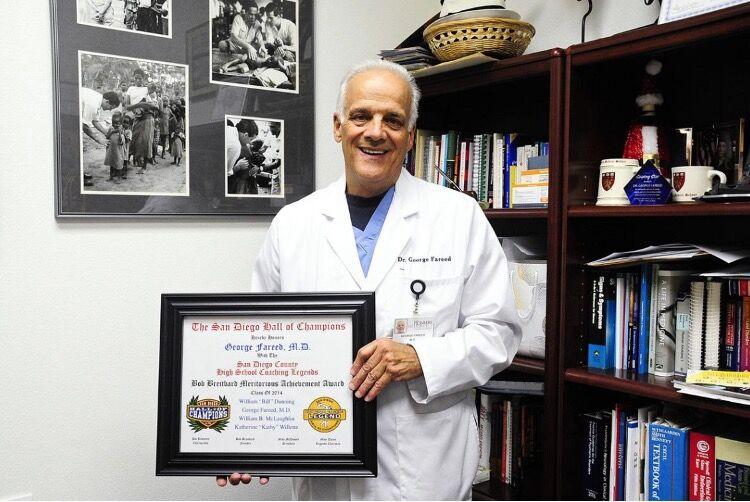 I am honored to have been able to report on their fight to save patients' lives. I am also honored to have been included by Dr. Donald Pompan and Dr. Michael Jacobs as fellow writers. This book tells Fareed's and his courageous colleagues' epic story. This true story will be told for generations. As Dr. Omar Fareed led young George by example, the example set by Fareed in this Pandemic will lead generations of future physicians.
Fareed uses repurposed drugs to treat COVID-19 with great success. He is a country physician practicing in the Imperial Valley of Southern California, and has enjoyed remarkable success with the use of a repurposed drug cocktail to combat the pandemic - and he and his colleagues have treated thousands with no ill effects - despite the media and the official positions against Hydroxychloroquine (HCQ). Dr. Fareed is not your ordinary country doctor.
He was named the CMA Rural Physician of the Year in 2015. He is now in his seventies. But early in his career he served as professor at both Harvard and UCLA Medical Schools. 
He used repurposed drug cocktails to treat AIDS patients during that epidemic. Dr. Fareed knows a thing or two when it comes to treating viruses, and he does not agree that HCQ is too dangerous to employ when used carefully. 
Fareed wrote a letter to the White House Task Force and to Dr. Anthony Fauci. In this letter he argued that HCQ is not necessarily useful in the advanced stages of COVID-19; however he believed the scientific studies supported a role for HCQ early in the outpatient phase when it can save lives. He states:
The HCQ cocktail can be used for outpatients to prevent hospitalizations and thus keep our hospitals and ICUs from being overrun with COVID patients.
The HCQ cocktail can be used early on in hospitalization to prevent patients from requiring mechanical ventilation and reducing the length of hospital stay.
HCQ/zinc can be used for prophylaxis for high risk individuals including front line health providers, first responders, and even teachers who are at high risk for COVID.
Today, we know that while HCQ is safe and effective for early treatment of COVID-19, we also know that Ivermectin works both early and late in the disease. It can save lives by its dual antiviral and anti-inflammatory mechanisms of action. Dr. Fareed today has modified his protocol and treats his outpatients with both HCQ and Ivermectin. 
We know that Ivermectin is effective in ventilator patients as well as outpatients. We know it can effectively prevent the disease. And we are now accumulating evidence that it works in the long-hauler's COVID syndrome as well.
Everyone needs to know about repurposed drug cocktails. They work for more than just terminal cancer. Scientists have now shown with more than 50 studies including dozens of randomized and controlled that Ivermectin can save hundreds of thousands of pandemic lives now.
For the sake of humanity, for the sanctity of human life, and for our inviolable right to medical care, we must use it in India immediately as they face a horrid second pandemic wave now in 2021.
Fareed knew about a treatment for COVID-19 that was covered up. A treatment so effective, so scientific and so simple, that he had to share it with his community and his country. It was his duty; his ethical obligation as a physician.
He had such values instilled at an early age by his father, himself a medical pioneer. His father, Omar J. Fareed, M.D., had worked with Dr. Albert Schweitzer and been influenced by his core values. In 2020 it was time for his son, a Harvard-trained cancer and virology researcher to muster the courage to stand up against perhaps the most powerful opponent in any medical fight, the head of the NIAD, the leader of the CDC and FDA, Anthony Fauci himself. 
Fareed was up to the challenge, and he did not back down. Fareed is a man of quiet but powerful expression. His words have moved mountains. Already his actions have influenced a community of physicians in the Imperial Valley of California to treat their citizens with his life-saving triple therapy, a treatment inspired by the work of Dr. Didier Raoult and Dr. Vladimir Zelenko. 
This treatment has resulted in the saving of countless lives locally. However, Fareed was not satisfied in just saving the Imperial Valley. He knew that the nation needed to hear the message, so he wrote an "Open Letter to Dr. Anthony Fauci" to call the nation's leading spokesman for healthcare policy to task on his colossal failure to recognize this valuable treatment. There is no easy way to say it. Dr. Fauci's policies have [in Dr. Harvey Risch's words] 
"…led to the deaths of hundreds of thousands of Americans who could have been saved by usage of this drug." Fareed has been threatened by the Medical Board. He has faced his share of criticism. However, Fareed's reputation is beyond reproach. He holds patents on cancer drugs. He has worked at the NIH as a cancer and virus researcher. He has taught at both Harvard and UCLA schools of medicine.
Now in his seventies, Fareed aims to get the word out that this Pandemic can be stopped in its tracks tomorrow if only everyone learned the truth. If only Dr. Fauci were called to answer the questions posed in Dr. Fareed's letter. This letter was originally published in his local newspaper, The Desert Review. That was published online, and is how I learned about Fareed and the Miracle in the Imperial Valley. That letter has since been republished in my book, Surviving Cancer, COVID-19, and Disease: The Repurposed Drug Revolution. It has been my great honor to get to know this gentle medical giant of a man. Fareed's letter has launched a Congressional Inquiry by Rep. Louie Gohmert and Sen. Rand Paul. 
He has appeared on the Sean Hannity Show frequently. Soon, as millions of people find out about him, I have no doubt he will get an audience with Dr. Anthony Fauci. Soon his questions posed in the "Open Letter" will have answers. 
In the words of Dr. Albert Schweitzer, 
"Truth has no special time of its own. Its hour is now - always.
For further help or when pharmacist declines, loses or refuses Dr. Fareed's prescriptions, use telemedicine covid doctors:
https://americasfrontlinedoctors.org/
https://synergyhealthdpc.com/covid-care/
Links to other sections
Part I https://www.thedesertreview.com/opinion/columnists/doctors-story-of-light-and-life-the-covid-19-darkness-overcome-part-i/article_5ae16f0c-f614-11eb-8351-cf0d67e94c25.html
Part II https://www.thedesertreview.com/opinion/columnists/doctors-story-of-light-and-life-the-covid-19-darkness-overcome-part-ii/article_9b2fd19e-f62c-11eb-a237-ab00a8955b7d.html
Part III https://www.thedesertreview.com/opinion/columnists/doctors-story-of-light-and-life-the-covid-19-darkness-overcome-part-iii/article_cd56f7cc-f62e-11eb-bdde-07f7ff522e96.html
Part IV  https://www.thedesertreview.com/news/national/doctors-story-of-light-and-life-the-covid-19-darkness-overcome-part-iv/article_8daf8108-f6cd-11eb-9dba-8b0e15963a30.html
Part V https://www.thedesertreview.com/news/national/doctors-story-of-light-and-life-the-covid-19-darkness-overcome-part-v/article_9730fcca-f6ff-11eb-9057-d3a2e99f7a0b.html
Part VI https://www.thedesertreview.com/news/national/doctors-story-of-light-and-life-the-covid-darkness-overcome-part-vi/article_19474368-f8ae-11eb-becc-df892393b69f.html
Part VII https://www.thedesertreview.com/news/national/doctors-story-of-light-and-life-the-covid-darkness-overcome-part-vii-testimonials-cont/article_80747790-fa25-11eb-8586-9b6237e94dd2.html
Part VIII https://www.thedesertreview.com/news/doctors-story-of-light-and-life-the-covid-darkness-overcome-part-vii-chapter-2/article_0ad07982-faf5-11eb-8a92-07429a756e32.html