GLAMIS — Ten airplanes, five paragliders, four drones, and hundreds of people in ATVs gathered around a flagpole in the middle of the Imperial Sand Dune Recreation Area for a belated Glamis Veterans Day Gathering celebration Saturday, November 14.
The yells and smells of the visiting off-road community's rides filled the air before a flyover streaked the clear desert sky above an Old Glory flag and sung notes of the Star-Spangled Banner filled the air.
Glamis Veterans — a nonprofit organization — recently formed within the last few years to support the event. However, the off-road community has been coming together for more than a decade at the Glamis flagpole to recognize Veterans and change out the weather-beaten American flag, said event founder and Murietta resident Brian Crain.
"It was just a riding group that camped out in the washes there and we went out to change the flag and it started growing year after year and went from nearly 40 people the first year and it's just kind of grown," Crain said. "The pole itself was originally put on the box in memory of Chuck Boardman."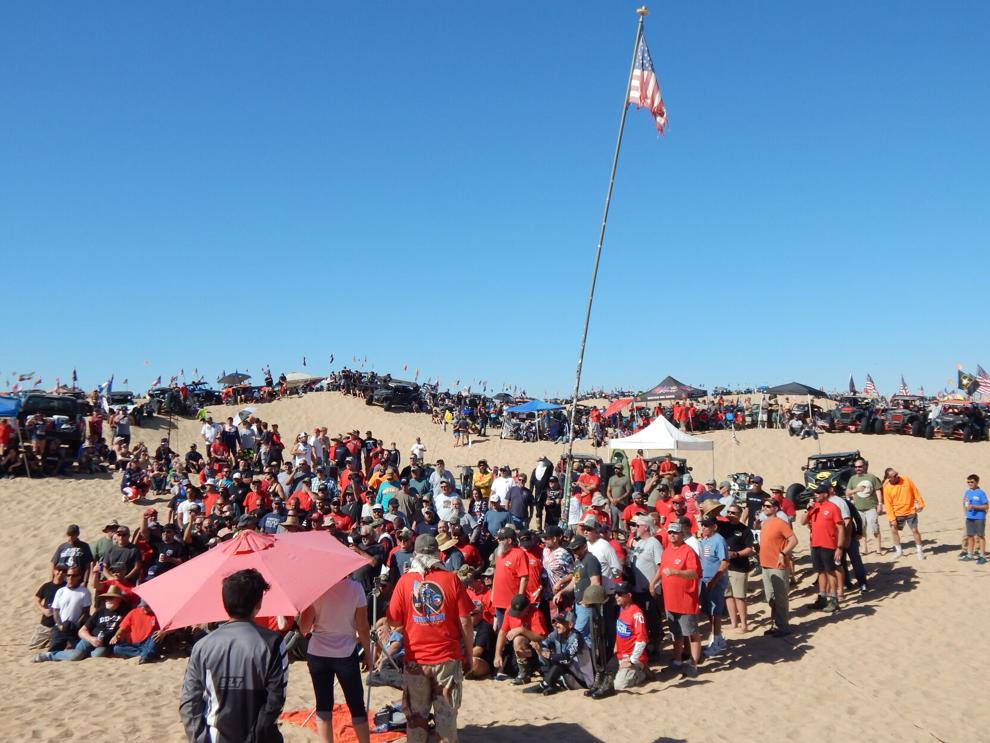 Crain said the flagpole area 3 miles out in the sand dunes was a normal stop for the group from Wash 13, which started the event. Seeing the tattered flag gave him the idea to get permission to create an event to honor Veterans as they changed out the flag, with about 40 people.
"It is important to thank our Veterans for the sacrifice that they make and also to thank their families for the support that they provide while the Veterans are out there defending our freedoms," Crain said.
"It's a job, and yes they did sign up and volunteer for it, but it's still a huge sacrifice of time, energy, and a huge commitment for several years — be it two, four, or 20, or 30 years — that they've given selflessly to our country, that flag and everything it represents," he said, "and luckily the off-road community that goes out there are incredibly patriotic and supportive of such a thing."
Crain said the event evolved since the first gathering of November 13, 2004, from 40 people to numbers that are too vast to count — with an estimation between 1,000 to 3,000 people as an average annual attendance.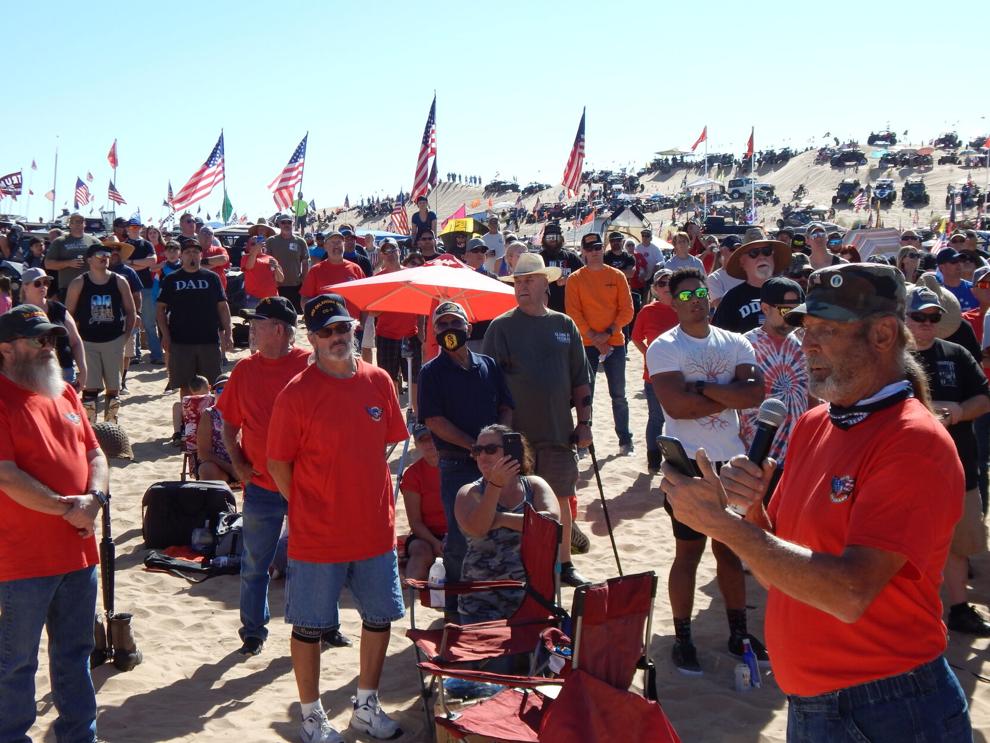 "It's really organic," Crain said. "There's no sign-up or registration. Everybody just sees it online; they know the time and if they show up, they're here and if not, they're not."
After the gathering of off-road crowds, the event saw a flyover, singing of the national anthem, a small history of the event and Veterans Day shared by Crain, a moment of silence with TAPS played on trumpet, poems read, the changing of the flag, the pledge of allegiance, a live honoring of Veterans, and a large Veteran-group photo.
The event saw approximately 145 Veterans honored in-person and about 17 honored by proxy through family members, with each person getting on the microphone to say who they are, the military branch where they or their family member served, the years they served, and other additional details.
The flag sits atop a pole mounted to a rusty box line with memorial plaques for Boardman as well as other soldiers' memorials, which were added to it over the years. The Veterans were also given custom Glamis Veterans Challenge Coins and t-shirts for those in attendance.
"I could not have imagined in a million years that it would've grown to what it is now because that's where people go to blow off steam, recreate, and vacation," Crain said, "and to actually coordinate so many people coming together in one place that's nowhere near a roadway at a specific time for a specific purpose is pretty special to witness and be a part of."
The event attracted families and Veterans.
"It's a good time to spend with our family," said Dana Point resident and Veteran Theresa Rosczewski, as she watched her 2-year-old son, Liam, play with his young cousins.
"Just honoring the Veterans is something that we all should do," she said. "It makes me proud to watch (my dad) go down there and get his (challenge) chip every year."
"I've seen this for years, I've always tried to get down there this early in the winter, so this year I came out," said Veteran and Salinas resident Bob Dollins, who served in Vietnam.
Dollins said he attended the event out of respect for his fallen comrades and other Veterans who lost their lives in war.
"I was an electrician in the Navy and we serviced the river patrol boats that was going up in the rice paddies or wherever they went; they'd come back all shot up and we'd fix them up and put them back out again," Dollins said of his time in service.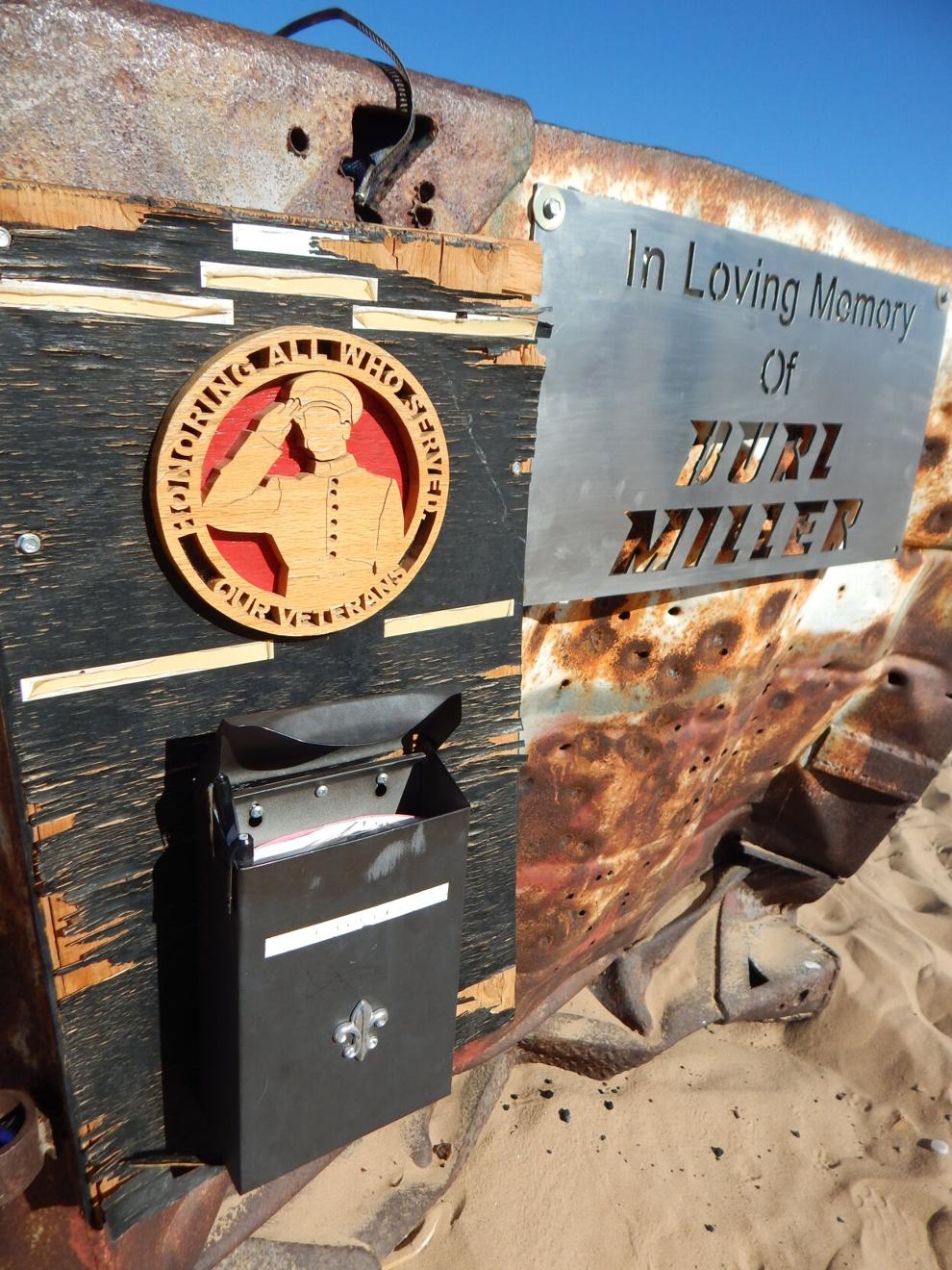 "Anyway, I was lucky I never got shot at, as far as I know," Dollins said. "I snuck by pretty good where I was at, you know, but I knew guys who didn't have it so good. There's a lot of stories that Veterans will only tell other Veterans."
Redding resident Jerome "Jerry" Downey, who served a few months at the end of World War II and two more years in the South Pacific, said the event was wonderful.
"I've had so many people come and shake my hand and be nice to me. It's wonderful," the 92-year-old Navy Veteran said.
Downey said it is still important for today's society to honor Veterans.
"If they don't honor Veterans, they don't honor anybody," he said. "Veterans are our country."