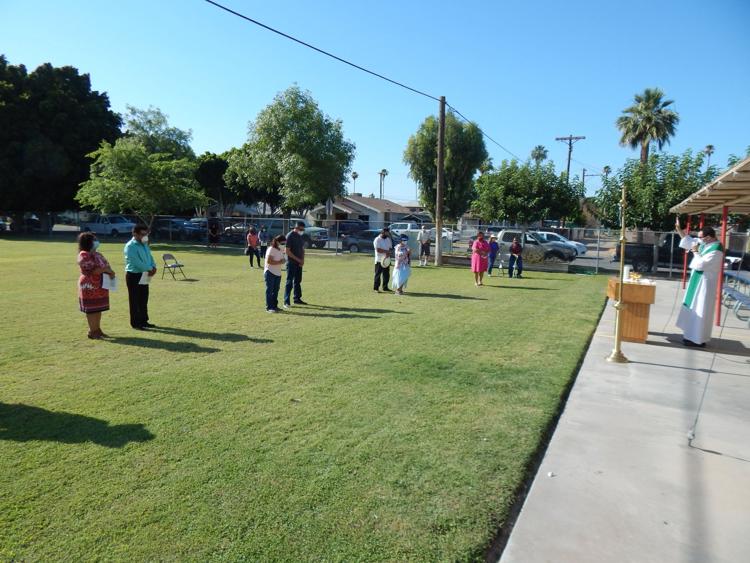 IMPERIAL VALLEY — Valley Catholics gathered, huddled in small, single-family clusters, 6-to-9-feet away from each other amid lawn chairs, umbrellas, and a canopied altar Sunday, June 28, at the St. Mary's School soccer field.
Similar scenes were seen around the Valley as the previously planned re-opening of the Catholic churches turned into a re-closing.
Governor Gavin Newsom recommended Imperial County go back to Stage 1 restrictions in a press conference Friday, June 26, due to Imperial County's rise in positive cases.
Due to the recommendation by Newsom, the Catholic Diocese of San Diego paused plans to re-open parishes in Imperial County for public Masses, according to a Diocesan press release.
What was being planned by local Catholic pastors to be an outdoor re-opening of semi-normal weekend services, devolved into brief distributions of Holy Communion. Before Newsom's press conference, both existing Bishops for the Diocese were set to celebrate full, one-hour public Mass services in Brawley, El Centro, and Calexico.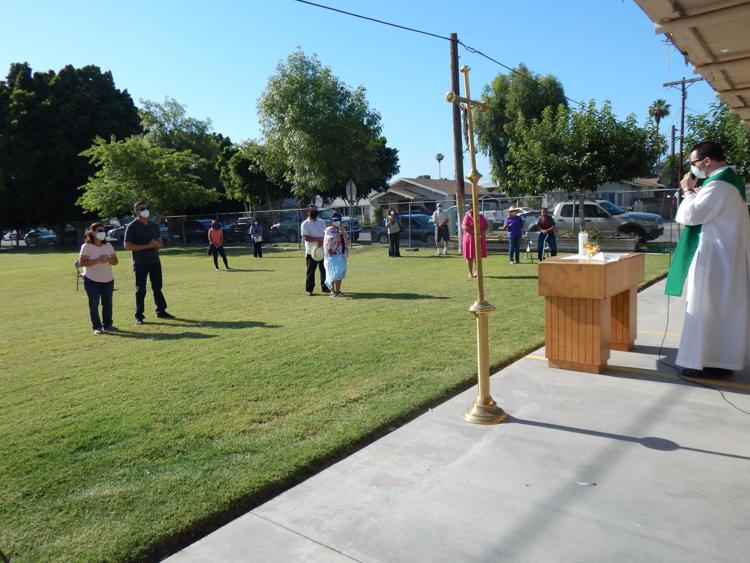 Father Ed Horning, pastor of the Catholic Communities of Brawley & Westmorland said he was shaken up about the news.
"We're going back to Phase One so this sickness is real," said Horning, during the homily of a closed Mass broadcasted on Facebook Live Friday, June 26.
Horning said the governor's recommendation is the right action due to the high number of infected and the high chance of passing on the sickness to each other.
"I can tell you that we have a large, large number of parishioners, family members, friends, co-workers who are very, very sick," Horning said. "Many people close to death — a lot of people on respirators.
"Here and Mexicali it's really bad so, yes, we crowd to mercy, but we have to do our part," Horning said. "We want to keep praying to the Lord, but we must be people of reason and authentic care for others."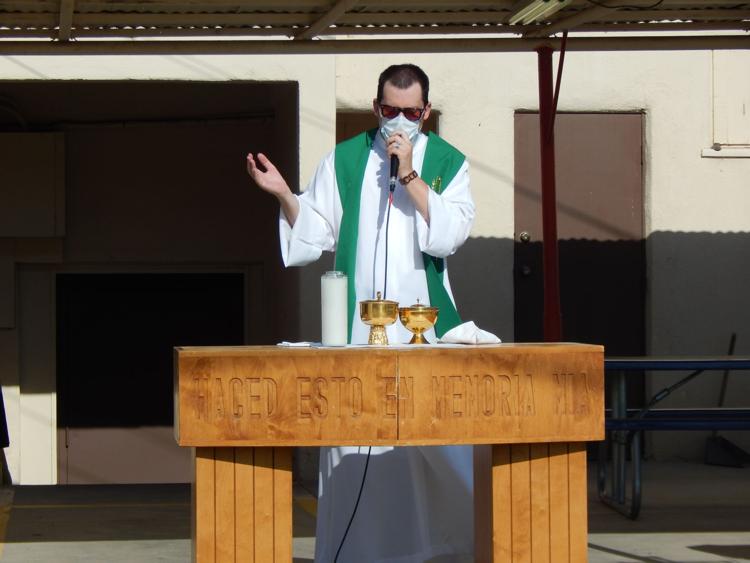 Horning said on a Facebook post that Sunday would be the "one opportunity to receive the Eucharist after a long time … and we won't be able to receive the Eucharist again for at least another month, perhaps longer."
Yet even with the churches keeping to the same schedule of the previously planned re-opening, gone were the crowds of people who usually congregated at the 7 a.m. and 8:30 a.m. services in El Centro and Brawley.
In El Centro, the green grass of the St. Mary's School field was adorned with small yellow flags and white spray-painted squares, marking where the families could wait.
In Brawley, a smaller 8:30 a.m. crowd utilized the Ramada shade usually used by the school as lunchtime benches, as some walked toward the grass to wait for the service to start.
Outdoor altars erected by staff and church volunteers displayed the white cloths typically used in Catholic liturgy, while crucifixes stood near the altars.
Prayers were given by the pastors, short statements acknowledging the current situation, brief Liturgies of the Word and homilies, final blessings — including general absolution — were given, and culminating in distribution of Communion given as people exited the fields in social-distanced lines.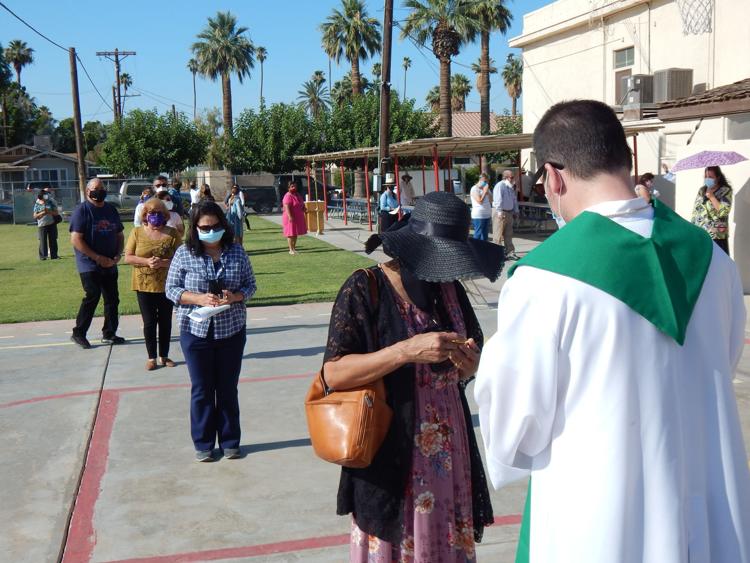 Father Mark Edney, pastor of El Centro Catholic and dean of the Imperial Valley for the Diocese of San Diego, asked his congregants to "please keep all those suffering from this virus in your prayers during this service" and "pray for our church (people)."
The congregants said the service was bittersweet as they were happy to be back at public church services, but also sad about the news of going back to an in-home shut down, once again unable to attend church for an unknown period of time.
"I've been waiting for this day for a long time," Joyce Lewis, parishioner of St. Mary Church in El Centro, said before the 7 a.m. service.
Lewis said she agreed that it is a good idea to wait to re-open.
"A lot of people don't have enough patience, you know, and they want to hurry up but sometimes we just have to stop and wait," she said. "I told (my family): I'm waiting on the Lord. When he says, 'go' then I'll go."
"Well yes, it's sad," Imperial resident, Candy Valle, said before the 8:30 a.m. service in Brawley. "Of course, we don't want that to happen but if it's required then it must be done. We have to be obedient."
Others said even though the stay-at-home order feels kind of like house arrest, their faith is seeing them through.
"If it wasn't for our faith I don't know where we'd be," said Richard Diaz, parishioner of St. Margaret Mary Church in Brawley.