EL CENTRO — The US Navy celebrated their 245th birthday — the anniversary of the inception of the resolution passed by the Continental Congress on October 13, 1775 — at Naval Air Facility El Centro with a publicly broadcasted ceremony where local base officials and designated service men and women cut the traditional birthday cake.
"The vision was extraordinary for our new Nation, as although the numbers may seem small today, Congress foresaw the need for a mobile, agile, and lethal Navy to accomplish the Nation's defense," said Captain William Perkins, commanding officer of NAFEC.
"Two hundred and forty-five years later, we find ourselves today with the same tenant of providing sea-based firepower and lethality, not only at home but across the globe," Perkins said. "The men and women who crew these ships remain mobile, agile, and lethal today. Ships have evolved in size, scope, and mission, and we now operate below, on, and above the sea as a combined force."
"Two hundred and forty-five years, that's amazing. It's amazing to be part of something that has such a long history," said NAFEC Public Affairs Officer Kristopher Haugh.
Haugh, who has served 23 years in the Navy in active service and has been working with the Navy about 33 years in total, said the anniversary of the Navy is a source of pride for Veterans, active duty, and civilians.
"It's an amazing feeling to work and to serve alongside people that have chased their history back decades and centuries. I think that's really what gets me the most, is that deep sense of history and heritage," he said.
"That's why it's important to us to have a cake cutting ceremony because it's a way to demonstrating a passing on of our heritage, knowledge, and tradition," Haugh said.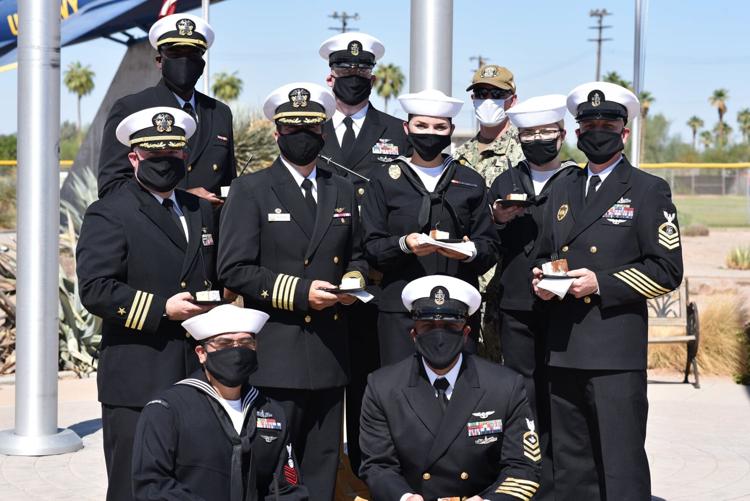 Navy Veteran and local Author, Bill Gay, founder of Reliance Public Relations, said he comes from a family with very deep Navy roots who 'bleeds Navy blue and gold,' being born at Balboa Naval Hospital in San Diego where his grandfather served as commanding officer.
Gay credited the skills he learned in the Navy, both as a Veteran and after, as giving him the confidence to found his public relations firm.
"I think the thing that I carried away from (Naval history) was accountability for the decisions you make," he said.
"The Navy has a tradition of service, of being able to get the job done. The famous saying: 'Damn the torpedoes, full speed ahead,' serves both in wartime I think as well as in peacetime in terms of the drive that our modern Navy has," Gay said.
NAFEC Military Policeman and 20-year Navy Veteran Ed Swanegan agreed.
Swanegan, whose first job was in recreation on NAFEC when he was about 20 years old, said the Navy instilled in him a sense of "always being ready."
Swanegan remembered being called away from leisure port time and hopping into action when he was out at sea after the bombing of the USS Cole on October 12, 2000, saying it felt like yesterday, rather than 20 years ago.
"We were going to go party and then all of a sudden it's time to go to work," he said.
"It was a bunch of mixed emotions but I think the thing that was more prevalent than anything was everybody was like, 'Let's go' and I think that's what it's been like throughout my Navy career," Swanegan said.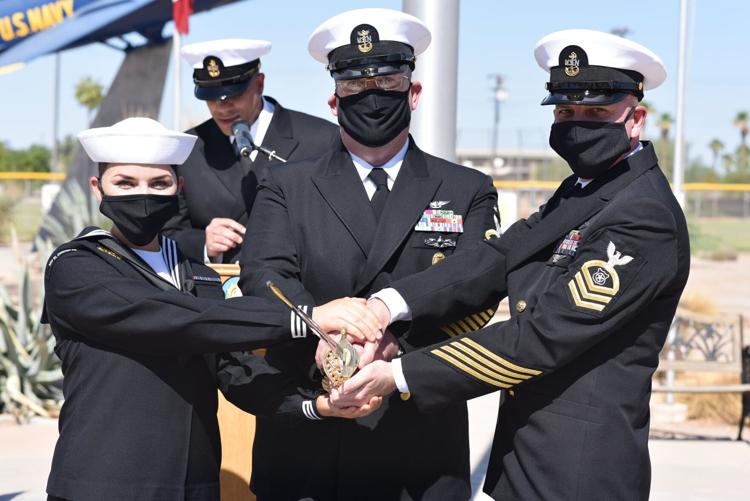 The Navy Veterans said they think civilians support and appreciate the Navy but Veterans and those in active service have a different sense — a deeper appreciation — of the military and what they do.
"A lot of people don't understand that goods travel mostly via sea and not via air, so it's critical for our Nation that we can defend the sea lanes and keep them open, not only for ourselves, but for the globe as well," Haugh said.
"I can tell you that today's Navy is second to none as far as I'm concerned," Gay said.