The air was crisp and cool with the mid-morning sun shining brightly on the assembled crowd whose expressions belied the sunny day. A riderless horse entered the arena with withered cowboy boots strapped backwards on the saddle's stirrups signifying a warrior had fallen. The name Griggs was stamped on the saddle.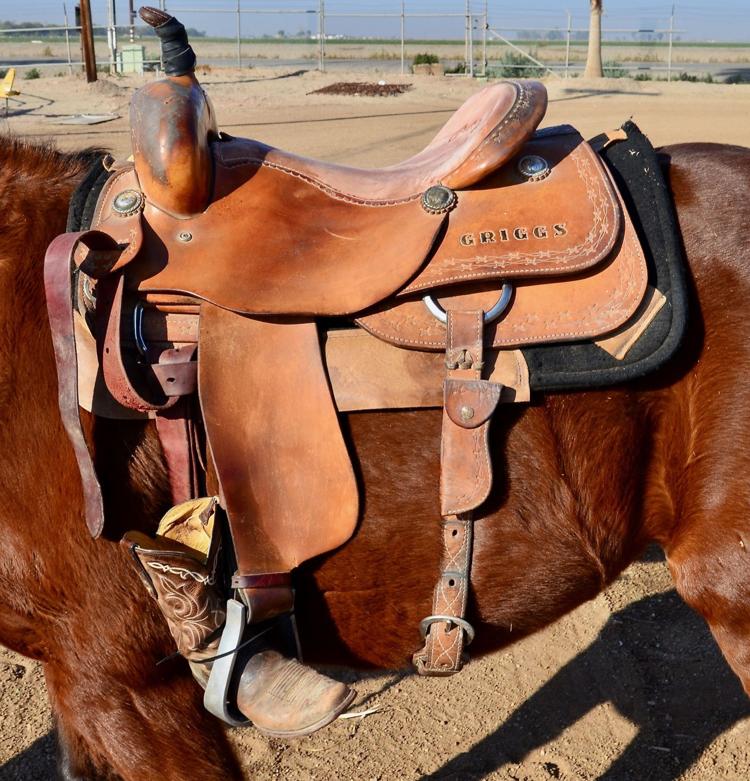 For those who knew Dale Griggs, a warrior had truly fallen. According to his friends, Dale tackled life with gusto and grit, perhaps most signified by his passionate love of team penning and ranch sorting.
Saturday, February 8, team penners gathered for their scheduled event, most planning to compete against or with their friend and owner of the arena, which he named after his children and grandchildren. Dale had taken the first letter of each and created K.D. Danch Arena, where not only team penners came, but the Barbara Worth Brigadettes put on their annual gymkhana.
Horsemen and friends gathered around the arena as Dale's teammate Duane Dockstader led his bay solemnly through simple maneuvers as Brett Leavitt, another competitor, honored him.
Leavitt spoke about Dale being an entrepreneur, how he had opened a gas station on Main in Brawley, then bought a truck and started Griggs Trucking.
"The neat thing about the company Dale built, was it included his whole family — his dad, his beautiful wife of almost 48 years, Carol, his children Kim and David, they all worked in the office together and knowing how much Dale loved his family I know he knew he was a very blessed man," Leavitt said over the loudspeaker.
Dale's riding started early in the 1990s when he joined his son in team penning. Eventually, Dave pulled out as Dale dove deep into the sport. In 2007 he built the arena.
Kristy Cussman, a Brigadette who helped Dale organize the gymkhanas, remembered Dale's desire for his own arena.
"He met with Keith and me to pick our brains on how to get it together. This arena has a lot of meaning to me as my son, Kyle, did the welding," Cussman said after the ceremony. Kyle passed away later in a desert accident.
It was soon after his arena was built that he invited young and inexperienced riders out for team penning practices. He hired young riders to wash and exercise his horses, and he hosted gymkhanas for families to ride and play together, according to Leavitt. Dale even sponsored the award ribbons.
Although Dale did not compete for awards or placing, he ran in every game, the only way Dale knew how, full force, no holds barred, and enjoying every minute.
Many commented that Dale was always aware of who didn't have partners in the two-man riding games and invited them to be on his team.
Leavitt said that to avoid a conflict of interest, since he owned the arena and sat on the board for the Imperial Valley Team Penning Association, he resigned. But because of his generous and trusting nature, he let the board members continue to use his office next to Holly Sugar, giving them the key and security code.
"Dale's grandkids, Nathan and Cody, also helped Dale at the gymkhanas,which I know was the best part of the day for him," Leavitt said to the crowd. "I'd also like to thank Nathan for starting to help us this year at our pennings. It made your grandpa both excited and proud to have you here. Dale was one of the hardest working people I will ever know. And while his successful company and beautiful family are his legacy, this arena, this place where we're all standing, this is how we will all remember him," Leavitt said. "Going 100 mph across the arena shutting the cows down, making amazing cuts in the penning and sorting arena. Dale may have been 71, but he did not act or ride like a 71-year-old."