BRAWLEY — Self-starter takes on new meaning in Brawley Union High School senior Julitza Alvarez.
From selling stickers, bracelets, and the like as a small child, 18-year-old Alvarez has recently started her own small business from recycled "deadstock" fabric, which is left over fabrics from fashion houses who overestimated their needs which she buys online rather than letting them go into landfills.
"I custom make clothes," she said. "It's kind of environmentally friendly because it's getting all that wastefulness and turning it into something new."
She has only been doing this about six months, she said, but her newfound love of clothing-making was enough to help her earn a silver medal for the Regional Hispanic Heritage Youth Award (RHHYA) for entrepreneurship from the National Hispanic Heritage Foundation (HHF).
The RHHYA, now in its 22nd year, is an educational grant program which honors Latino high school seniors who excel in the classroom and community for their excellence in various categories including business and finance, education, engineering, entrepreneurship, healthcare and science, media and entertainment, public service, social justice, and technology, according to a Hispanic Heritage Foundation press release.
Students are awarded gold, silver, or bronze-level awards in every category during a virtual ceremony held online on March 23. Colgate-Palmolive will provide educational grands through their Haz la U™ (Make the U) Program to 100 of the students.
The silver designation in entrepreneurship gives Alvarez a $1,000 scholarship in addition to her silver medal keepsake.
"This award that I received is kind of to honor those students that have been active in their community in forms that they're passionate about, and I received the Entrepreneurship Award because I started my own small business," Alvarez said.
"I think it's really cool to be able to see how much of an impact I'm making and how others are reacting to what I started out of nothing," Alvarez said. "It really motivates me to continue doing what I do."
Alvarez was one of 27,000 applicants in California, said her mother, Martha Alvarez. She is the only recipient of the award in Imperial County.
"It was surprising because we were aware that there were a lot of applicants and it was a long shot," her mother said.
"I think it's one of the first scholarships (she's been awarded)," Martha Alvarez said. "She's been applying to a lot of scholarships lately. It's exciting."
Both the mother and daughter said they were surprised when Alvarez received the award because she heard about it with only one day to spare before the application deadline.
Yet while the family was surprised, Julitza Alvarez said her teachers – who know of her 4.6 GPA and bevy of impressive Advanced Placement courses – were expecting her to get it.
"They said it was kind of like, in a sense, almost deserving," Julitza Alvarez said. "It really motivates me to continue doing what I do."
"I think it's really cool to be able to see how much of an impact I'm making and how others are reacting to what I started out of nothing," she said. "I think it's kind of overwhelming — in a good way — just seeing the support from my community."
In addition to taking the initiative on a last-minute application and having it pay off for the award, Alvarez said she started her clothes-making during the summer of 2020 on a whim due to boredom from the COVID pandemic lockdown.
"I didn't have anything to do so I started looking into classes and I started studying marketing on my own," she said, "and then I just found some fabric in my room and decided to make something out of it."
"Initially I didn't really plan on starting (a business)," Julitza Alvarez said, "then I realized I really enjoyed doing it, so I combined the marketing class with creating clothes and turned it into one."
While clothing-making is still fairly new to her, Alvarez said she'd like to branch out in the future from making more than just girls' and teens' clothing to offer more clothing items and create clothes for other demographics.
Alvarez makes the deadstock fabrics clothes on her free time, which she does between a full school schedule, sports and other extra-curricular activities. Alvarez is current taking advanced placement calculus, macroeconomics, microeconomics, and literature, as well as being on BUHS cross country, track and field, Honor's Society, and volunteering at The Village, she said.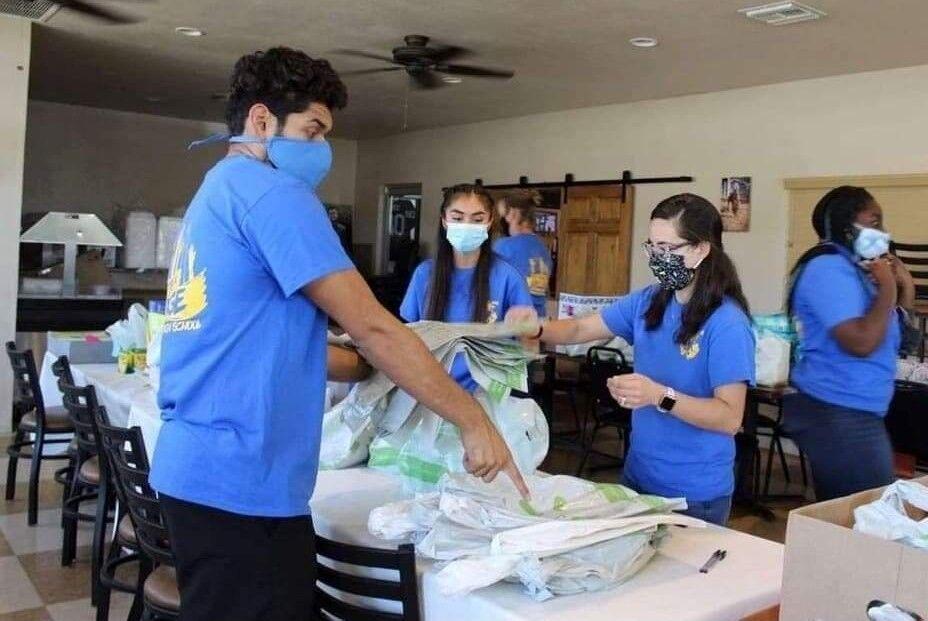 Alvarez said after high school she is hoping to go to University of California Irvine for college where she wants to major in business administration with a minor in economics.
She said she wants to continue as an entrepreneur, and though she is "not sure in what specific field," she said she wants to "ensure I am helping as many people as I can."
"There is no shortage of Latino talent across the United States, and we are grateful to our dedicated sponsors who understand the importance of investing in the youngest and most dynamic segment of our population," said HHF President and CEO Antonio Tijerino.
"We're in good hands as a community and as a country with these outstanding young leaders going forward," he said.