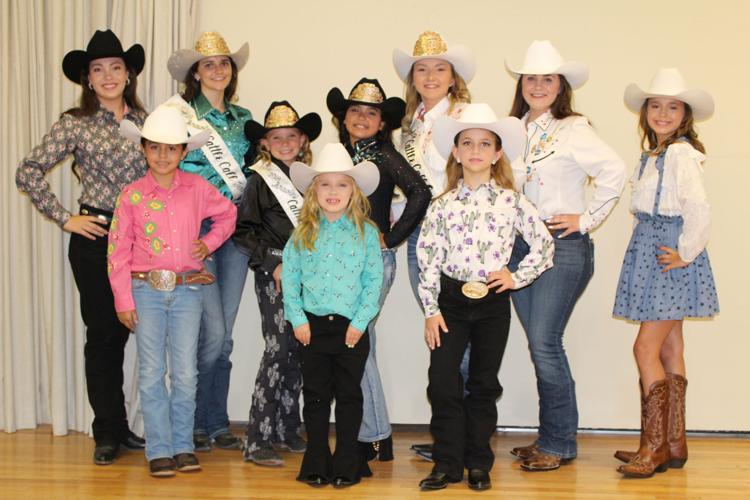 BRAWLEY — The 63rd annual Cattle Call Queen contest got underway in Brawley Thursday, August 15, with an orientation for six queen hopefuls at the Elks Club hosted by the Brawley Cattle Call Queen Royalty Association.
Candidates are competing for four titles: Little Miss, Junior Queen, Teen Queen, and the coveted Cattle Call Queen. This year, six girls are competing for the title of queen, one returning from last year's competition for another shot. The competition is open to anyone who lives in Imperial County, not just Brawley.
According to BCCRA president Dona Mendoza, candidates will be judged by their modeling, speech, interview, and horsemanship skills. All candidates received a binder with information for the contest. The Teen and Queen contestants will show off their riding skills in patterns, cattle work, and parade riding. Little Miss and Junior Queen do not need to ride, but do need rodeo, equine, and horsemanship knowledge. Candidates are expected to be on their best behavior during the competition.
"We're excited about how many girls we have involved this year," said Mendoza. "We're just ready to have another fantastic year."
Mendoza stated there are a few changes to the contest this year, such as a dance number to "The Git Up." There will be a dinner for sponsors the Friday before the coronation.
Candidates will also be selling tickets to sponsors. Mendoza said this will not affect the judging process, but the one who sells the most will win two tickets to the Super Bowl of rodeo, the Los Angeles Nation Rodeo Finals.
Jessica Friley, one of this year's queen candidates, said she has wanted to be Cattle Call Queen since she was little and saw them as role models.
"I looked up to the queens and thought one day want to do that for the kids of my generation," said Friley. "I want to be able to see the kids' faces and their excitement when they meet a queen, and to be a role model."
"I like rodeo and I get to meet people and have fun with people like me," said eight-year-old Julianna Ferriero, who is returning to run for Little Miss.
Cidney Roper comes from a family of Cattle Call Queens, and rodeo runs in their blood. Roper herself was Little Miss for two years and plans to continue that legacy as Teen Queen.
"I was once that little girl looking up to the queens and longing to be in that arena," said Roper. "I just really want to be able inspire and educate on what the sport of rodeo is all about."
"I wanted to learn more about horses, get more experience, and for fun," said 10-year-old Demi Vogel, who is running for Junior Queen and has wanted to be a queen for two years.
The 2018 court will make way for the new court, offering guidance to the queen hopefuls. Mendoza said that it is going to break her heart to say goodbye to BCCRA's first group.
2018 Cattle Call Queen Brandi Whittle said she was happy for the experience and that felt like it went by in the blink of an eye.
"I say 'good luck' to the upcoming new queens and hope they make a lot of friendships," said Whittle.
The Brawley Cattle Call Queen Royalty Association started last year after breaking away from the Brawley Chamber of Commerce, which had sponsored the contest for decades since its start in 1956. Mendoza said last year was a successful learning experience and the organization feels more confident for 2019.
The horsemanship contest and the coronation will take place Saturday, October 12, at St. Mary's in El Centro.