BRAWLEY — The Brawley Police Department is currently investigating the homicide of a 22-year-old homeless person found early Monday, July 13.
The transgender woman — born Nathan Daniel Cazares of Westmorland but also known as "Marilyn" and "Monroe" to family and friends — was found near an abandoned single-family residence on the 1100 block of Main Street in Brawley around 8:30 a.m. when BPD and Brawley Fire Department responded to a report of a couch fire near the building, according to a press release.
"This is just the early part of the investigative process so we're just investigating as a homicide right now," Commander Brett Houser said. "We haven't established motive or anything of that nature yet."
Though no motives have been officially declared by investigators, the family of Cazares believe it to be a hate crime due to the state the body was found in, according to family members.
"I believe it was a hate crime because he was stabbed and he was burned and, you know, that's so hateful to do to somebody," said Aubrey Cazares, Cazares's 19-year old sister and Westmorland resident.
"Me and my dad talked about it because we know my brother and we know he (was) a fighter, so we imagine (it was) something that he tried to fight his way out of but he couldn't," she said, "but then also it could have been somebody who just didn't like him — who he was as a person."
"What happened to my brother was very horrible, and tragic," she said.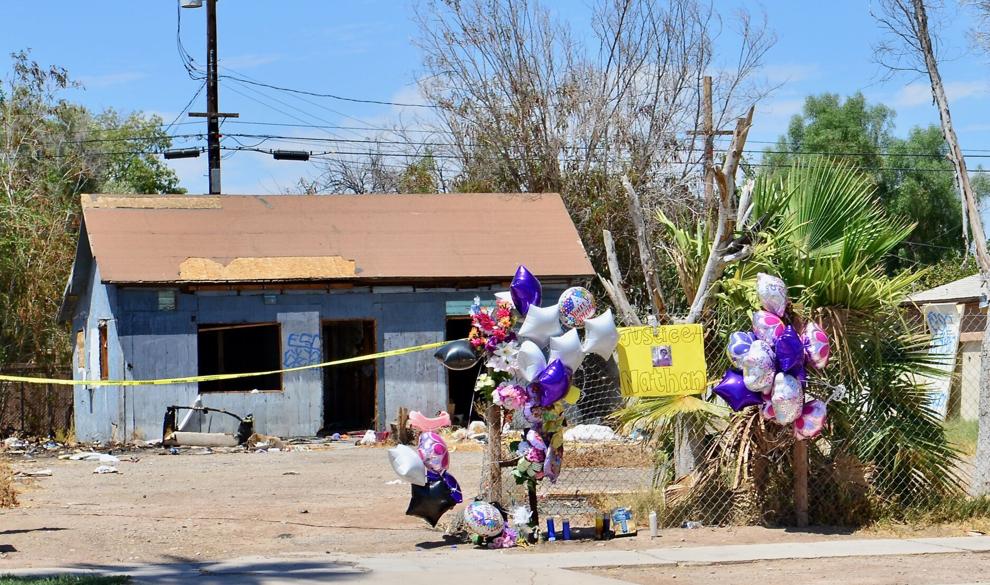 Cazares was the middle of three children in her family, all three being raised by their grandmother at an early age after their parents separated.
"He was addicted to drugs, but his drug addiction didn't contradict who he was as a person," Aubrey Cazares said.
Cazares's eldest aunt, Sonia Casteñeda, said Cazares went through a lot as a child, including being bullied for being "a little bit different."
"You know how when you're different, people don't understand it? Especially kids. Kids can be cruel sometimes," Casteñeda said. "Then he found his true self and he was okay with himself."
The family said though they always had open arms with Cazares at their family home in Westmorland, Cazares preferred living out on the streets by the time she turned 18 years old. It was around that same time, they said, Cazares transitioned to becoming a transgender woman.
"Apparently he was a different person when he was out on the street; that's where he wanted to be," Casteñeda said. "He had a home, but he wanted to be on the street, if you can understand that."
"We were just saying how we were all trying to get him back into the house and he would just take off out on the street," Casteñeda said. "(Her mother) asked Nathan, 'Hey Nathan, why don't you just come home?' He said, 'No, I don't want to come home because it's fun out here. The street is fun,'" she said, quoting her family.
"That might sound a little crazy to me and you, but I think that's where he was accepted," she said. "Some of us didn't understand the life he led. Some of us accepted it and some of us had the old mentality of you're not supposed to be living life like that and some of us just loved him unconditional of who he was and what he was."
"He wanted to live his life the way he wanted to live his life," Casteñeda said.
Though the world saw Cazares as "Marilyn Monroe," the family remembers her as Nathan, nephew and brother, they said.
"I was there in the delivery room when he was born. Nathan was a beautiful child, he was just like his mom and dad," Casteñeda said.
"Nathan was beautiful, outstanding, sassy, goofy," Aubrey said. "He always loved to dance and sing. He admired Marilyn Monroe and Nicki Minaj and Cardie B," she chuckled. "He was just fabulous; always rocking crazy outfits, crazy wigs … he was just Nathan. That's always who he was, even when we were kids."
Aubrey Cazares remembers their childhood and readily recounts stories of Nathan "coming out with my mom's dresses and her heels and her necklaces and her lipstick — her lipstick especially."
"He was tough as well. Growing up he always toughened me up 'cause he knew what the real world was like," Aubrey said. We didn't have a perfect childhood, I'm not gonna lie. We had some struggles and obstacles growing up, we saw a lot of things and he pushed through it. He was very strong, and he pushed me through it; both of my brother's did."
"Nathan was always who he was," she said.
Even with that tough, fighter's spirit, the family said Cazares was always the type of person who never hurt anyone else, even as an adult.
"He was very respectful with people he knew and to people who (ticked) him off he wasn't," Casteñeda chuckled. "He was direct. Unfiltered."
"You should've seen him shopping (at the Goodwill). He would get a whole wardrobe," Casteñeda said. "Around 18 when he moved out, he started referring to himself as 'Marilyn' and everybody would call him 'Monroe.' Nathan loved the attention. He was a little legend and was fun to be around."
"Any negative attention he would take and flip it," she said. "He was always happy living his life every day to the full."
Despite her fun-loving nature, the family said they don't know why anyone would injure their beloved family member with such "gory details" not currently being released to the public, Casteñeda said.
"My sister told me that they didn't want to tell me all the details, but they did so many things to him. My thinking was that this was premeditated," Casteñeda said. "It's unacceptable behavior. We live here so we don't have to encounter things from the big city and that crap comes and follows us all the way down here."
"You know what, my nephew was murdered," Casteñeda said. "This was a hate crime."
In response to news of Cazares's death, the Imperial Valley LGBT Resource Center posted a memorial Monday evening on their Facebook page, stating: "'According to the Human Rights Campaign, transgender and gender non-conforming people face a heightened risk of fatal violence due to a toxic mix of transphobia and misogyny.' This happens in cities as well as rural communities."
Casteñeda said though "there's a lot of bits and pieces to the puzzle," she trusts the police in their investigation, and hopes that locals who saw something will relay information about the incident.
"Everybody knows everybody here so I just hope the people that know something will come forward," Casteñeda said.
Cazares's sister agreed.
"At the end of everything I hope he gets justice," Aubrey said. "I hope my brother's name is never forgotten. That's all we want — justice for Nate."
The family has created a GoFundMe account to help pay for the funeral expenses for Cazares. Their GoFundMe page can be found at gofundme.com/f/nathan-daniel-cazares-funeral
Anyone with further information regarding Cazares's death is asked to contact Detective Sergeant Jesse Rotner at 760-351-7777.