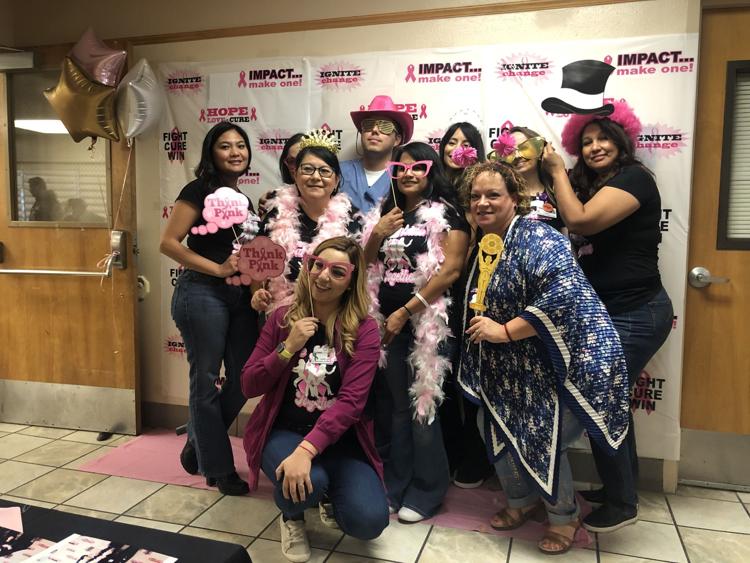 BRAWLEY — Pioneers Memorial Hospital (PMH) held its fourth annual Breast Cancer Awareness event Thursday, October 3, to discuss the importance of breast health services.
PMHD's Radiology Department's spearheads the worthy cause with assistance from staff members at the Cancer Institute to inform the local community how to better themselves through a difficult time.
PMH's auditorium was decorated in glamorous pink decorations, bringing a fun Hollywood theme to the event. Live music and food was available, and informational booths awarded raffle prizes.
"This is our fourth annual awareness event ... because we believe that despite all technologies, the best way [to find cancer] is through early detection," said Radiology Manager Rojian B. Lira. "We provide mammogram tests and educate the community about early detection."
"I think our event has grown over the years. We used to have only two or three sponsors, and more people heard about it, so that helped a lot with the expansion," said Lira. "A lot of women are afraid to come forward due to immigration status, but there are women who are here to help," said Lira. "I like to emphasize that the best way to beat cancer is through early detection, get a mammogram. You don't need a doctor to get one if you're over 35; everyone is free to call us for any concerns and get the mammogram as quick as they can."
The California Health Collaborative provided a booth about early cancer prevention. Through state funds, 'Every Woman Counts' gives women the opportunity to be educated and tested.
"Our program has been around since 1991. It's a free cervical cancer prevention center where we also provide free screening," said Health Educator for Every Woman Counts Joanne Thomasen. "No documentation is needed so there is no risk for these women ... It's a great privilege to help others. One of the barriers is people thinking they don't have the support or help they need, so it's important to advocate this type of help to everyone in the state."