OCOTILLO — The Imperial Valley Desert Museum hosted its second annual Ocotillo Rocks event Saturday, November 9, bringing community members together to visit the museum and participate in geological activities. 
IVDM Executive Director David Breeckner explained the importance of geology.
"This is a way to celebrate the unique features of Imperial Valley, especially Ocotillo. We have this unique geology all around us. We just want to show people how important geology really is," said Breeckner.
He went on to explain how geology was used among the Kumeyaay tribe and how we still use it today. He discussed how rocks are formed, how they're still forming, and different tools that are made from rocks.
The rock-themed event included a presentation of different types of rocks, hikes around the IVDM property to see different rocks, rock 'n' roll music, and different activities hosted by the Imperial Valley Gem and Mineral Society (IVGMS).
IVGMS set up sinks of water with pans to pan for gold. Sand and dirt were poured into each guest's pan. Guests were instructed to slowly swirl the pan in a circle to loosen the sand and dirt from the gold. The gold stayed at the bottom because it was heavier than the sand. After a few moments of swirling and losing sand, flakes of gold appeared at the bottoms of each pan.
IVGMS is a nonprofit organization and has been in operation for about 76 years. The organization is dedicated to the hobby of lapidary, rock, gemstone, and mineral collection. They bring their gold panning setup to the fair each year to spark children's interest, according to Egger.
Guests could spin a wheel to win different rock-themed prizes, or purchase a variety of different geodes and rocks. According to Egger, some of their larger geodes were from Chihuahua, Mexico. Geodes mined locally were on display and available for purchase.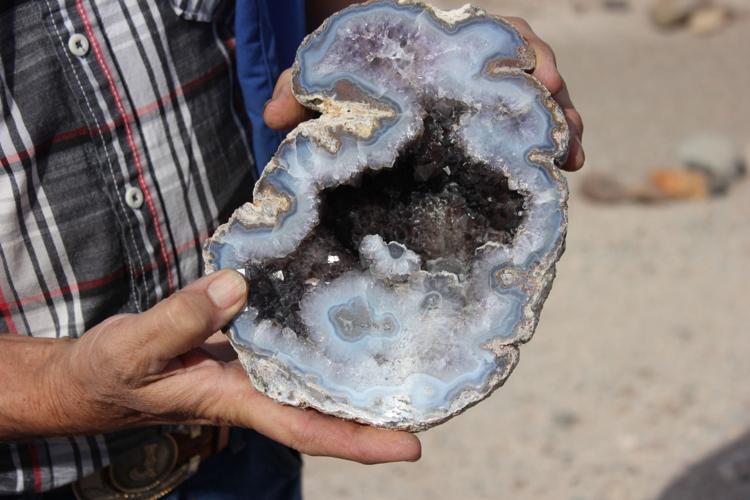 Guests also had the opportunity to choose a rock for IVGMS members to cut in half with a wet saw; when cut, more than half a rock appeared—a geode with a crystallized interior was revealed.
IVGMS Vice President James Egger explained how fun and exciting it is to see what is inside geodes.
"You see a rock and you don't think much of it, but when you open it up, it's so beautiful," said Egger.