BRAWLEY —Oberon Fuels has officially started commercial production of the first-ever renewable dimethyl ether (rDME) in the United States according to a press release on Thursday, June 10. 
California-based Oberon Fuels is now able to convert waste methanol into rDME at its recently upgraded facility in Brawley thanks in part to a $2.9 million grant from the California Energy Commission for an overall $6 million project. 
According to Oberon Fuels, renewable dimethyl ether is a clean-burning transportation fuel and the facility just outside of Brawley is the only current commercial production of the rDME molecule in the world.  
"It's mind boggling, I can't explain it. It's over my head," said Oberon Fuels plant worker Robert Maiden about the Brawley facility being the only location on the planet currently producing rDME. 
According to Oberon, rDME's properties allow it to cost-effectively store and transport renewable hydrogen which then allows for the reduction of carbon emissions from transportation use. Oberon says the production of this molecule will accelerate a future with zero carbon emissions. 
"It's just a completely different feeling that you're making a fuel that can replace other fuels and is better than other fuels and removes the carbon emissions," said Maiden. 
Renewable DME has multiple pathways to reduce carbon emissions including the ability to blend with propane, move renewable hydrogen and potentially act as a replacement to diesel. 
"It's an enjoyment. You feel like you're doing something better for the world and that you matter," said Maiden.
Oberon Fuels plant worker John Tapia said it was awesome to be a part of something that will eventually expand around the globe.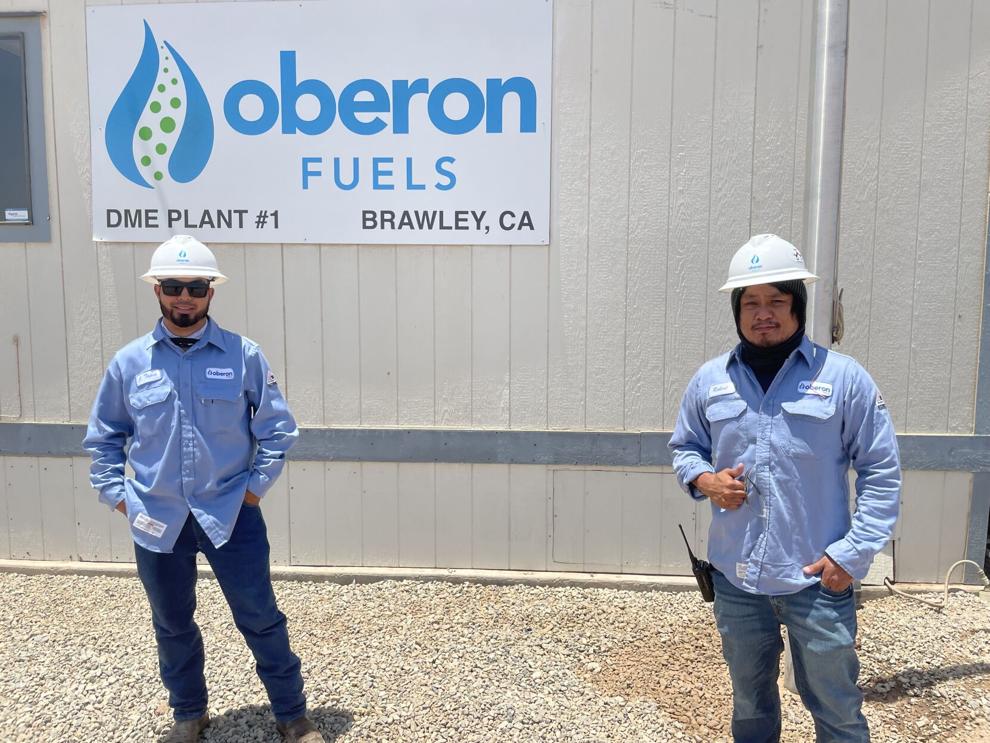 "We're the only ones in the world, we're doing something that no one is doing," said Tapia. 
Assemblymember for the 56th District of California Eduardo Garcia is a big supporter of rDME, having celebrated the passage of California Assembly Bill AB2663 which lowered taxes on the production of rDME. Assemblymember Garcia previously joined Oberon Fuels at a check presentation at Brawley back in 2019. 
"Oberon and our community partners, including Imperial County Workforce and Economic Development, the Imperial Valley Economic Development Corporation, the operations team at the plant, and the local workers who labored on the upgrade, have shown us what is possible when we work together," said Garcia in a public statement.
Plant Manager Adrian Plascencia commends Assemblymember Garcia for educating potential benefactors and the general public about the potential of rDME.
"We're in the Imperial Valley and it's very complicated to try and get us on the map. The only thing that we're normally recognized for is the heat. With what we're doing, that will definitely have a lot more people leaning into what else El Centro and Brawley have to offer rather than the agricultural aspect and the waste streams," said Plascencia. 
Tapia said he takes a lot of pride in the work he does, especially because this new frontier is based in the Imperial Valley.
"I'm born and raised in the Valley and something like that in the Valley, you wouldn't think something like that is here and it being the only one," said Tapia.  
Plan Manger Plascencia said their work can offer renewable fuels that will change the world.
"The ability of being able to have less than 10 operators working a facility of this size, to say that we're going to change the world is always overlooked, because they've heard it before. But now that we did create rDME, it goes a long way. And the underdog is now being looked at 'Hey these guys might have some punch,'" said Plascencia.