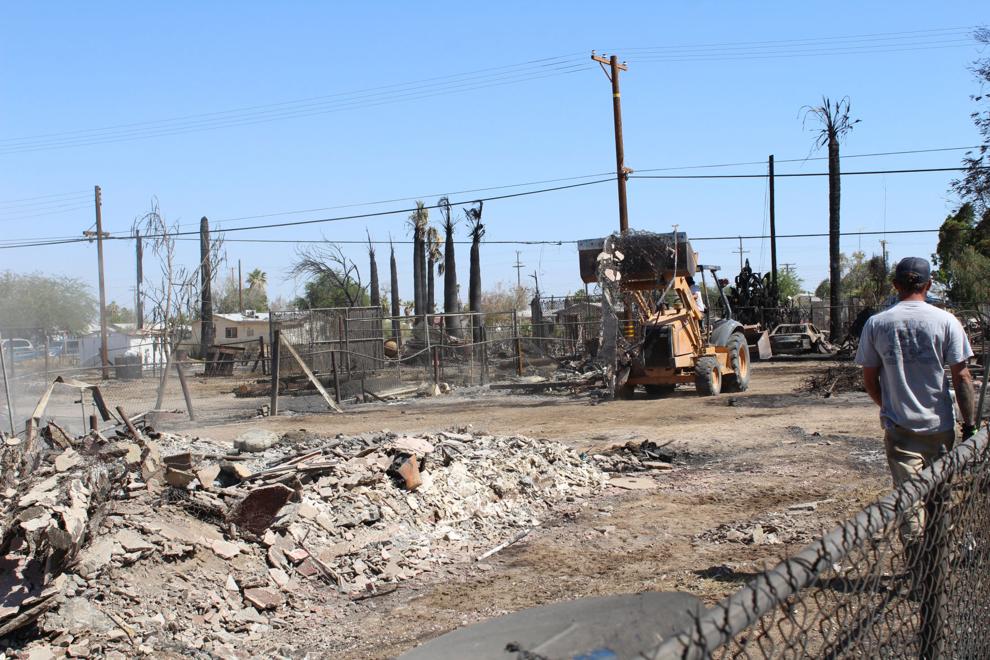 NILAND — Ash, blacked stone, and twisted metal is all that remains of the 37 structures that burned in Niland Sunday, June 28, leaving residents to pick up the pieces after the disaster.
Niland resident Ana Valenzuela watched as smoke and ash filled the air like clouds, as her home of 20 years — along with her sister's and nephew's homes — was consumed by the fire. She watched from across the street as the remains of her house were cleared out in the days following the fire. The only things that survived the fire were her Virgin Mary shrine and the truck that had been parked in front of it.
"I've always considered myself strong personally. I've worked since I have been 17 and will continue working," said Valenzuela. "Sometimes the memories hurt more."
Down the street 82-year-old Magdalena Magdaleno only had time to get out as her home burned — unable to save any of her belongings. Her 84-year-old brother tried to get back into the house to protect his electric wheelchair but was unable to. Nothing was saved.
"We are doing what we can," said Magdaleno, who is currently staying in Indio with her daughter and returned to get her brother's medicines that were lost in the fire. "We were very scared out there in the desert, but here we are trying to move forward."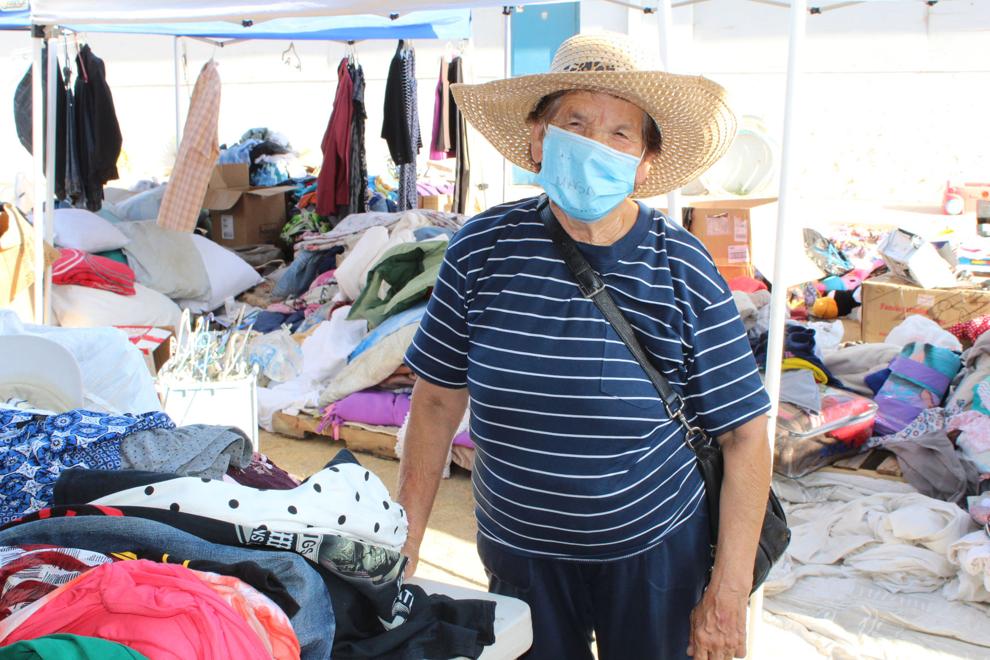 Valenzuela nearby watched Magdaleno's brother break down as he watched their home go up in flames. She herself was still in shock days after the fires.
The Niland fire started as a brush fire at about 6 p.m. Sunday night, torching a section of homes across Highway 111. The high winds fueled and carried the flames across the highway to more residential area. The fire destroyed 37 structures and left 43 families homeless.
Days after the fire, the charred ruins of the neighborhood were still smoldering. The neighborhood looked much like a tornado had ripped through, with sections of the street completely destroyed while other homes on the same street were untouched. Little remained of the homes that were caught in the blaze that took hours to tame. 
Niland residents said they are still in shock over what happened and are unsure how they will rebuild.
Maria "Nena" Lopez lives down the road from Valenzuela and Magdaleno. She watched the house one street over catch fire, burn to nothing, and feared for her own home.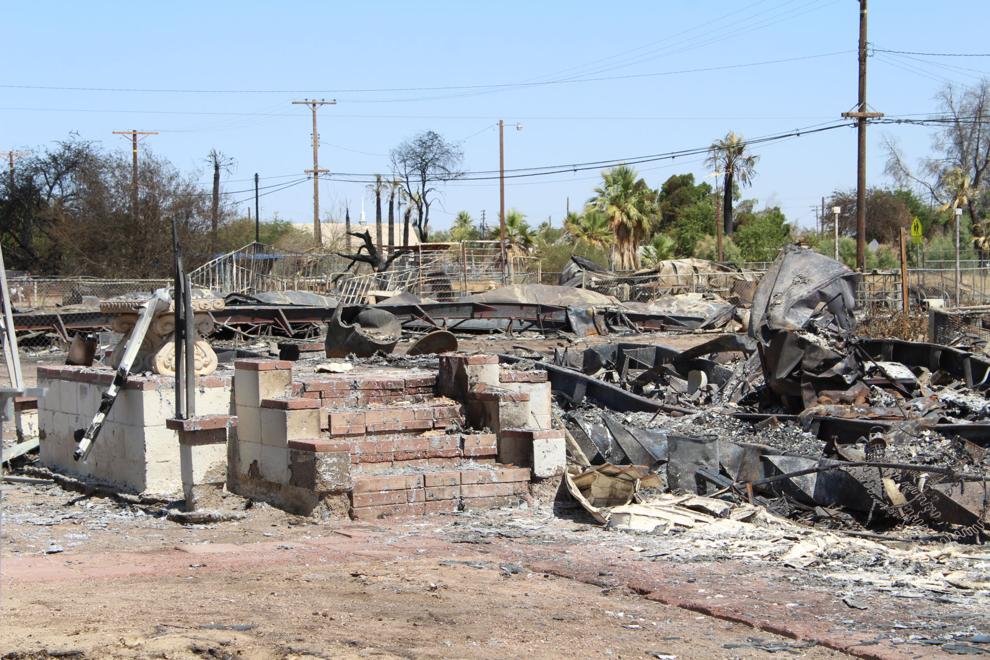 Lopez said her husband was hosing down their house along with their neighbors both next to them, behind them, and across the street. Lopez said the water tank was the only reason her house escaped the blaze. When everything was over, Lopez only had one thing on her mind:
"Tomorrow I get paid, I'm going to go buy baskets and put them together with shampoo, towels, stuff you are going to need, I'm going to do that," said Lopez. "God set my way and here we are."
Lopez, who runs a charity organization for Niland called Forgotten Angels, began organizing and building baskets for the community.
With the fire and donations, she said she has been given her mission by God to continue helping the families of Niland.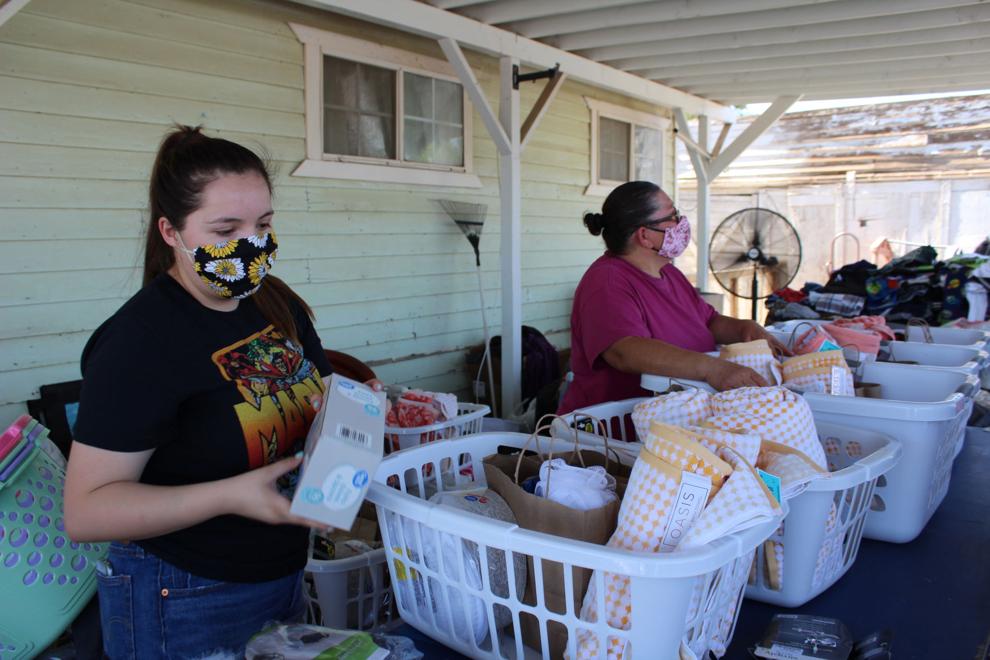 She noted how lost and in shock people have been when they come to see her for supplies. She said it has been very sad for her because she knows them all, having seen many of the residents grow up as a school bus driver.
Valenzuela was one of many who went to Lopez to get essentials.
Shortly after evacuees began pouring into Calipatria, Maria Nava, director of the Calipatria Family Resource Center at the high school, called Superintendent Douglas Kline to ask about opening up for the families who were displaced. Kline agreed and the school was opened.
Evacuees were sent to the Calipatria High School gym where a temporary Red Cross station was set up. Even after families were sent and settled into nearby hotels the resource center has remained open for them.
Since Thursday Nava said they have been able to serve hot meals during the day and provide clothes, food, water, hygiene kits, and other essential items to the families. The resource center has been receiving monetary donations, clothes, and other supplies but is low on food, according to Nava.
"Some families are displaced, but others have lost everything," said Nava, "and we are going to be here for them."
The Imperial Valley community has already begun sending help to Niland and the displaced families. 
A state of emergency has been declared by the County Board of Supervisors and has established a Local Assistance Center. Supervisor Ryan Kelley said the Board will be discussing action on putting together a community clean-up for Niland Tuesday, July 7.
"I know there is a great need," said Kelley. "Niland is a small town but with a long history. We want to make sure we take care of our neighbors."
Guys, please help us... my best friend from my hometown, her ANF her family's house burned down in the Niland Fire.... please, if you can, donate and share. Genesis and her family are the most graviois, generous people I have ever met. Anything helps!https://t.co/zOhw8y1wAy

— Sym🍴 (@xSymantha) July 2, 2020
people in my county have just gone through a horrible experience, a fire has burned down so many homes in Niland, CA that many as 600 families are homeless and need all the help they can get here's one go fund me to help a family get housing: https://t.co/qQg1lEWss5

— ana (@evelynmulwrays) July 2, 2020
Niland Fire https://t.co/dHV0uJ0jfe

— Heather Kropf 🧢 (@HeatherKropf) July 2, 2020
For those impacted by the Niland fire, Calipatria-Niland Family Resource Center is serving free hot meals for residents displaced by Sunday's fire. See more here from @IVPNews: https://t.co/5ctBKNMHHN

— Ben Hueso (@BenHueso) July 2, 2020
1 person killed and dozens of homes destroyed in Imperial County brush fire https://t.co/VKwl6Kiyjd

— CA (@CanAnneA) July 1, 2020
Video: A weekend fire destroyed 39 structures in Niland, displaced over 100 residents. (🎥: Omar Ornelas/ The Desert Sun) pic.twitter.com/tQOE2h1AM3

— The Desert Sun (@MyDesert) July 1, 2020
A brush fire destroyed 39 homes in Niland and left one dead. I used a drone to get a sense of the tragedy. Fires are always devastating to cover as a photojournalist. Niland will need help to recover. pic.twitter.com/rN3p0HNx6N

— J. Omar Ornelas (@fotornelas) July 1, 2020
Niland Fire Relief Fund - American Legion Post 60 https://t.co/86v1Cc3av8

— Loser(fOrEvEr)💁🏼‍♀️ (@NikkyNarcotic) July 1, 2020
A wildfire burns through a section of Niland, California. A wind-driven wildfire has destroyed about 20 homes and forced evacuations as it tore through the rural town in the Southern California desertCredit: Battalion Chief Joseph Bernal/El Centro Fire Department via AP pic.twitter.com/1raAO1K9ci

— Pixiedust (@PixiedustJtT) July 1, 2020
Video: Fire destroys 40 homes in Niland, displaces over 100 residents. https://t.co/zqfnaxbXtq

— Desert Sun News Feed (@DesertSunNews) July 1, 2020