EL CENTRO — The Niland Geyser, despite mitigation efforts, still continues to threaten a state highway, railroad tracks, a petroleum pipeline and a fiber optic line, causing the Imperial County Board of Supervisors to adopt and extend an emergency proclamation about the potentially damaging mud pot located five miles northwest of Niland.
Fire Chief Alfredo Estrada reported at the Oct.6 BOS meeting the situational status. The Chief said the geyser continues to release water, carbon dioxide, and hydrogen sulfide gas in low concentrations. From a distance, the geyser does not pose a health hazard.
Over the last 11 years the geyser has slowly moved in a southwestern direction, but the rate of movement unexpectedly increased and has begun encroaching on the Union Pacific Railroad right of way, impacting the tracks. The geyser is approximately 160 feet east of the railroad tracks.
There is no access to the mud pot and public site visits are prohibited for safety reasons. Caltrans built a temporary road to provide access to Highway 111 at Davis and Gillespie roads and is continuing to monitor the mud pot. According to Estrada, all contingencies are in place and functioning as designed.
Union Railroad geologists discovered a large pressure dome that pushes the water in the geyser. Sheet piles have been placed between the geyser and the railroad tracks as a mitigation measure. However, if the geyser continues its course, it will undermine critical infrastructures. The railroad has built temporary tracks several years ago to evade the geyser.
The geyser is approximately 210 feet away from Highway 111 and other critical infrastructure like the Kinder Morgan pressurized petroleum pipeline and utilities including fiber optic cables. Estrada said the rate of movement and the proximity to vital transportation infrastructure has raised concerns for Caltrans and the UPRR.
.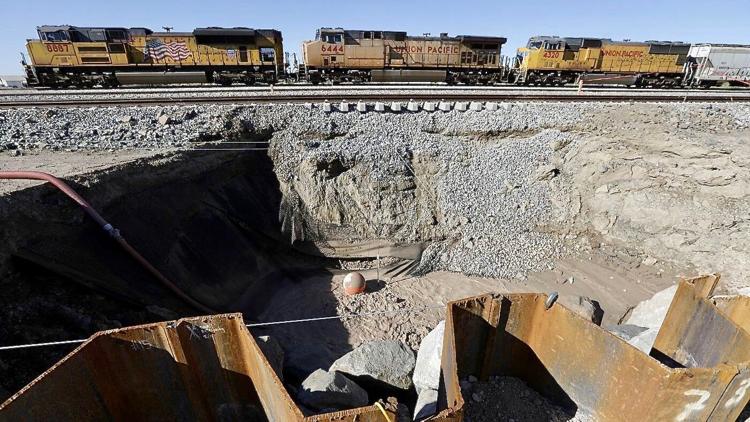 As Highway 111 is one of only two main arteries for north-south transportation, the migration of the mud pot poses a threat to the County, according to Estrada. The railroad's dual track system is also vital for the movement and transportation of goods into and out of the County and across the country.
The Board's approval of the emergency proclamation allows Union Railroad and Caltrans the ability to address the geyser and its movement.