EL CENTRO — El Centro Police Athletic League held their annual National Night Out at the Bucklin Park in the City of El Centro August 2. 
National Night Out is an annual community building campaign promoting police community partnerships and neighborhood camaraderie. 
El Centro Police Athletic League Executive Director Edward Preciado explained some of the history and methods of the event. "We are about 12 years into hosting National Night Out, we move it to different locations but this would be the second year at the El Centro Bucklin Park, it has been pretty successful. We team up with our local Target store. We are sponsored by the City because they let us use their field or parks every year," said Preciado.  
National Night Out aims to enhance the relationship between neighbors and law enforcement to make the neighborhood safer and bring back a sense of community.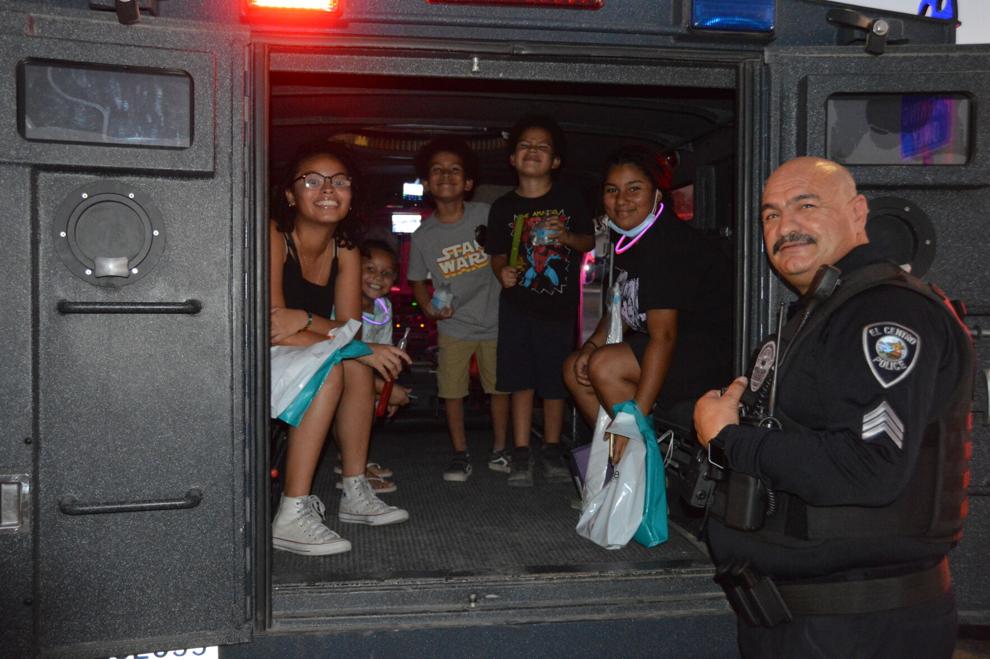 "Community outreach is always important, it is a great way to let them know we are not just here to keep to them safe but we are here to connect with them. What we want to do is get to know the community on a name-to-name basis and let them know that we are here to serve them and keep their best interest at heart," said Deputy Sheriff Arzaga, of the Imperial County Sheriff's Department.   
Along the walking trail and in the parking lot there were law enforcement displays as well as community displays, such as Imperial Valley Regional Occupational Program and El Centro Regional Medical Center. 
"This is our first time here and we are very excited to be here today and be out here with the community, its good to meet the kids and answer their questions, we have young girls that are excited to see female officers here. We are role models for them, its nice to know we have that positive impact on the younger generation," said an officer from the Imperial County Probation Department. 
The departments put on activities for the kids. There were displays where the kids could get inside police cars or ambulances. The El Centro Police Department were handing out ice cream and the Imperial Irrigation District provided goodie bags.  
"We like to show the kids what we do so that they know how electricity gets to their house and how they use it everyday, they get home and charge their phones and games and have them connect it back to what we do when we are out here in the public. We are giving out these activity books for the kids, in the past we have had Dippy Duck but now we are promoting Lineman Dippy and these books show the kids where electricity comes from as well as the dangers to avoid, like putting scissors or knifes in sockets," said IID Lineman apprentice Cole.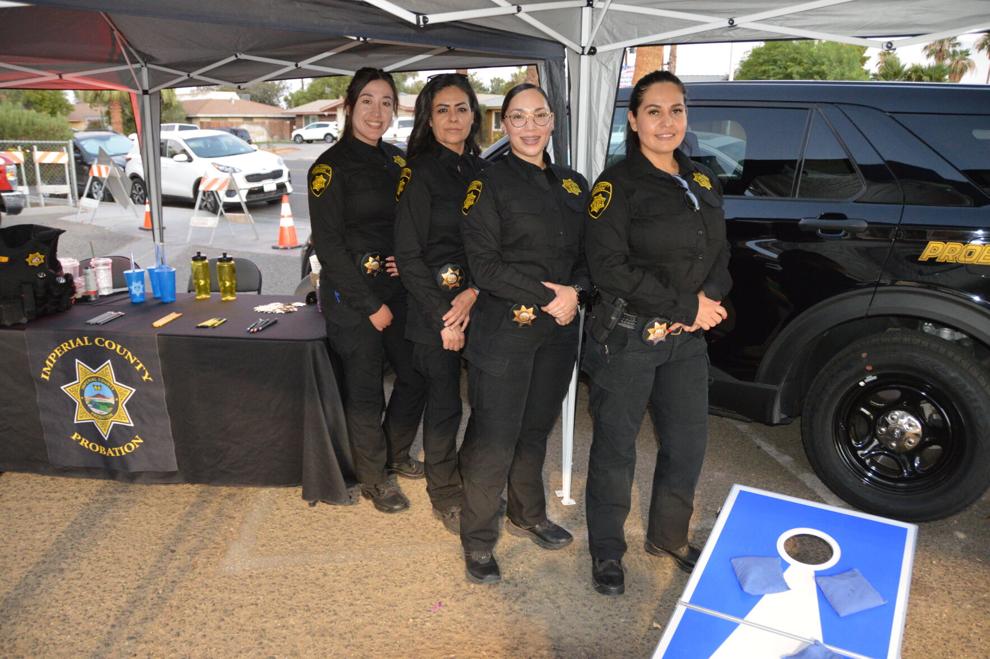 Imperial County service departments work hard year-round for the community. Every booth at National Night Out had multiple services to offer.  "I go to the schools and I do presentations there, you really do get to know the community that you are working with to see what are their needs and what can we do better, I also participate in the Police Activities League, right now we have a back-to-school shopping spree, during Christmas we hold toy drives, its great to show the children that we are not someone to be afraid of we are just good people at the end of the day, not just strangers patrolling, we want them to know us by name," said Crime Prevention Coordinator Elizabeth Gonzales.  
Other representatives were there to give out more information on the resources they offer to Imperial County. One such representative was from AT&T's FirstNet service. "FirstNet was established after 9/11, AT&T provides FirstNet a wireless network to First Responders all over the U.S. We are trying to help our community here to set them up with a high speed wireless network to respond quicker to emergency calls," said AT&T representative Uriel Zavala.
A light breeze cooled down the crowd as the sun set and the DJ played music, inviting more families to join National Night Out 2022.