EL CENTRO — Beautiful blues and reds, vibrant greens and yellows adorn the wall of a former flower shop as a well-known El Centro-born artist's latest work has begun to become a community memorial for those lost to the COVID pandemic.
Boyle Heights resident and celebrated artist, Ernesto Yerena Montejano, and his team of fellow artists Arlene Mejorado and Ayerim Leon — complete with friends and families turned painters — created the untitled, 13-foot high, 75-foot-long mural which now graces the south wall of Cynthia's Flower Connection, located at 739 N. Imperial Avenue in El Centro.
One side of the mural's dedication plaque reads, "This mural is dedicated to the lives lost during the Covid-19 pandemic in the Imperial Valley. We hope it serves as a space for people to mourn the loss of loved ones, to honor their lives, and to celebrate the beauty and resilience demonstrated in our community while responding to this difficult moment."
The mural took just over a week being completed on May 30, with a team of more than five painters, according to the mural's plaque.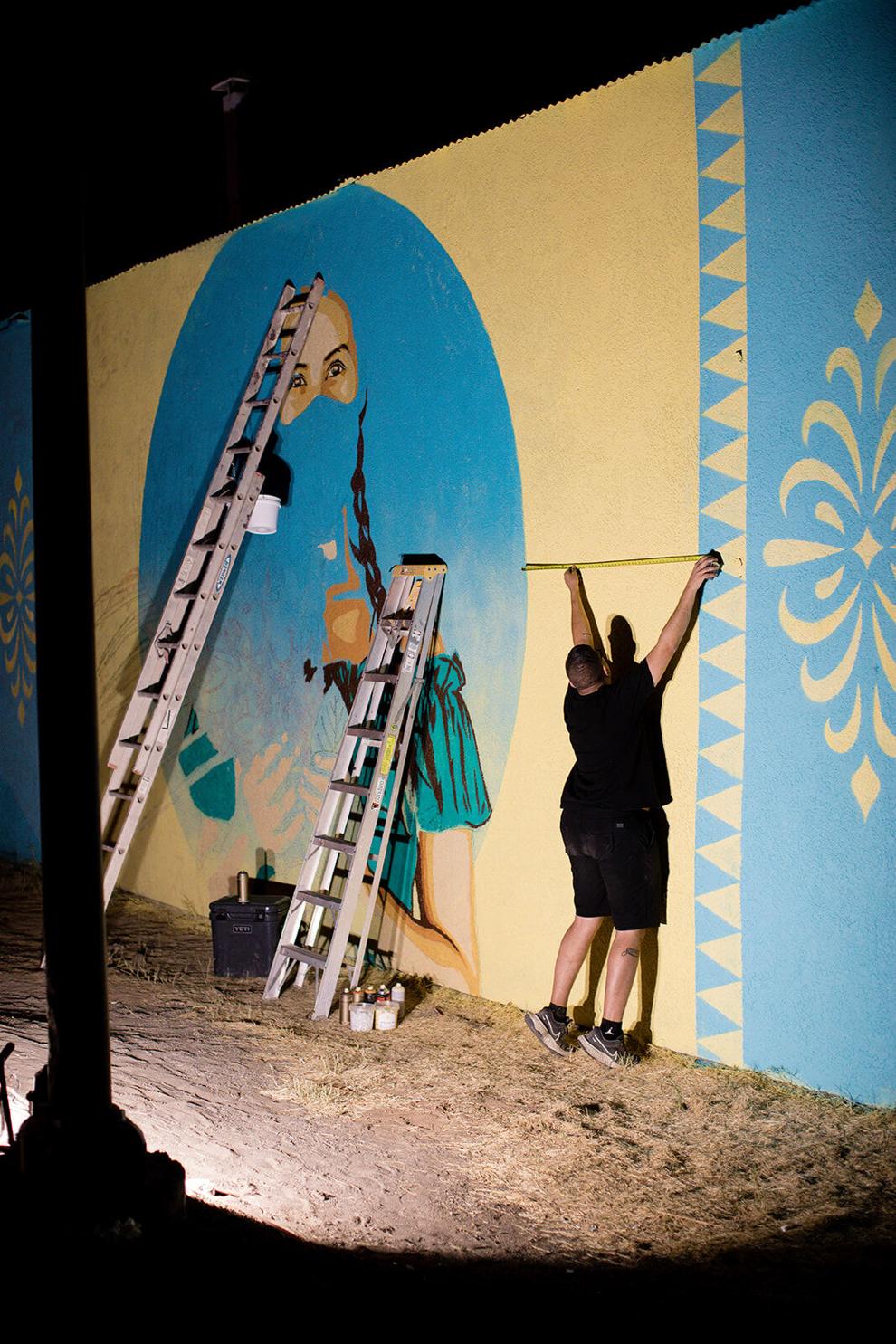 While the mural is the Valley's own, it is but one of 14 California-commissioned art projects which have been created by 21 artists in 17 locations up and down the State — from as far north as Redding — as part of a collaboration between the California Governor's Office, California Department of Public Health, and The Center at Sierra Health Foundation's Your Actions Save Lives campaign, said spokesman Daniel Senecka.
"The arts initiative is designed to raise awareness in areas throughout California which have been hit hardest by COVID-19," in an effort to continue to help stop the spread by continuing to utilize COVID protocols such as wearing masks, hand washing, physical distancing and vaccinations, according to a state press release.
The program launched in April as a way to "reach disproportionately impacted communities in a new and unique way that didn't continue involving PSAs and commercials," Senecka said.
"We engaged some curators statewide to select artists statewide and work with them to develop a concept that would speak to their experience and their community's experience with coronavirus," he said.
Senecka said each art project "are all totally unique" and "speak to their own community in their own cultural dialect, language, and specific flavor."
He said while some are more celebratory or lighthearted, the Valley's mural in El Centro has taken a somewhat somber and reverential tone as locals began writing the names of their dearly departed from COVID on tiles on the western corner of the wall shortly after Montejano and crew completed the mural.
Some of the names are written on the tiles complete with the dates in which their loved ones have passed away.
"It was important for us to have representation (in Imperial County) and finding Ernesto who is from there and at the same time as a really celebrated artist was a really great fit for the project," Senecka said.
David Varela — El Centro native and founder/executive director of the nonprofit Starts with Arts Foundation — agreed that Montejano was a best fit for the project, stating that when the Governor's Office contacted him about the project, Montejano's name was the first person to come to mind.
"He was the first person I thought about to do a project like this, just knowing his background and the projects he's been involved with," Varela said.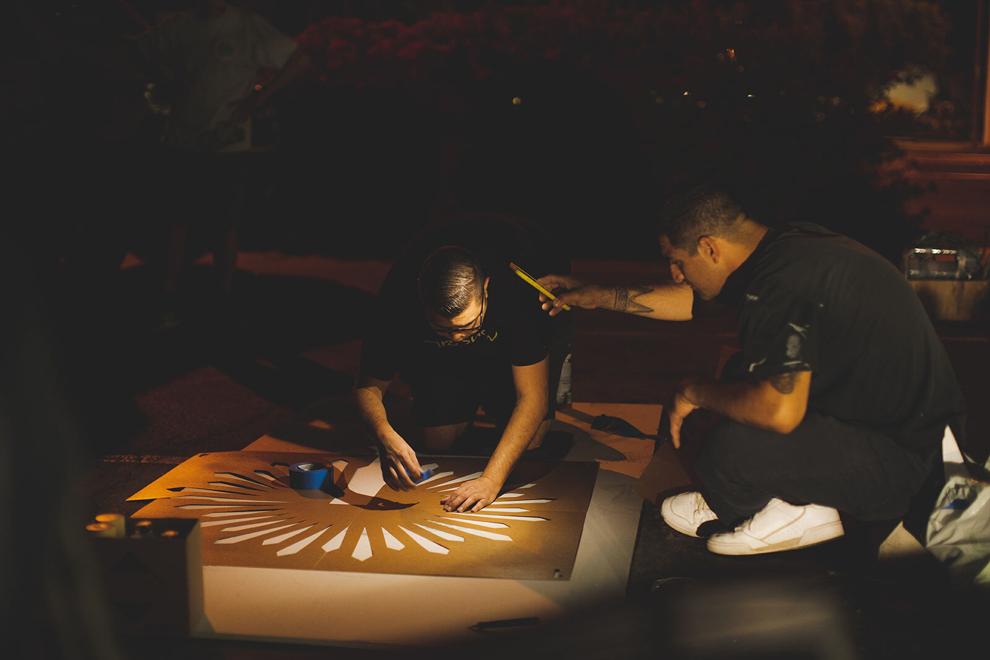 "He told me what he needed and I kind of became the middleman in communicating early on between the two," he said, "and then later on Ernesto worked with Branded Arts and they worked with the Governor's Office so Ernesto could concentrate on the artwork. That's how it came about."
Varela said Montejano's artistic style and the way he communicates a strong message through his art — along with the fact that he's from the Valley — was something he knew would mix well on palette to become a masterpiece.
Varela, a fan of Montejano's art, said he knew his friend's professionalism would get the job done but that he would also go above and beyond, "elevating the power of the mural" with Montejano's signature artistic style.
"Right away we saw how powerful the mural was in bringing people together, especially after this year where we've been locked in and it's been hard to communicate with our community," he said.
"People are slowly making their way to the mural and are able to mourn a little bit too," Varela said. "It's really healthy to mourn and I think people are getting a chance to do that through the mural. I knew we'd not only get a beautiful mural, but a powerful message."

Varela said the various little stories which have popped up regarding local's connections to COVID are something that are not lost on him, he and his wife having battled a mild case of COVID themselves in December. He said those stories help locals connect more deeply with the mural.
While Varela said he hopes the mural will stay there for a long time and he hopes it will spark interest in future murals around the Valley for beautification and joint community project purposes, current building owner Tom Brundy (of Brundy Farms) said he is unsure what possible future owners may do or not do with the building's newly muraled wall.
"I haven't seen it since it's been finished (but) it adds to the community, it livens it up a little bit, which is good. It's nice actually," Brundy said.
Brundy said while he owns it at the moment, the building is up for sale, and he already has a currently undisclosed pending buyer.
He said the understanding was while he owns it, the mural would receive a protective coat on it and would be left alone for about six months, but he's unsure what any future owners may or may not do with it.
Senecka said he is aware there is a possibility that the mural could be covered up by the next owner, but he hopes that won't happen.
"At that point it may be covered up but it's a really beautiful mural and it would be a shame to do that," he said.
"I hope this kind of sparks something in the Imperial Valley," Varela said. "I'm always open to help, and I think it's a great opportunity to get kids, the community, and business owners involved to help beautify the Valley."
Senecka said his public relations firm, Runyon Saltzman, Inc., is producing a video series on all of the statewide projects. He said his team plans to have them on the State COVID-19 website by the end of June.
He said the website will include an interactive map of California, listing the projects with clickable links to each of the projects statewide, where each project will have its own subpage.
"It'll have both written and visual content including a project overview, an artist bio, photos, and video," Senecka said. "It's underdevelopment and the progress is looking really cool."
While the site is still underdevelopment as is the final URL address, Senecka said it is likely the site's final URL will be art.covid19.ca.gov. The site should be up sometime mid-June, he said.
To view more on the El Centro project as well as the others — which will include San Diego, San Bernardino, Los Angeles, Santa Ana, Stockton, Central Valley, Monterey County, San Jose, Oakland, San Francisco, and Redding — check back with The Desert Review for an update when the State site will be open for the public.
Cynthia's Flower Connection's new location will be at 1045 N. Imperial Avenue next to Ace Hardware in El Centro.