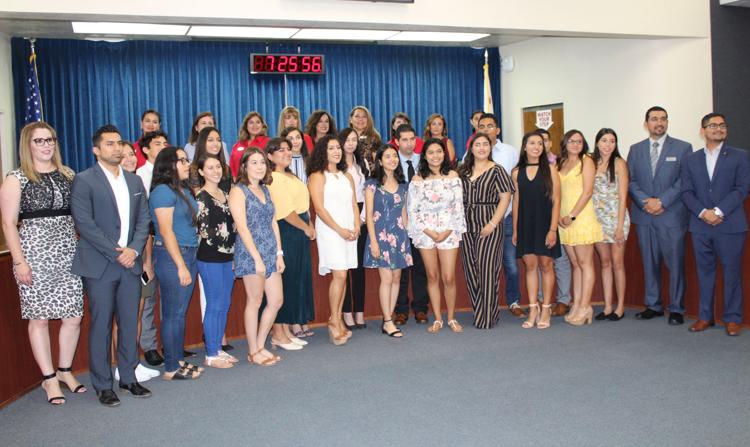 EL CENTRO — The 26 recipients of this year's MANA de Imperial Valley scholarships received their certificates Thursday, June 20, at the Imperial Irrigation District in El Centro.
Twenty-four high school students from the Imperial Valley received this year's scholarship. MANA also presented two scholarships to IVC students who are in nursing and equal opportunities programs.
This year, MANA was able to raise $14,000, funded by the Las Primeras gala event and community donations. Students had to meet a 3.0 GPA and further MANA's mission, which is to promote leadership development, community service, promote higher education, and advocacy.
MANA President Martha Singh said this year, 100 applications came in for the scholarship, an all-time record for MANA. Singh added that the quality of the students this year was exceptional, the applicants were composed of students who are volunteers, humanitarians, and leaders in the Imperial Valley community.
"What we are seeing is a trend in our high school students to be very proactive in our community," said Singh. "Whether they saw there was a need on campus and started a club or if they saw that a student had a need or were part of the Best Friends or Buddy Club."
Mariano Peinado was the honorary recipient of the $1,000 scholarship made possible by Union Bank. He has been volunteering with MANA for years and thanked them for the confidence they have in his future. Peinado will be attending Cal State San Bernardino in the fall to major in history.
"I'm excited, honored to receive this scholarship, and happy that this organization has chosen me to represent them at San Bernardino," said Peinado.
Aaron Carrillo, a graduate of Brawley Elementary School District, already has plans to use his scholarship money for a new computer for college at California Baptist University. Carrillo is already feeling confident in his future at school.
"I'm pretty determined to pursue my dreams of working for one of the top prestigious tech companies," said Carrillo, who will be pursuing a major in electrical engineering.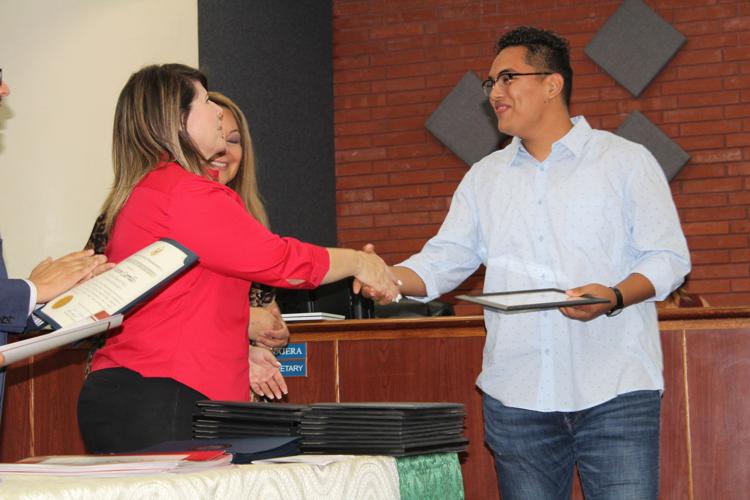 Southwest High School graduate Sadriena Rodriguez says that the scholarship was a happy surprise and she felt honored to have been chosen by MANA out all those who applied. She added that it will definitely help her pay for college.
"I know that when I leave the Valley I'm going to want to make everyone from here proud of me," said Rodriguez. "I want the people to know that the scholarship they gave me is going to a good purpose and I'm going to achieve my goal of becoming a civil engineer."
MANA also honored the two Hermanitas Scholarship recipients, Aleida Burns and Kayla Rodriguez, young ladies who showed strong leadership skills in their community. Burns and Rodriguez will attend the National Hermanitas Leadership Institute conference in Washington D.C. July 22–25.
MANA's keynote speaker Carmen Bravo told the students to keep furthering their education. Bravo is a nursing professor at IVC who has made it through her own struggles as a first-generation college student.
"It is all going to be worth it, it's all going to pay off at the end," said Bravo. "Always share what you learn, make sure that you give back to the community that you are leaving.
"We are very proud to see the quality of students who are graduating from our local high schools," said Singh.
MANA asked that the Imperial Valley community continue to support its students by helping with fundraising for these scholarships and invites the community to its Las Primeras Gala in October.