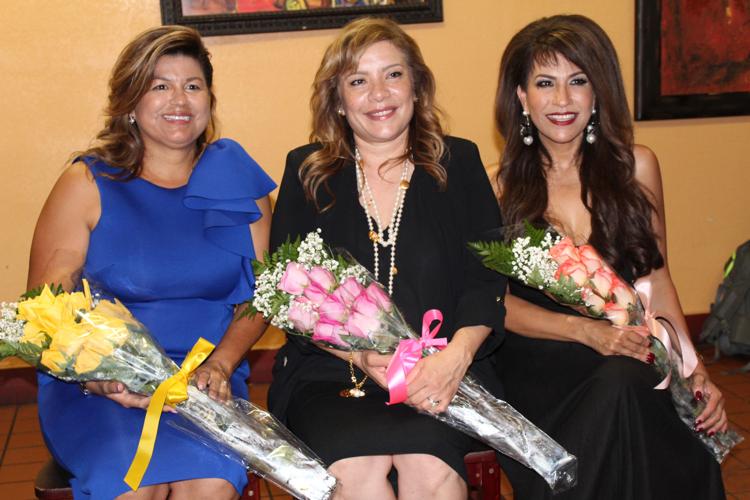 EL CENTRO — MANA de Imperial Valley announced the Las Primeras of 2019 in a small celebration at Jaliscos Bar and Grill in El Centro Thursday, September 5.
Las Primeras celebrates the work women do for the community of the Imperial Valley. According to MANA president Martha Singh, the nominees are always women who go above and beyond in their line of work to help the community. Las Primeras is MANA's premier event and fundraiser for the year.
This year the nominees were the Honorary Monica Lepe-Negrete, Veronica Platero, and Esther Sanchez-Banda.
Veronia "Roni" Platero is a mortgage banker for PrimeLending, but she does more than that. Platero has made countless donations over the past 20 years to Valley schools, donates to the Cancer Resource Center of the Desert, and serves on the organization's board. She was also the first to bring the down payment assistant program to Calexico.
"It's very emotional to find that I'm now among the 75 women who have preceded me," said Platero. "I feel like I've been invited to an elite club."
Sanchez-Banda is currently a security/school proctor at Brawley High and a member of the Brawley Elementary School Board. She is also the BUHS classified staff representative, has been a California School Employees Association regional representative, and is the president of the Hidalgo Society.
"I'm still kind of numb, I wasn't expecting this," said Sanchez-Banda. "To be acknowledged like this. I don't do my work for acknowledgement, I do it because it's what I like to do."
Lepe-Negrete is currently a judge for the superior court of Imperial County and was a lawyer as well. Lepe-Negrete has been an advocate for Latinas in the Imperial Valley for years. It was a new experience for Lepe-Negrete to be on the receiving end of the award since she has been part of the MANA board and served as president in 2018.
"It's an amazing collection of women who serve as role models, are intelligent, independent, strong, but all these women have one thing in common: being conscientious of our community," said Lepe-Negrete. "That's what I'm truly honored about, to be part of that group."
Lepe-Negrete, Platero, and Sanchez-Banda join an elite group of 75 women who have been recognized as outstanding members of the Imperial Valley community.
Friends, family, co-workers, and other community members make nominations for the Las Primeras award, according to coordinator Tiffany Romayor-Rodriguez. The MANA board goes through the nominations and makes the final decision. Romayor-Rodriguez said it is difficult each year, but the 2019 nominee pool was especially hard to choose from.
"The Valley is full of amazing women that give back to our community, and these are just three," said Romayor-Rodriguez.
Over the course of 25 years, MANA has been able to raise $141,000 for scholarships in the Imperial Valley.
The Las Primeras Gala will be held at the Barbara Worth Country Club October 18. Tickets are $70 each. All proceeds from the gala will go toward scholarships for students of Imperial Valley high schools and IVC.