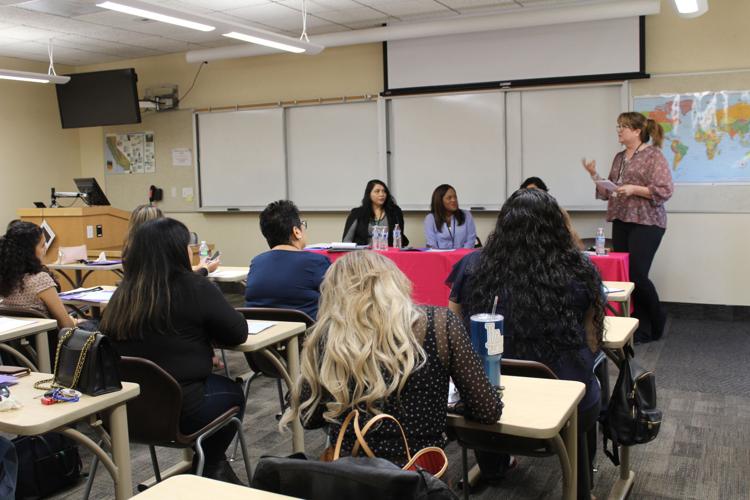 IMPERIAL — MANA de Imperial Valley held their first Women's Empowerment Conference Saturday, November 16, at Imperial Valley College (IVC).
The conference was held as part of MANA's celebration of 25 years of service to the Imperial Valley. President Martha Singh said that MANA chose to put this event together to highlight and keep the momentum of being responsive to the needs of Valley women.
President Martha Singh said she was approached by friends after MANA's Hermanitas conference about resources for older women in the community. They asked, "What about us Hermanas?" and Singh was inspired to hold a conference for women of all ages, career points, and walks of life.
The IVC campus was filled with women from all walks of life attending the event for various reasons. Some attendees were there for the panel guests, others to network with other women and gain resources, and some who just wanted to enjoy a time surrounded by powerful women and hear their stories.
Workshops were held to talk about women in politics, business, health and fitness, and financial issues. The workshops are meant to allow the panelists to tell their story, their successes, and their trials. Not only do women get to hear these stories, but they are able to build resources, forge connections with other women, and take away information that they can use to work on their own career pathways.
Keynote speaker, U.S. Magistrate Judge Ruth Montenegro, said she was proud to speak in front of all the women present. She said when pushing to prosper in life, one must work for it. She also stated women must be role models to guide and support each other. They must pave the path for future generations.
"I saw a lot of young ladies meeting with women they have always wanted to meet, and all of these leaders today have mentioned their own mentors who have guided them. They have all offered to be mentors," said Montenegro. "This is one of the focuses of the conference, to connect women of all ages with mentors and role models in the community."
MANA also had individuals who sponsored the first 20 college students who signed up for the conference. Those who got the sponsorship were able to attend for free.
Indio attorney Hilda Zamora was a sponsor and hoped that the attendees can take what they heard and use the opportunity for themselves. Zamora also expressed a desire to start a MANA chapter in Riverside County, where she said there is nothing like the Imperial Valley chapter for women.
"I wanted to give them an opportunity to see experiences from other women and maybe open their eyes," said Zamora. "I want to be able to give a voice to those who might not have this opportunity without other women empowering them."