EL CENTRO — When fourteen-year-old Derik Gonzalez woke up on his birthday Thursday, May 14, he expected a quiet day as usual. Derik is going through his second round of chemotherapy and cannot leave the house nor receive visitors, but he would be having a small get together with his family, an aunt, and a friend of his mother later in the day.
What he didn't expect was to be blindfolded, led outside into his front yard, and watch a car parade of family, friends, and law enforcement vehicles from a birthday throne. 
Cars decorated with signs of "Happy Birthday, Derik!" drove from Bucklin Park to his house nearby. Streams flew off one vehicle, others had balloons tied on the doors, and most had car chalk with "Happy Birthday" written on the windows. The Imperial County Sheriff's office units led caravan from Bucklin and the El Centro Fire department brought up the rear.
"I feel good, excited, happy seeing all of them," said Derik.
Derik was diagnosed December 2, 2019 with Medulloblastoma, a childhood brain cancer. He underwent surgery December 4, and began his first round of radiation in January. Derik is currently going through his second round of chemotherapy and will soon be starting his third round.
His mother, Blanca Gonzalez, said being stuck inside has been hard for Derik. He is a loving, smart, and quiet kid, according to his mother, that likes to play video games and be with friends. She said he felt the absence of support from friends and family being unable to visit. It has been especially hard now due to the current health situation.
"As a mom, it's a feeling that you never want to experience," said Gonzalez. "We just have to be positive and take things one day at a time."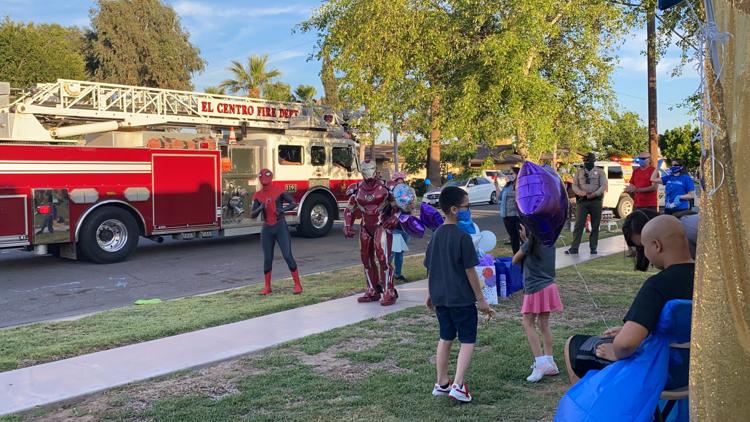 Carmen Zamora, Derik's wish granter with Make a Wish, said she wanted to do something for him. Zamora contacted his mother, family, and friends to organize a parade that would brighten his day and show he has support in his battle.
"The little things are what count, they give our wish kids a lot of hope, a lot of joy, a lot of strength, and it really impacts them in just a really positive way," said Zamora. "We figured right now if any time is a good time to get his hopes up and to put a smile on him."
Gonzalez said he was truly thankful for what Zamora and the other ladies from Make a Wish were able to put together. Not only Make a Wish, but for the support of the Cancer Resource Center of the Desert, Wilson Jr. High School, and the community. Deputy Mejorado from the ICSO offered his support for the family, saying that if Derik ever needs something, just reach out to him. 
"We are fighting this as a family, but the community has been there as well," said Gonzalez. "I'm very thankful for that."
Zamora the parade would show Derik just how many people are rooting for him and want him to pull through.
Derik is one of 300 wish children from Imperial and San Diego counties whose experience has been impacted by the COVID-19 pandemic.