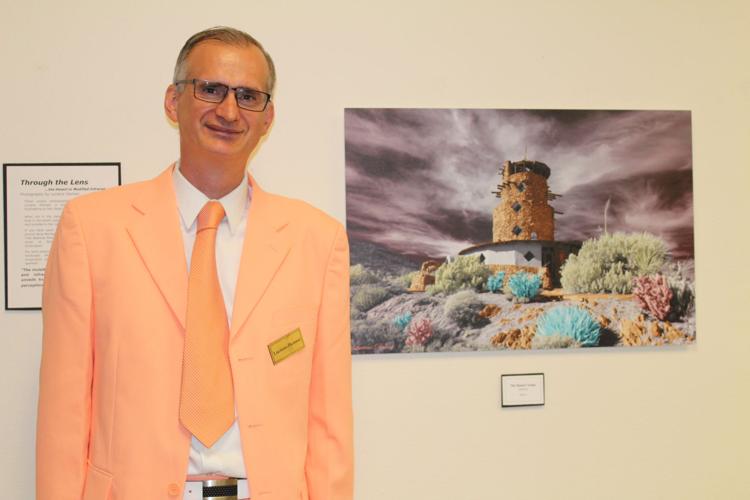 OCOTILLO — The Imperial Valley Desert Museum unveiled its "Through the Lens" series Saturday, September 14, the work of Luciano Demasi's hauntingly beautiful infrared photography of the desert.
The museum hosted a special opening night for Demasi's work, one of six gallery displays in the country including ones in Borrego, Del Mar, Ramona, and as far as Ohio.  Demasi also gave a short presentation on his work and explained how to take infrared photos to photography enthusiasts.
Demasi, a professor of aerospace engineering at SDSU, said he draws inspiration from the desert that he loves, going on weekend trips to capture images that speak to him as well as draw the eye. 
"I love nature, I love deserts, I love photography, and I love to be creative," said Demasi. "So I have combined all of these things to create this infrared world."
Demasi's pictures are taken with an infrared lens, then edits light settings and filters in Photoshop to create the images he is known for. In pictures such as one of an agave plant taken with four different lens, Demasi edits them so that the color is only focused on the subject while the rest is cast in an almost black and white landscape. He said he seeks out a feeling in his locations, and the photos are how he captures that feeling.
"When I see a subject, I can tell if something will be good in infrared or not. I then take the photo and imagine the final result," said Demasi. "Something has to inspire me and it allows me to express my creativity."
He added that chaos is a good source of inspiration as well. Demasi was inspired to begin his infrared journey by an incident three years ago when his camera got caught in a wave at the beach. He had to go looking for a new camera and became intrigued by infrared lenses while searching for one.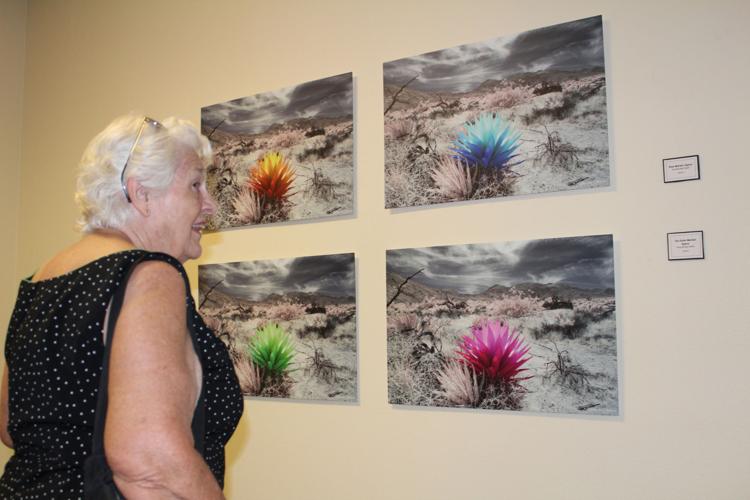 "Most of the time, chaos is an opportunity, but it is unpredictable," said Demasi. "It started like a journey, I started playing and getting better and better."
Demasi said that chaos inspires his work, starting with his camera in the ocean, adding a sprinkle of chaos to his life. Even hiking gear on his photo shoots could be considered part of the chaos when he has multiple cameras and lens in hand and on his belt.
Demasi's shoot locations are mostly deserts such as Anza-Borrego and Joshua Tree, but he does take pictures in the city of San Diego or in its natural areas. Demasi said he wants to show another side of the city, the "invisible" part that people normally don't see. His personal favorite location is the Anza-Borrego desert, which he calls "the garden of San Diego," a place of beauty where he takes most of his photos.
"I go there, if I can, once a week because of my job, and it's a way for me to gain energy from the desert," said Demasi. "And I think, 'how can people say the desert is a desolate and depressing?' I don't believe so."
The pictures themselves contain an ethereal feel. One haunting photo of a copse of palm trees appears bleach white thanks to a yellow infrared lens. Other groups of palms and Joshua trees with pale trunks become truffula trees from "The Lorax" due to the bright colors of another lens.
He also works on composite photography where he makes slight alterations to the work such as adding a faraway planet, stars, or galaxies to the photo. It creates an otherworldly image that draws the viewer in.
Demasi knows people approach his work with their own feelings and interpretations, and seeing people appreciate his work is a reward in itself. For anyone who wants to get into infrared photography, Demasi had one thing to say.
"There is a steep learning curve, but don't give up."
The IV Desert Museum's next exhibit will be "The Impossible Railroad" show October 1.