Nineteen-year-old Imperial resident Caleb Rollins rang the cancer-free bell at Rady Children's Hospital Monday, November 21 in San Diego. Ringing the bell marks a milestone in cancer treatment and Rollins decided it was time to share his story with the Imperial Valley community via an interview with The Desert Review.
Rollins was born in 2003 in Anchorage, Alaska. At the time, his father, J Rollins, was in the United States Army, so he spent the first six months of his life in the city of Seward. Shortly after, his father went into the United States Army Reserve and the family moved to Imperial Valley in 2004. 
His grandfather had been pastoring at Western Avenue Baptist Church in Brawley so his family was able to make connections. During his early years, his family moved from Brawley to Calipatria, back to Brawley, and eventually to Imperial, and has been there since he was in fifth grade at Ben Hulse Elementary. He then attended Frank Wright Middle School and transitioned to Imperial High School.
His family has grown since and he is now the fifth child amongst six siblings – Tanner, Braden, Brenna, Sydney, (Caleb), Kraig, and Rowen. 
In high school, he was heavily involved in sports – football, basketball, and track – and graduated with the class of 2021. Later in the fall, he moved to Lynchburg, Virginia to attend Liberty University, a private evangelical university. His major was in Exercise Science. 
"I sprained my (right) ankle the first day of class," said Rollins. "I was playing volleyball and I came down on one of my friend's ankles, stepped on it, and I just rolled."
After the incident, Rollins was in a walking boot for about four weeks and his left knee began hurting. He said he put it off for a few months, thinking the cause of the pain was because he was favoring his left leg too much. His pain began in October of 2021 but did not get an MRI (Magnetic Resonance Imaging) until February 4 of 2022. 
"On the same day of the MRI, I got a call from the doctor, I was busy so he had to call me back later," he said. "When he called back, he told me I had a tumor in my left distal femur and knee." 
"I wasn't emotional at the point of shock, but it was very much just an attitude of what I gotta do first so I can get it done," he said, knowing it was time for him to go back home. 
Shortly after his return, on February 11 of 2022, he received his official diagnosis of Osteosarcoma (also called osteogenic sarcoma) which is a type of cancer that starts in the bones, according to cancer.org. Most osteosarcomas occur in children, teens, and young adults but teens are the most commonly affected age group, as this type of cancer starts in areas where the bone grows quickly, such as near the ends of the leg or arm bones.
"When I was on crutches, it was difficult to get out of bed and it was pretty dehumanizing and it humbled me … Moving back was not the easiest thing but I'm appreciative that I have a family and a mom willing to allow me to come back and make accommodations for me. I'll be forever grateful," he said. 
Rollins knew that there'd be emotional struggles but also physical ones. He was an athletic young man who was required to undergo a series of painful treatments that put him in bed for months.  
"Because of the type of prosthetic I got, I had to do a lot of nothing," he said with laughter. "It was a matter of resting. For most knee replacements, they (doctors) want you up and around within a couple of days. But with this one, if I got up and acted too quickly then the prosthetic could basically snap." 
Rollins explained that this was very difficult because he loved working out and walking, and he got to the point where it was even hard to ask for water because he couldn't get up. 
"Definitely not anything I want to do again," he said. "There was a large mass that had to be removed and it was very painful." 
When asked to describe his support system throughout his journey, he said it was "incredible." 
Even though he's not really a child, he said he was fortunate enough to be young enough to qualify to use the resources at Rady Children's Hospital instead of going to UC San Diego Health. "I had super sweet nurses and all of the staff was super supportive," he said.
His number one supporter was his mother, Tori Allen.
"The real saving grace was my mom, she was there all of the time – every appointment, every treatment, she was always there. The only times she wasn't there was because I'd asked her to not go," he said. "It's been really great to have someone who is so willing to do that for me … She would almost get mad at me when I didn't bring her."
Rollins' family filled in the gaps by spending time with him, watching movies or bringing gifts when he needed the extra love, and simply doing the little things like getting him a cup of water. 
He also talked about his best friend, Steven Shaw, who has been an incredible asset to him and was there for all of the "big days" to provide emotional support. 
At the time, Rollins wasn't able to work and did not have spare money but Shaw would pay for him every time they'd go out to eat. "I've tried to repay him in every way I can … He's been a great friend through it all and I'm super appreciative," he said. 
In addition to family and friends, Rollins also had support from other Valley residents. 
"One thing I noticed in the Valley, which I'm very appreciative of, is that there is a real sense of community here … there are a lot of people that I had never met that would come up to me and tell me they've been praying for me every morning," he said. 
In regard to his faith, Rollins said that he never doubted the existence of God but felt challenged to start asking serious questions about his beliefs. "It has been a tough process but it was a big one that was beneficial in the long run and I feel like my faith is stronger now because of it," he said. 
"He (God) has been a really good shoulder to lean on and He has been there through it all, whether I wanted Him there or not … He was always faithful to me and I never felt like I was ever truly alone," he said. 
Throughout his battle, Rollins would always find a way to preserve his humor. He laughed as he talked about the feeling of being a 6-foot, nineteen-year-old in a children's hospital, as every other patient was much shorter and smaller than him. 
"When I got a new nurse and they didn't know who I was, they'd be like 'wow' and I'd be like, 'what are you trying to say?' and they'd tell me 'I just treated a five-year-old, you filled up the bed much more than theirs,'" said Rollins, with a smile on his face.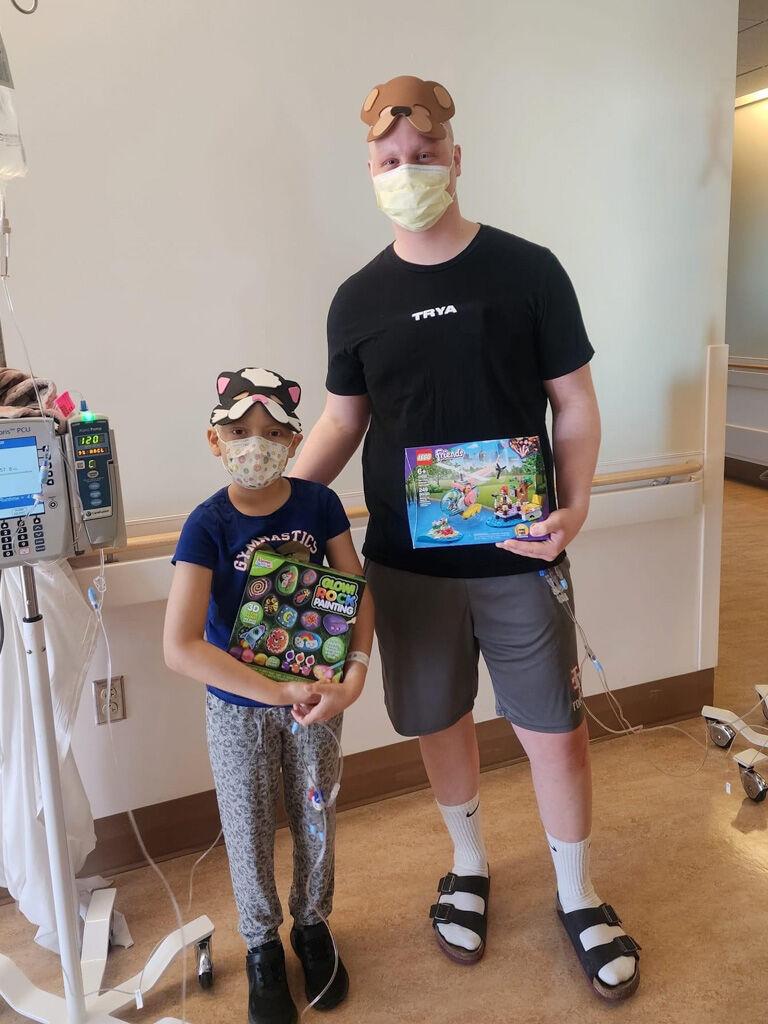 He shared the story of a Calexico-native eight-year-old girl, Estella Madrigal, who got diagnosed with the same type of bone cancer on the same day as he did. Estella's mother found Rollins' mother on Facebook and they connected. Rollins got to meet Estella and her parents in San Diego. 
"We created a pretty good friendship with them, they've been super sweet. It's been nice to be an asset to someone younger than me who is going through something very similar as me. I think I was able to be a support to her, Estella is super sweet," said Rollins.
About ten months after his initial diagnosis, four surgeries, 24 weeks of chemo treatments, tests, and other procedures, Rollins is ready to look forward. 
"I want to get healthy again, get back to working, continue with school, move on with life, stay cancer-free, and do my scans," he said. 
He explained that he will be staying in Imperial Valley for a while because his doctors are nearby, which also means that he gets to stay with his family for a little while until he figures out his next step. 
Due to the series of treatments and other factors, he had to drop out of Liberty University when he moved back home. But within the first couple of months of being diagnosed, he was hired by a firm in Los Angeles as a financial advisor and works remotely. 
Rollins said that he just enrolled in Imperial Valley College to get his Associate's in Business and is interested in minoring in Finance at some point. He would like to transfer to San Diego State University or the University of Arizona. 
"If there's anything I've learned from this is that nothing is set in stone … I'll go with the flow," he said. 
To wrap up the interview, Rollins gave a little piece of advice to those who are struggling with a similar situation: "There's never gonna be a time when you're alone, whether that's God, family, the health workers, there's always someone present. No one ever fights alone, know that if you need people, there are people," he said.