EL CENTRO — EnergySource Minerals held a community forum to provide information and answer resident questions about their ATLiS project powered by their ILiAD technology, Monday, May 22 at the El Centro Public Library.
There were two distinctions the EnergySource Minerals team clarified for the community. One was project ATLiS, which will be a facility with the purpose of providing additional functions to the already existing Featherstone Geothermal Plant near the Salton Sea. The second was in regards to the Salton Sea, which is not the source of the geothermal brine, the brine is miles underground below the project's location, thus the Salton Sea will not be directly affected by project ATLiS.
"Project ATLiS, as we refer to it, is lithium production from geothermal brines … ILiAD is part of that which we are deploying more globally," said Chief Operating Officer Dereck Benson. 
He explained the geothermal brine which is already being used at the Featherstone Geothermal Plant contains many different minerals including lithium, which is where project ATLiS, a 40-acre facility, will come in to extract the lithium through the ILiAD process.
Benson detailed the ILiAD process's low water usage and very minimal carbon footprint in relation to other lithium extraction processes. 
"When we're done, we produce a lithium chloride … But this is what the technology does, it takes a very highly mineralized fluid and preferentially extracts the lithium … That's what we do, and ultimately convert it into a battery grade product," said Benson.
During the public question and answers portion, Calipatria Mayor Maria Nava-Froelich asked, "Once your full process (is active) how much water on a given day will you be using? And then who will be your provider?" 
Nava-Froelich also extended an initiation for EnergySource Minerals to come to the north-end, in hopes of holding another community forum.
"This is the first forum that we're holding, and we would love to go into more places in the community, so I accept that invitation … We would like all the neighbors, everybody in the community to be aware of this," said EnergySource Minerals' Chief Financial Officer Carmen Rene.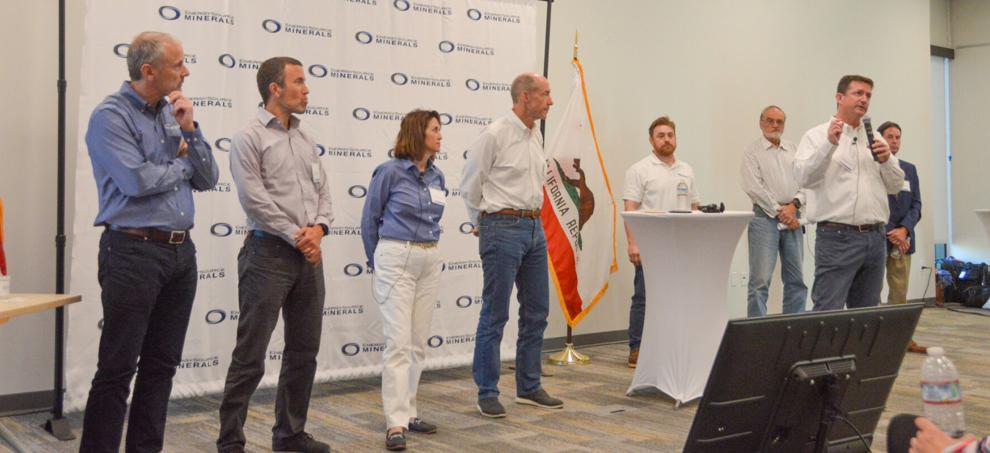 The water portion of the question was then handed off to Benson.
"Obviously we're within Imperial Irrigation District so that is the provider of the water, in terms of the use … This is equivalent to farming on a section of land, 640 acres, so that gives you a sense of the quantum of water we're using in acre/feet," he said.
Cliff Coldwell, a Valley resident asked, "What's the projected lifetime of your facility you are building? And what's the cost involved in doing that, is it economic?"
"Thankfully we believe it's economic," said President and Chief Executive Officer (CEO) Eric Spomer. "Or we wouldn't be able to do it … The lifetime expectancy of the resources is probably sixty-plus years, on our facility alone, it will be quite extensive, we are projecting it to be a thirty-year project just because we're being conservative and we're assuming a worst-case decline."
Spomer went on to share with residents that it isn't just about lithium.
"What we're interested in doing, is using this moment … To build something sustainable here, something that lasts beyond lithium, one thing for sure that will last beyond lithium is the power," he said.
"What we're trying to do is figure out how to get an educated workforce, build an entrepreneurial spirit in some of that key talent to develop other industries around the Valley that would outlast this industry, and that'll be way past my lifetime," said Spomer. 
One route they are pursuing is assisting Imperial Valley College by offering one-year certification programs starting this fall in 2023 for outside operators, and later in the fall of 2024, they will be offering two additional lithium industry-related programs.
Eric Spomer later shared some of his personal interests, one being music that he seemed to hold close to his heart, but also considers himself very interested in what happens at the Salton Sea, in part, due to his ties that lay all the way over in Colorado.
"I grew up in Colorado … Water has been a big issue for me since I was a little kid. I spend a lot of time there still and you know, this was a great snow year which I thought … What is that going to do for Lake Powell … Lake Mead … What's that going to do for the Salton Sea," said Spomer, who has a background in geology among a variety of ventures.
"What we want to do, what we're uniquely good at, is we know the Salton Sea better … And our focus as a project development company which is what we are at our core, is the Salton Sea," said Spomer.
The overall benefits from project ATLiS are projected to include, 70 direct jobs, with at least 150 indirect jobs, totaling 220, and around $720 million in tax revenue over its projected 30-year operation time, with $96 million of that revenue going to Salton Sea improvements.