EL CENTRO — The Community Development Department of El Centro invited business owners from the city to the Downtown Merchant Meeting, held at the Old Post Office Pavilion, to discuss various issues relating to the downtown area Thursday, April 20.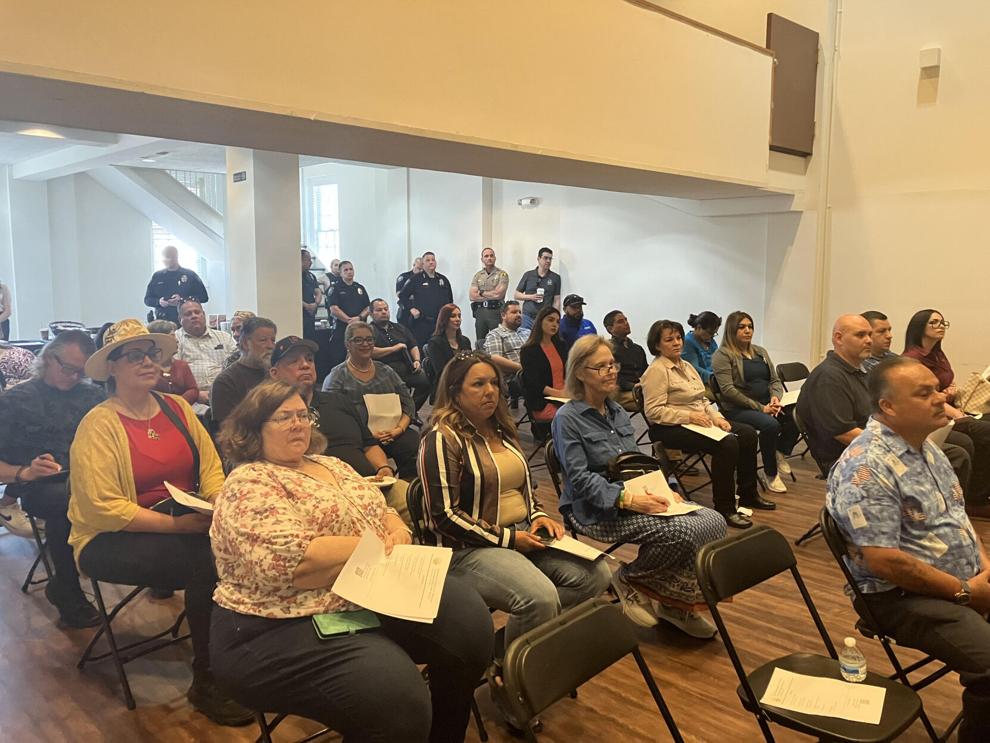 El Centro Mayor Martha Cardenas-Singh greeted those in attendance, thanking them for coming once again since their last meeting in October. "We wanted to come back and we want to continue to have these series of discussions to strategically work on one item at a time as we move forward to be successful in our downtown area," said Singh, before inviting District Attorney George Marquez to give his assessment on some of the current issues in the downtown area.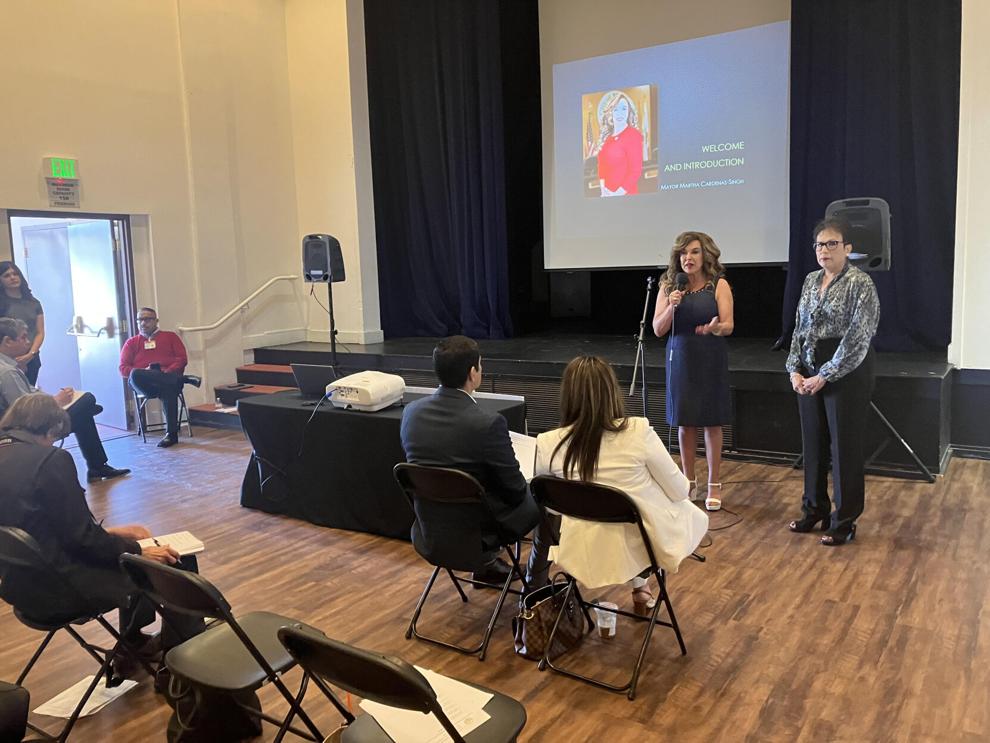 Marquez shared his understanding of the issue of homeless people that business owners are concerned over, and explained his understaffing problem that was found when he took office in January — specifically having 11 prosecutors instead of 22. He has since hired three new prosecutors but is still looking to expand further, and sought to assure business owners that, "It's going to allow our office to be more aggressive with certain crimes, so what we're doing right now is were focusing on the serious and dangerous offenders, as we get more staff its going to allow us to open up our net more and be more aggressive with other crimes as well," said Marquez. He then spoke on the more pressing issue on business owners minds, the homeless people of El Centro. "When it comes to people who are homeless, or the people who are using drugs downtown, to be quite frank with you the laws are a little lenient. So what we need to do is essentially, we are going to prosecute them because my job as a DA is to prosecute crime," said Marquez.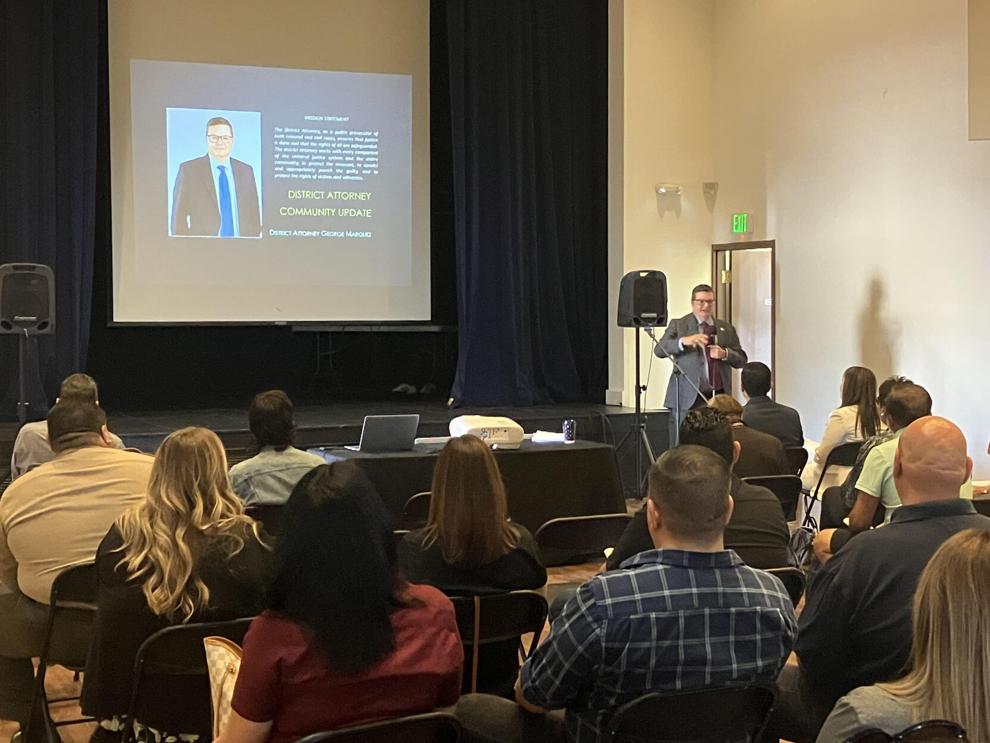 Marquez explains the ways in which these cases are often diverted, lead to probation, or are dropped down to a misdemeanor. He then details his plans on how his office is currently developing a system in which they can identify certain people as "nuisances to the community," and with the use other punitive measures such as violations of a "stay away order," they aim to keep these people in custody for longer durations and with harsher sentencing.
Community Services Director, Adriana Nava, then took to the microphone to detail the ideas they had for renovating and improving the Downtown area of EL Centro. These ideas included renovating the Gateway sign off south 4th street, renovating the town square to allow for more accessibility for food trucks, downtown street furnishings that would put in place new types of tamper-proof trash cans, and more benches with armrests to prevent people from sleeping on them. Nava invited business owners, and all those in attendance, to take part in their survey during their presentation for feedback on these proposed ideas on how to improve the Downtown area.
During the question portion of the meeting, Councilmember for the city of El Centro, Tomás Oliva, expanded on a question aimed at the issue of abandoned properties, and the lack of accountability owners display for how those properties affect the community. "To the business owners that I have talked to, they have said, if only the owners of those (vacated buildings) would put (them) up for sale, if only they would invest in it, in order for a entrepreneur is able to rent, but unfortunately we're not able to force them to do it. I've heard rumors that their absent owners that live in orange county, that live in Los Angeles, and they keep (the vacant buildings) in order to write it off on their taxes," said Oliva. Oliva spoke on how the city has began discussing the possibility of using eminent domain to pressure these vacant building owners. "We're not going to sit around and just let you leave it there forgotten...you either do something with this property because its valuable to us here locally, or we're not going to let you have it, and I know that sounds harsh," said Oliva. Oliva explained how they have tried all other avenues and that this may be their last tool, asking the community their thoughts on the matter. Several in attendance agreed that something needs to be done about the many vacant buildings around the downtown area.
At the closing of the meeting, local business owner, Larry Rabb of Rabb Slabs, a restaurant down the same street in which the meeting was being held, asked for help from the community on ensuring his upcoming Tri Tip Cook Off, to be held Saturday April 22, would be a success. Rabb spoke on certain issues pertaining to other nearby building owners, but explained that he put everything into holding this event, and after spending the last few years cleaning up the area around his restaurant, he foresaw the event being a fun event for the community.