CALEXICO — Bicyclists from around Imperial Valley and Mexicali participated in a memorial ride to honor slain cyclist Emeterio Millan, Sunday, October 13. Millan, 44, was killed when an intoxicated, unlicensed driver struck and killed him and injured three other cyclists September 29. The driver was eventually caught.
The cyclists were struck at the intersection of Highway 111 and Interstate 8.
The 25-mile ride started near the Calexico East Port of Entry with more than 70 bicyclists, included cycling clubs Entre Frontereas, Team Highway 111, of which Millan was a member, IV Cycling, Codigos Cycling, and the I.V. Velo Club. 
After the ride, the cyclists released helium-filled balloons to honor Millan at the site of the incident. The Codigos Cycling Club erected a Ghost bike at the site. A Ghost bike is a bicycle roadside memorial placed where a cyclist has been killed or severely injured, usually by a motor vehicle.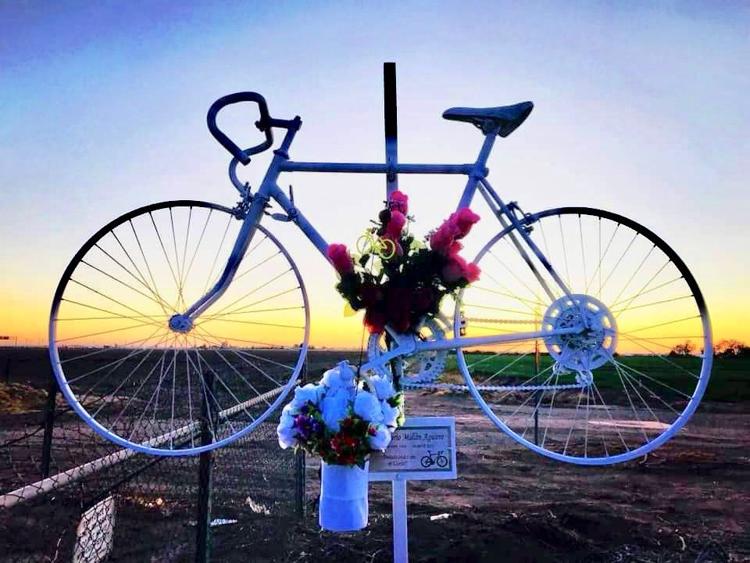 Apart from being a memorial, the Ghost bike is intended as a reminder to passing motorists to share the road; at least a three-foot clearance is recommended. Ghost bikes are old bicycles that are painted white, sometimes with a placard attached, and secured to an object close to the scene of the accident. Tires and accessories are usually taken off to deter theft.
Cycling is promoted as a green alternative mode of transportation in the United States. Over 50 cyclists have been killed in southern California alone so far this year.