IMPERIAL — On an overcast afternoon, a lone firefighter and one local supporter did their annual climb through rows of empty stairs and Grandstand levels at the Imperial Valley Fairgrounds Thursday, September 10.
El Centro Firefighter Mathew Zinn and Event Coordinator Tiffinie Macias paid their respects through hoofing it up and down the Grandstand stairs in remembrance of those who died in New York City on September 11, 2001.
The 2020 Imperial Valley Virtual 9/11 Memorial Stair Climb was a way for the community to remember those 343 firefighters who made the ultimate sacrifice on 9/11, according to the event flyer. The event is done annually nationwide with various cities participating through the National Fallen Firefighters Foundation, according to their website.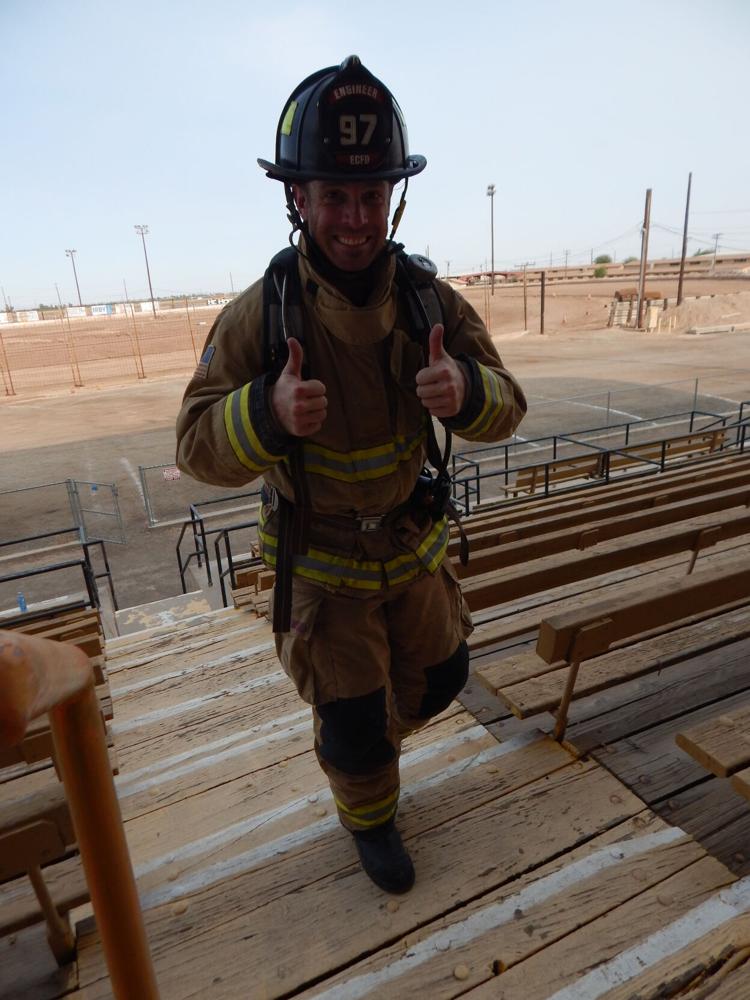 Though the event is being done virtually this year due to the pandemic, participants can do their own climb any time between September 11 to December 31, but are highly encouraged to do so on September 11 or September 12 starting at either 8:46 a.m. or 10:28 a.m., according to the flyer. The North Tower of the World Trade Center was attacked at 8:46 a.m. and later collapsed at 10:28 a.m., according to timeline.911memorial.org.
By participants paying the $20 to $25 registration fee, the funds benefit the programs of New York City Fire Department Counseling Services Unit and the programs of the National Fallen Firefighters Foundation that support the families of the Nation's fallen firefighters.
Macias said because the Grandstand is not open to the public due to COVID, people interested in participating can get in their 1,980 steps — equivalent to the 110 floors of stairs of the World Trade Center — on their own in various ways.
"We ask people to just do it on their own — if they want to go on a hike, go for a walk — everybody just do their own thing however they'd like to represent the 343 fire fighters," she said. "They can do it on their own — anything that is 9.11 kilometers — from today all the way until the end of the year."
"Really where the heart of this lies is coming together for a cause, right? Well, we can't come together still (because of the pandemic)," Zinn said, wearing his firefighter gear.
This year being the seventh installment of this 9/11 Memorial in the Valley, Zinn and Macias said the 2019 Memorial at the Fairgrounds showed the highest attendance in the Valley's history of the event, with 380 registered and all 343 fallen firefighters being represented in the stair climb.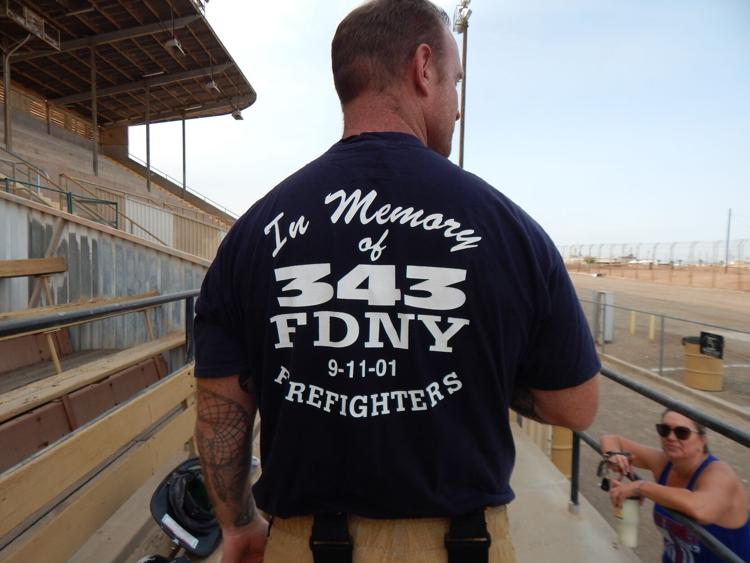 In years' past, they said the event had a large display, complete with fire engines whose ladders held large US flags, and a photo memorial of all 343 fallen, with profiles of each one. This was done in the hopes that each firefighter would be represented in the stair climb by the Valley community, Macias said.
"Maybe next year when we can all gather here (at the Fairgrounds) and do a big event again," he said. "It is important to keep these things going so we don't forget where we came from, where we've been, and where we're going."
The 9/11 Memorial is important to Macias too, she said, noting that it is one of her birthdays she will never forget.
"It's like important to me because that was like the worst birthday ever," she said. "Even my kids remember it; they were little at the time, but they still remember that day because of how upset I was about it."
"I just think it's important to never forget that day, especially how times are right now with everything that's going on in the world, we don't want to forget what happened that day," she said.
Zinn said it is still important to remember what happened during the terrorist attacks and the lives lost on that day.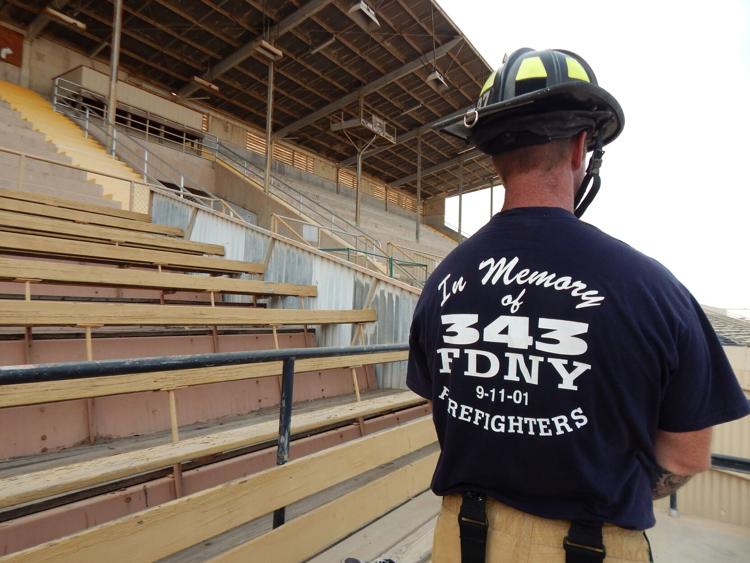 Zinn was an enlist in the US Army those 19 years ago, stationed at Fort Bragg in North Carolina, he said. He remembers doing his last checkout errands at a bank that day when he saw the second World Trade Center tower fall just as he was readying himself to come back home to the Valley for a short leave before being deployed to Korea.
Zinn said many days are significant like 9/11 in the lives of firefighters, noting that even though he paid his respects on September 10, due to working on the 11th, fire teams all across California are at-work battling large wildfire blazes and putting their lives on the line.
In future 9/11 Memorial events at the Fairgrounds, Macias said she hopes attendance will once again surge, as the plan before the pandemic shutdowns was to open the event up not only to represent the 343 firefighters but also the police and other first responders who lost their lives in the terrorist attack.
"We'd just like people to know that you can still signup," Macias said. "You can go for a walk, do a hike, do whatever you feel like doing just to represent (the fallen firefighters and first responders)."
"I feel that it's always important (to memorialize 9/11)," she said.