IMPERIAL VALLEY — Imagine a first-time pregnant mother not being able to hold the newborn baby girl and not knowing what would happen to her as she was put in an incubator due to heart complications. Two weeks later, her first open-heart surgery took an agonizing 9-hour wait for doctors to repair the child's tiny heart due to an underdeveloped heart birth defect, her mother said.
"(When she was born), they cleaned her up, they put her in an incubator next to my bed, and she held my finger," Gabriella Torres, a Booker T. Washington Elementary School parent said, "and I didn't see her again until later again that night, but I wasn't able to literally hold her until she was 3-weeks-old. It's very difficult … you're not able to imagine anything; you just want your baby back."
This was the case for Torres seven years ago, as her now 7-year-old daughter Gabriella Olmeda, proudly stated she has a "special heart" at a school virtual assembly for the annual American Heart Association's (AHA) Kids Heart Challenge, formerly known as Jump Rope for Heart.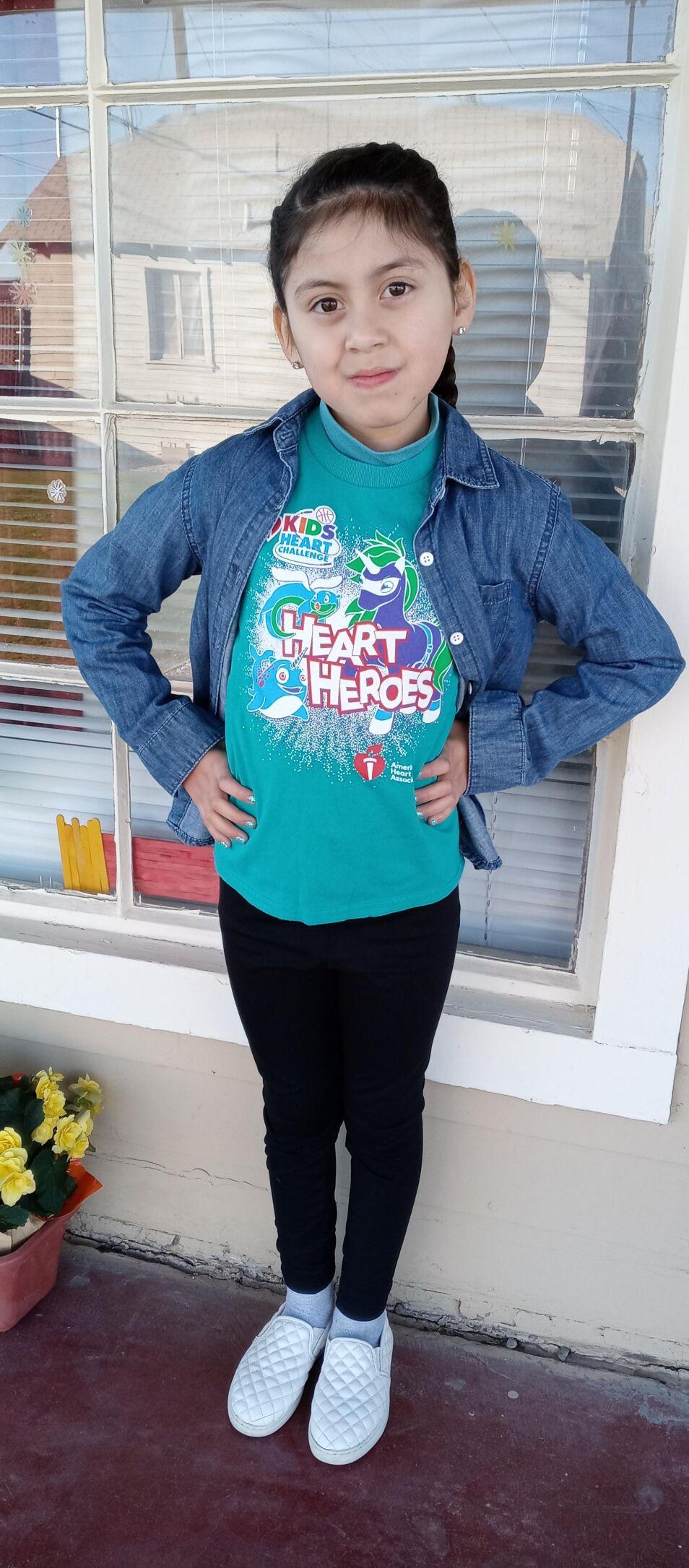 The Kids Heart Challenge is "a fun and exciting event where your student learns about their heart while helping others by raising money for the American Heart Association," according to the program's website. "It prepares your child for success through physical and emotional well-being."
Katie Potts — AMA Youth Market Director who covers Imperial, San Bernardino, and part of San Diego counties — said even given the COVID pandemic, the Kids Heart Challenge (KHC) participation in 2021 has been pretty close to previous years' numbers in Imperial County to support "life-saving research."
"While we're doing distance learning, it gives a chance for the families to get some heart health, support, education and tools while we're all staying safe at home," Potts said. "In the instances where they are able to fundraise, they're really doing a great job at reaching out to their friends and generating revenue for the (AMA)."
Booker T. Washington Elementary — the school where Olmeda is now a second grader — got back to participating in the nation-wide event after a year off due to COVID, said school Principal Joan Hanson.
"We didn't have as many students participating via Zoom (this year), but we did give the opportunity for everyone to participate; that way we can expand and watch it later," Hanson said.
After watching an AHA promotional video about a boy with a similar heart condition, little Gabriella — a second grader at the school — shared in a virtual assembly a little bit about her own story and how that motivates her to participate in the Kids Heart Challenge.
Hanson said she was surprised that Olmeda shared on her own about her heart condition with those at the school present at the virtual assembly, with Hanson thanking her for sharing and happy at how her staff and classmates responded.
"I think it was empowering for her to be able to voice something and advocate for taking care of your heart," Hanson said.
Gabriella raised $190 for the Kids' Challenge, the highest amount in her school, Hanson said. This marked the second year Olmeda participated, starting in her kindergarten year of 2019, where she raised around the same amount, Torres said.
Other milestones were hit for the Kids Challenge in 2021 around the Imperial Valley, Potts said, with some schools in Brawley and Calipatria encouraging their students to raise funds with the added incentives of sliming teachers or their principal.
Phil D. Swing Elementary School had over 20 of their students raise over $100, said Principal Elizabeth Casey, with some individual students raising over $500 and $400 dollars each.
The school celebrated this by having an hour-long, socially distanced, Drive-by Slime Thru event on February 19, where 20 students poured green slime over the heads of Casey and Phil Swing teacher and KHC Coordinator Gail Zeigler.
Schoolwide, Swing Elementary has collected over $8,000 in 2021 with some donations still being collected.
It was a similar story in Calipatria at Fremont Primary School, where close to 40 students raised $50 to $100 and got to slime their school Principal Leo Monroy or fourth-grade Teacher Carlos Lara.
In 2021, Fremont Primary School hit their $100,000 cumulative donation mark in the 15-plus years they've been participating in the Kids Heart Challenge, Potts and Monroy said, with Potts saying Phil Swing is also very close to that same cumulative milestone.
Monroy said the looks on his students' faces as they got to pour slime on him from the other side of a 7-foot tube were looks of excitement and surprise.
"This doesn't happen without the teachers, the parents, and the kids all getting excited about giving back, and they know that when they're out there giving back to the community and the kids who need extra help," Monroy said. "It motivates them, and they get excited about that."