EL CENTRO — Imperial County Behavioral Health Services, in partnership with Alvarado Parkway Institute, has brought a new facility to the community, the Jackson House. Elected officials, behavioral health services officials, contractors, guests, and the media attended the groundbreaking ceremony in El Centro Tuesday, March 22. 
Renee Novo, executive director of business development at API, welcomed and introduced guest speakers: Andrea Kuhlen, director of ICBHS; Raymond Castillo, Imperial County Board of Supervisors – District 5; Josh Tolman, API Behavioral Health System board member; Patrick Ziemer, API-BHS president and chief development officer; and Ray Roben of Roben Realty. 
According to Novo, Proposition 63 — the Mental Health Services Act — allows funding for the county to invest in building Jackson House El Centro which will have a full clinical staff of nurses and physicians. 
A press release said, "Jackson House is a short-term acute residential mental health and addictive disease treatment facility." 
"We are excited to be here," said Novo, who spoke about the new 6,448 square foot building with a 15-bed capacity. It will operate as a 24-hour crisis residential treatment facility. Behind the podium, a skip loader and an earthmover next to mounds of dirt provided a backdrop for the groundbreaking ceremony. 
"It will be a tremendous help to our department," said Andrea Kuhlen, director of Imperial County Behavioral Health Services. "We are responsible for securing inpatient hospitalizations for individuals that are either a danger to themselves or others."
Hospitals and doctor's offices can refer patients that do not need a higher level of care to Jackson House. It will be much more cost effective with this service available right here in the county, said Kuhlen. 
"The cost for inpatient treatment is so high and the available beds have decreased steadily over the years. That is very, very difficult. Consequently, we have people waiting for several days to get the appropriate service." And without beds, patients will have to stay in the emergency rooms for hours or days, Kuhlen said.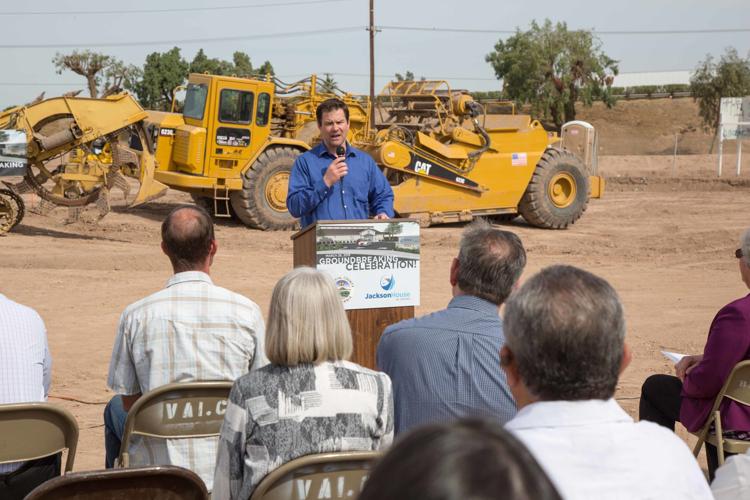 "I'm looking forward to working with the Alvarado Parkway Institute, and hopefully some local people will get hired by the facility," said Raymond Castillo, Imperial County Board of Supervisors – District 5. He also serves as the board's representative on behavioral services for the county. 
According to Castillo, clients suffering acute problems are transferred to San Diego, Indio, or the Palm Springs area, and that takes staff away from the county. Having Jackson House here in El Centro will relieve some of the burden on behavioral health workers and law enforcement officers transporting patients to those cities; instead, they could concentrate their efforts in the Imperial Valley. 
"Everyone benefits. Clients are closer to their family members," said Castillo. 
Jackson House El Centro is scheduled to open its doors September 1. "I hope to see you back in six months for the grand opening," said Kuhlen.