IMPERIAL — Veterans, faculty, students, and members of the public were in attendance for a small ceremony held at Imperial Valley College (IVC) to commemorate Veterans Day Wednesday, Nov. 10, just one day prior to the federal holiday.
Interim Superintendent and President of IVC Dr. Lennor Johnson began his address by asking all the Veterans in attendance to stand and be recognized by the crowd that broke out into applause and cheers.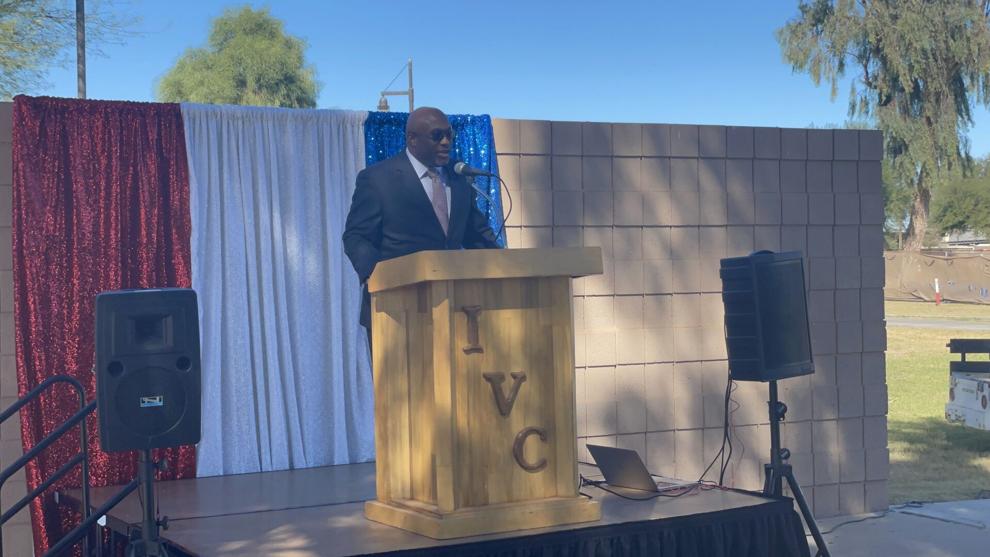 "As a very, very proud Marine, of four years, I've got to admit today is a very special day in my heart … it means a lot to me personally," said Dr. Johnson. 
Dr. Johnson spoke to the transformative nature one can experience within themselves when serving in the armed forces. 
"I'll never forget when I came home from my first year of service and my mom said, 'You've changed.' And I said, 'Well, when I went in, I was a boy and now I'm a man,'" said Dr. Johnson.
He said being in the Marines made him see the world through a different lens and he is more appreciative and prideful for what the Military does for the nation. 
"To recognize that I've served this great nation, that I was willing to pay the ultimate sacrifice for this great nation, to keep everyone here safe across this great nation. Sometimes we don't give our Veterans enough credit, we really don't," said Dr. Johnson. 
He said he learned more about life during those four years serving in the Marine Corps than he did attending 12 years of college. 
"But the reality is, because I learned the foundation of who I am, the character that I am — great integrity, hard work, discipline, refusal to give up and realize that all things are possible — there is no obstacle that we can't overcome," he said. 
 He said the Veterans have built this nation into the strongest and most powerful nation in the world. 
"Because we believed in each other. We believed in that fighting spirit. We believe that we can do it," said Dr. Johnson. 
Student Services Specialist Miriam Trejo said this year there is more of a ceremony for the event then what they have done in the past. 
"We've had color guard presentations, we've had Veteran speakers come out, we've had film screenings of documentaries, we've even had a traveling Veteran come in and display all his memorabilia," said Trejo. 
Trejo said the event is not just exclusively for students and faculty as it was in previous years and invited members of the community to participate as well. 
"We're serving lunch today, we're having a presentation of colors, we have guest speakers coming out and it's more just bringing the community back and letting them know what services we have here," said Trejo. "Some people don't know we have a Veterans' center." 
Trejo said now is the right time for Veterans to come back to school and see the IVC campus while they're offering free college.
Aaron Maciel is a student senator and helped organize the ceremony. He felt it was a great way to show how much the students appreciate the Veterans for their service.
"We want to show our support to them and acknowledge what they've done. I feel it goes a long way to show them we appreciate what they have done for us," said Maciel. 
Military and Veterans Success Center Counselor, Michelle Zinn, coordinated with the Student Affairs Office for the first time to put on the event and said it's been amazing collaborating with the community to make it happen.
"This is very important for me because I come from a long line of military Veterans," said Zinn. "It goes back since before World War II."
Zinn said her work with Veterans keeps the memory of her family Veterans alive. She said she was happy to have some of them in attendance. 
"I think that they would be proud of me," said Zinn.