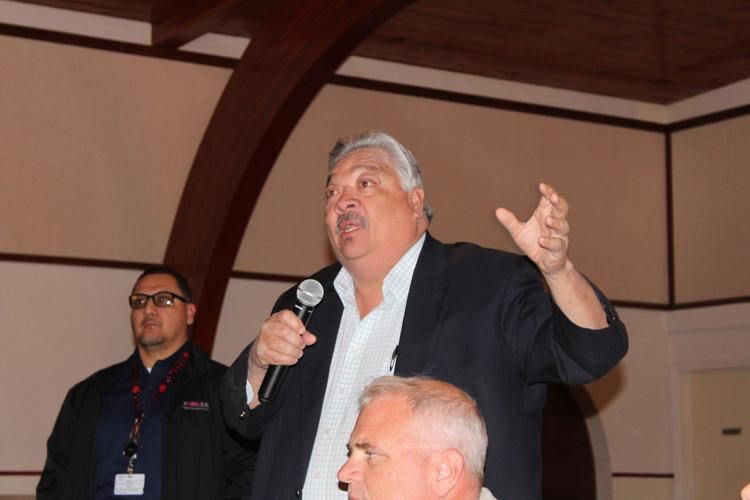 BRAWLEY — Pioneers Memorial Hospital called for a meeting with public stakeholders Wednesday, February 5, at Hidalgo Hall to get feedback and discuss how to provide healthcare to better serve the Imperial Valley.
PMH Resident Larry Lewis was coordinator and speaker at the meeting, highlighting what was doing well at the hospital while being open to community suggestions.
Highlighted at the meeting was Pioneers health center expansion in Calexico with the addition of 20 staff members, new construction, and more improvements. Lewis said the health center is helping treat a community that has been left underserved for too long. Lewis stated Pioneers is looking into adding eight more practices at the Calexico Health Center.
Lewis pointed out the new construction and additions at the main hospital. The construction at Pioneers will create a new surgery wing that will bring neurosurgery and cardiac surgery to the Valley. The new wing will allow PMH to place stints in hearts without having to send people to Palm Desert or San Diego.
PMH also became the first hospital in the Valley to have a Tesla MRI machine. It is also the first to do 3D mammography's. Lewis informed the public about the services at the health center across the street from the main hospital in Brawley such as cancer treatment, women's health, and more.
Brawley resident Rusty Garcia said he hopes the hospital will continue to treat its patients with compassion and dignity as it grows.
"You speak of compassion, and that's what I see and feel when I'm there," said Garcia. "I hope you keep that compassion."
Brawley resident Cassie Hamlin suggested Pioneers consider training staff about rattlesnake bite after care as well as educating on proper patient care. Hamlin's daughter was bit by a rattlesnake last summer and the family did not have a good experience during treatment at Pioneer's in Brawley.
Another resident suggested the front of the women's section have better security. She also suggested Pioneers have a better liaison between the families in the waiting rooms and the doctors when waiting for loved ones in surgery or during childbirth.
Lewis was glad to see the community talking about the hospital — both the good and the bad.
"I feel good that the people are open enough and honest enough to talk about those things that do bother them," said Lewis, "and open enough and honest enough to talk about the positive things they have seen."