EL CENTRO — Imperial Valley College celebrated the grand opening of its Nursing Building 2010 Wednesday, Sept. 21 with a ribbon cutting ceremony and a gratitude tour of the laboratories and classrooms. 
Cristal Mora, associate professor and assistant nursing director, welcomed students, faculty members, nursing students, and guests who sat under the shade of outdoor tents. Other guests stood under the shade of nearby trees. 
Karla Sigmond, president of the board of trustees, acknowledged the contributions of key individuals instrumental in the completion of the renovation project. 
"Today marked another accomplishment," said Sigmond, who informed guests about the modernization upgrade. "With this project, we hope we can increase capacity as well as prepare our students for the workforce," said Lennor Johnson, Ed.D., Superintendent/ President. "Nursing is the most popular program in the campus." 
The shortfall and lack of nurses became evident during height of the COVID-19 pandemic.
According to Johnson, each year an average of 500 students express interest in the nursing program. From these, only 100 apply and only 35 qualify. 
Cesar Vega, Vice President of Administrative Services/ Chief Business Officer, said the funding for the modernization was $3 million. 
Alumnus Diana Zermeno spoke about her nursing training at IVC which led to her working in the intensive care unit at Pioneers Memorial Hospital. 
Right after the program, guests gathered at the entrance of the Nursing Building 2100 for the ribbon cutting ceremony. 
Sigmond and Zermeno—surrounded by nursing students, faculty members, trustees, and administrators— cut the red ribbon that officially opened the renovated nursing classrooms. 
"It was a big culture shock. There was a big difference as a new graduate student to go to the floor on my own," said Zermeno, who graduated in December 2020. She was hired two weeks later to work in the Intensive Care Unit at Pioneers Memorial Hospital in Brawley. 
She also mentioned differences in the facility when she was nursing student during 2019-2020. "We had a tiny classroom." 
With the upgrade's renovations, today's students will have multiple tables and chairs and better equipment. More students can practice their clinical skills using high fidelity mannequins. 
"My mother was a nurse in Mexico and she encouraged me to get into nursing," said Zermeno, who was accompanied by her mother, Martha Zermeno. "Nursing is a good career," said Diana. 
Inside Laboratory #3, Nursing Professor Carmen Bravo and her four students demonstrated how to revive a patient complaining of chest pain and shortness of breath. Following her instructions, these graduating fourth-semester students, immediately moved into action.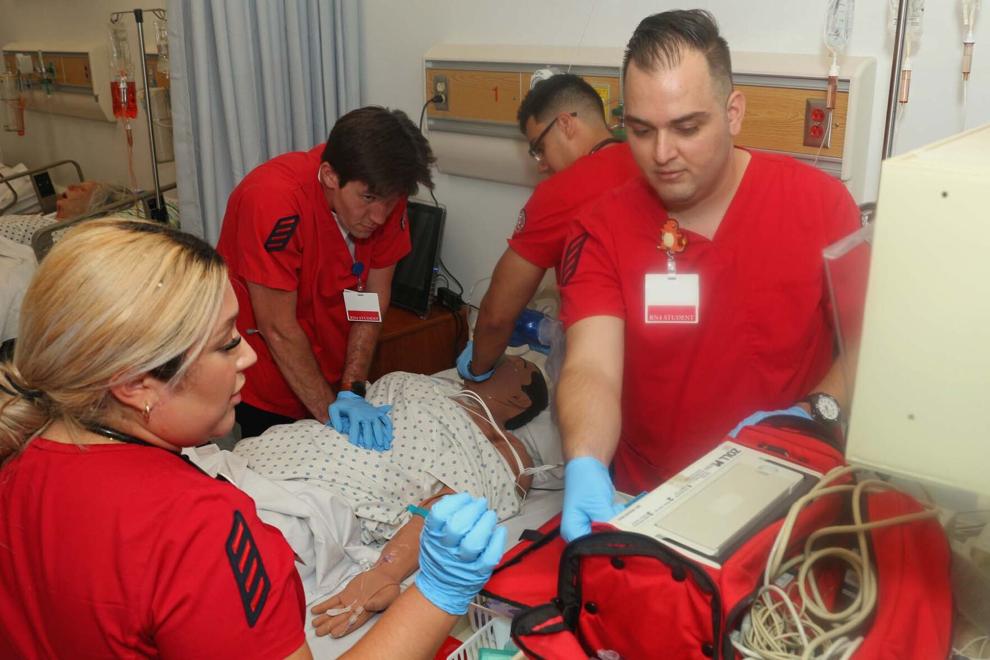 Ross Rubio led the team in reviving the patient —a high fidelity mannequin. According to Rubio, the mannequin responds with life-like mannerisms and vital responses— pulse respiration, lung sounds, and pupils that constrict. 
Rubio's team— José Lomeli, Daniela Lopez, and Oscar Lopez— assessed the patient, delivered cardio-pulmonary resuscitation: inflated the lungs using an Ambu bag, and used a shock paddle to defibrillate the patient. Vital signs were monitored on a large monitor, complete with beeping sounds. 
"They acted on the code. They worked together. The patient stayed 'alive'. They did a good job," said Professor Bravo. 
"Thanks to the improvements, the students will now have a great opportunity to practice their skills to better prepare them for the real world," said Professor Bravo.