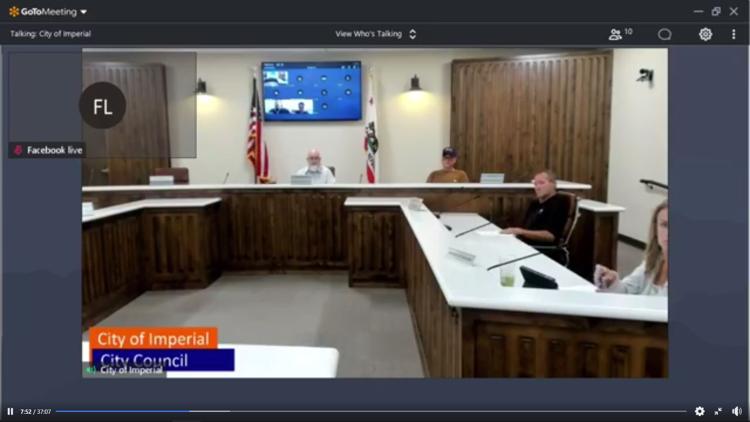 IMPERIAL— The City of Imperial declared all businesses in the City are essential and will be allowed to reopen in defiance of the Imperial County and State of California reopening timeline.
The resolution was approved unanimously by the council.
According to the resolution, the City of Imperial will provide guidance to Imperial businesses that are currently closed due to state executive order to counter the spread of COVID-19. Businesses are allowed to open at their own risk and must operate within the industry guidelines set by the State. The resolution authorizes all businesses to reopen beginning Monday, August 24.
"Whereas over time the essential workforce model has demonstrated itself to be patently unfair," read Mayor Darrell Pechtl from the resolution. "Whereas the City has witnessed countless examples of businesses allowed to operate because they are deemed essential while businesses that could be operated in a manner that poses no greater risk than an essential business are left to ponder their very existence."
All five council members were in favor of opening Imperial, citing a responsibility to their business owners who have been struggling after being closed for the past five months.
"We are doing this for our businesses to make sure they can stay in business. They are not just businesses, they are residents. They live here," said Council Member Robert Amparano.
"This is not an act to endanger anyone. This is an act to save the businesses we have left," said Council Member Karin Eugenio.
"It is time to live with this and move on," said Council Member Geoff Dale.
Pechtl said the City of Imperial does not want to throw all caution to the wind and open everything without being responsible. Rather that the County is not moving fast enough nor helping businesses enough for the City's taste. He said the City is not trying to be defiant, but rather supportive of the people in the community who need the most help.
"This resolution says we disagree with your timeline, not with your plans," said Pechtl. "We don't believe Stage 4 businesses need to wait four more months, if we're lucky. They can't do it anymore. We believe we should be able to move right now with proper precautions."
The council encouraged businesses to open and observe all precautions to keep their customers safe. However, Pechtl said the City will not be able to protect those who open when the County and State come knocking.
Imperial County sent a request to the state Thursday, August 20, to allow the Valley to move to Level 2: Lower Risk, which partly prompted Friday's movement.
Imperial risks losing $245,000 in CARES Act funding for COVID-19 relief by taking this stance against the Imperial County and the State of California.