EL CENTRO — The Imperial Irrigation District invited presenter Michael Bulloch from Utilicast, a premier provider of energy consulting services, to speak about entering into the Western Imbalance Market in 2022 at their regular meeting January 7.
Since launching in 2014, the Western Energy Imbalance Market (EIM) has better grid reliability and has generated a cost savings of $801 million through the 2019 third quarter for its other energy networks, according to the EIM webpage.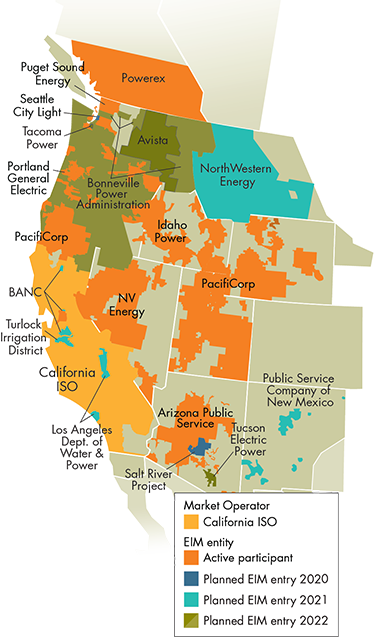 In the beginning, EIM resources were only being optimized across the CAISO and PacifiCorp balancing authority areas. But since that time, NV Energy, Arizona Public Service, Puget Sound Energy, Portland General Electric, Idaho Power, and Powerex have become participants in the EIM. The footprint now includes portions of Arizona, California, Idaho, Nevada, Oregon, Utah, Washington, and Wyoming, even extending to the Canadian border.
Furthermore, the Balancing Authority of Northern California — a joint powers authority whose founding members are the Sacramento Municipal Utility District, Modesto Irrigation District, Roseville Electric, Redding Electric Utility, Trinity Public Utility District, and the City of Shasta Lake — joined the EIM in 2019. The Los Angeles Department of Water and Power, Salt River Project, and Seattle City Light will enter the EIM in 2020, and Public Service Co. of New Mexico recently announced that it will join by 2021, pending state commission approval.
The California ISO's Western Energy Imbalance Market (EIM) is a real-time bulk power trading market, the first of its kind in the western United States. The Western EIM's advanced market systems automatically find the lowest-cost energy to serve real-time customer demand across a wide geographic area, per the website. 
Utilities that participate maintain control over their assets, transmissions, autonomy, and remain responsible for following state and federal regulations while sharing in the money saving benefits the market produces for their customers.
Marc Printy, IID Manager of Energy Resource Planning, Optimization and Procurement, who introduced Bulloch, said with the development of the EIM, the market to buy and sell electricity has dried up since the IID has not participated in the new marketplace.
"The market pool has changed drastically. It used to be two people talking and arguing about the price with a take it or leave it attitude. And this was for future sales when we knew we had peak demand or surplus energy coming up. No more. Now it is much more complex. Now our old partners are buying and selling in real time," Printy told the board.
For four months a year during the warmer season, IID buys energy to meet the demand of the Valley, but eight months the district sells energy, according to Printy.
Division 1 Director Alex Cardenas questioned Bulloch on retaining IID's sovereignty, as did Division 3 Director Jim Hanks.
"What is the impact on regionalization? I promised if elected I would protect our autonomy and sovereignty. I don't want this to be a Trojan horse, where it looks good, we get in and can't exit if we don't like it," Cardenas said.
Bulloch said EIM is marketing and not a controlling authority, although the process to be a trading partner involves a sizeable investment and several years of work. He estimated with the high rate of return, selling excess energy to a variety of markets, within three years the district would be paid back.
One very important aspect of the EIM for many participants is the fact that utilities get to maintain local control of their assets. Obviously, power companies must operate within state guidelines and directives, but in general, they have full control over their generation and transmission resources. 
Besides its economic advantages, the EIM improves the integration of renewable energy, which leads to a cleaner, greener grid.
Over the last few years, IID's Energy Department has been continually monitoring and evaluating EIM and any potential benefit it may provide to the IID. With the continued energy market landscape changes and IID bilateral markets changing, IID has visited and evaluated joining EIM. This year the energy department hosted an EIM Workshop by Utilicast to further valuate EIM.
The computer-run program selling and buying energy seeks the best price of what is available, thus enhancing wholesale market efficiencies through use of a more accurate grid model. The EIM market also says it safeguards price gauging by preventing market manipulation by market participants.
IID General Manager Enrique Martinez said the IID's assets were not set up or designed to participate in a western marketing grid, so changes would need to be made in management, technology, computer systems, and most assets. 
"The (IID) energy system is not designed for open market competition, but if we stay where we are today, with idle units with nowhere to sell, that is not good. We can't continue running with the system we've had for the last 20 years. With investments, we can have our units working for us when we don't need them. We can generate money from the market," Martinez said.