EL CENTRO – What started as a vision from seeing Trump rally's popping up everywhere across the United States, particularly in California, ended with hundreds of the President's supporters rallying at the old Lucky's Supermarket. A vision that began in the patriotic minds of John Parra Sr., Robert Estala and Junior Estala culminated Saturday on a warm October afternoon and lasted into the evening
Roughly 20 minutes before the scheduled 4 p.m. gathering at Lucky's, vehicles began showing up as dedicated Trump 2020 supporters slowly rolled into the empty parking lot. Within 45 minutes, close to 200 vehicles were present but the count kept increasing as it neared a 300 count. By the time the lead vehicle rolled out at 5 p.m., the rest of the vehicles followed decked out in a sea of red, white and blue flags and Trump signs.
Walking amongst the crowd, one participant, Pinky Perrone, could be heard exclaiming to others, "Isn't this amazing?" 
Richard Norwood commented, "I'm here to support a good peaceful rally."
Attendees were not limited to only Imperial Valley residents as San Diego citizens who had learned about the rally fed their patriotic appetite and made the long drive to El Centro. 
"We were very excited to drive from San Diego," said Ruby Shamsky, who was there with her husband, "and it sounded like a fun thing to do to be with like-minded people!"
"This is great!" said Kevin Thompson, saying what was heard numerous times. "We came here with butterflies in our stomachs but seeing this kind of support in our community makes me feel good."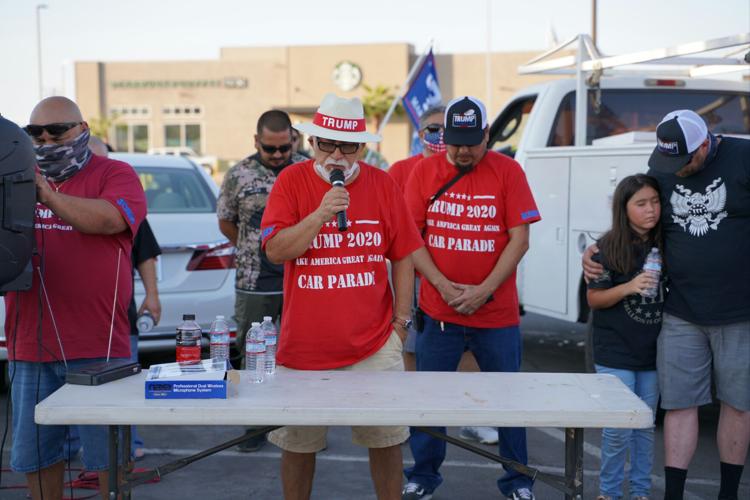 Coordinator Robert Estala thanked all the people present and gave the last set of parade instructions before turning the microphone to John Parra Sr. who led the entire patriot rally group in a prayer.
All was not positive as opposers of the Trump rally made their presence known. Two males wearing B-L-M shirts mingled throughout the parking lot before the start. When the caravan made its departure another small group of younger opposers shared their thoughts both vocally and with signs. They shouted obscenities to every vehicle filled with men, women and children of all ages as they exited the parking lot. The opposers held signs with the same language spoken and same finger gestures displayed. Another gray army-shirted male video recorded the license plates of the vehicles as they departed the parking lot, for what reason, it was not known as he was not available for an interview later. 
As all vehicles orderly exited the parking lot with horns blowing, cheers as shouts of "Four more Years", "USA" and other popular statements the excitement was evident amongst all the patriots. It took a little less than an hour for all to leave in the convoy. They reached the end destination well after sunset where the positive energy of the group was louder and more boisterous than at the beginning. 
"Outstanding turnout!", Dan Flores Jr. said, "I'm glad we had such a great turnout to show our President our support and that it is nationwide!"