EL CENTRO — Rows upon rows packed with care, to soldiers with love, soon will be there.
This was the mantra of the American Legion Boyce Aten Auxiliary Unit 25 as they packed dozens of school-child decorated US Post Office boxes, filled with treats, goodies, hygiene products, and other small gifts in care packages being sent off to military serving overseas for their Holiday Troops Packages Project (HTPP).
About a dozen volunteers packed the 100 care packages to be sent out to five soldiers from the Imperial Valley — from Calipatria, Imperial, and El Centro — to show a little love to them and their entire units/squadrons, or rather, their closest group of fellow soldiers.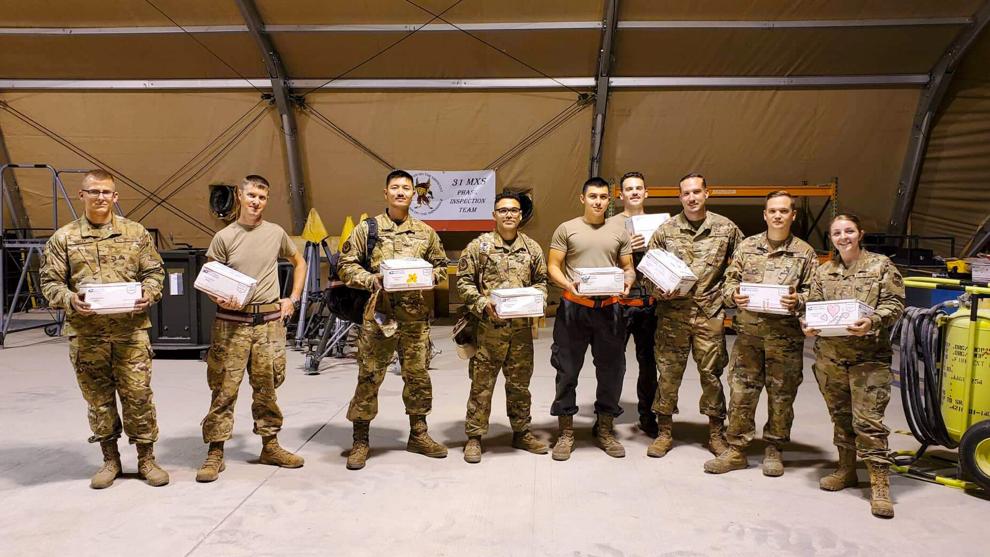 The boxes were decorated by local students from four classes — kindergarten through 8th graders — in a mix of classes from T.L. Waggoner Elementary, Harding Elementary, De Anza Magnet, and Wilson Jr. High schools in El Centro and Imperial.
"Normally we pick one (soldier) but this year I reached out to the community and asked everyone locally if they had any (young soldiers) overseas," said Tiffanie Macias, El Centro Legion Auxiliary vice president and HTPP coordinator.
The five local soldiers represent the US Navy (2), US Army (2), and US Air Force (1), Macias said, with no locals coming forward with adult children in the US Marine Corps or Coast Guard.
"Obviously, we have an amazing community because just from asking on my Facebook page alone, I've been able to get (donations for) the needs of everyone," she said.
Macias said the shipping was $1,600 but she foot the bill by a mix of donations from the local El Centro US Post Office and individual donations from friends and family.
Macias said she had to fill each box's shipping information individually, by hand, which took her about a day, but "obviously they're worth it."
"They do more than we do for our freedoms (so) we can't complain," she chuckled.
Macias has been coordinating the Holiday Troops Packages Project for the past four years, and though the Auxiliary had "adopt a troop" in years past and sent packages, it was never as large as 100 boxes, she said.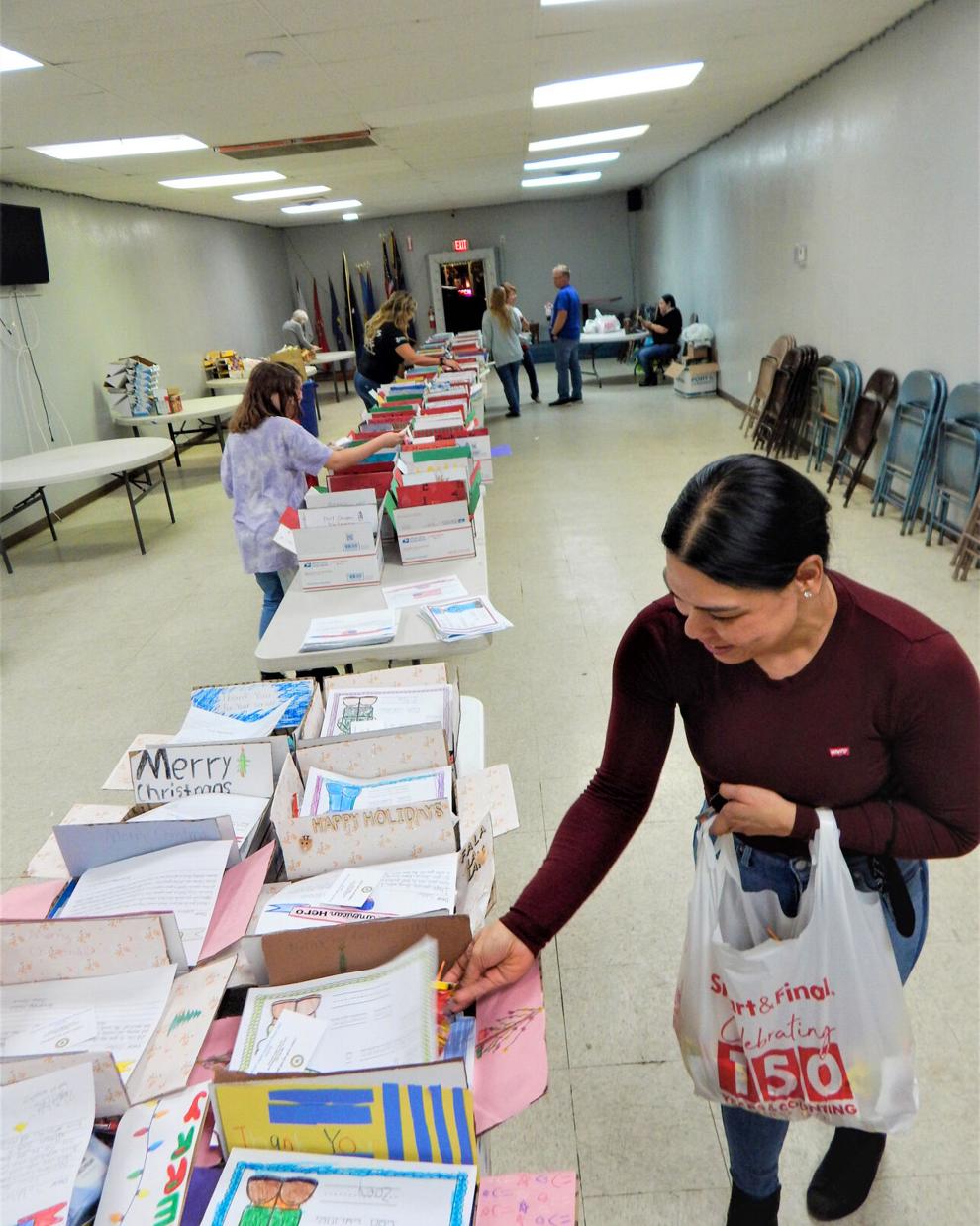 Auxiliary member and El Centro Elementary School District "lunch lady," Verna WOW-Wright, said the school children enjoy decorating the boxes, and it also provides a moment for their teachers to promote supporting the troops to the youngsters.
The Legion Auxiliary also invited family members of the soldiers themselves to help ready the packages.
Calipatria resident Christina Castro, mother of local basketball star Izrael Castro, said the packages mean so much to the soldiers and their families.
"It's a wonderful idea," Castro said. "He gets so excited. I've never seen someone get so excited (over) the simplest things."
Castro said she asks her 21-year-old son to record the unboxing of all of his care packages, which she views later. She said it's entertaining how animated he gets when he opens his care packages.
"He reacts to things like Mexican candy, Flaming Hot Cheetos … he's like, 'Ohhh! Ohhh!!'" the proud mother said. "They don't take those things for granted anymore like we do."
Castro said her son Izrael Castro has been deployed overseas for three years in two different countries. To her, as a single mother of three adult children with two in the military, she appreciates the sending of care packages from locals "with all my heart."
"I get messages from my son that break my heart sometimes because they miss being home," Castro said. "They're out there alone. It's a whole different world out there."
"To see that other people (in the community) pick up where I left off is a great feeling," she said, "and I'm sure he's feeling that support."
"It's like a little piece of home," Castro said. "No matter where he's at (it makes him feel) like he's not that far away."
"I can't even say thank you enough," she said.