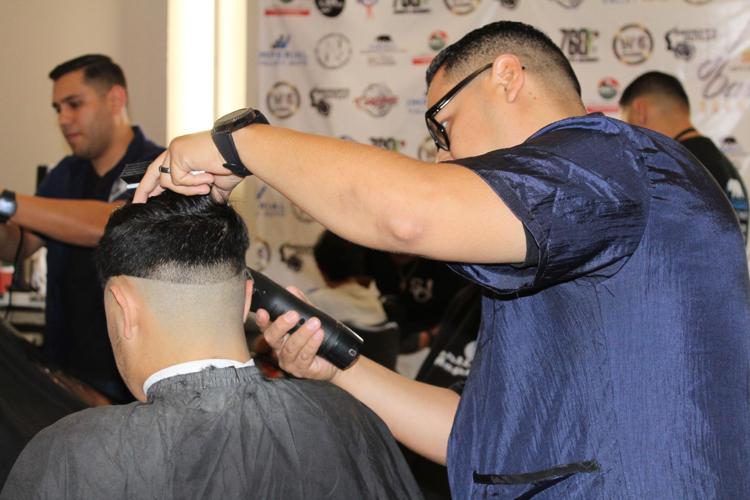 BRAWLEY — Looking and feeling good on the first day of school is important, and the Learning Institute of Southern California Barber School in El Centro helped with that Saturday, August 10, during it's Back to School Haircut-A-Thon with free haircuts to help cut school costs for Imperial Valley students and families.
The shop took in the first 50 elementary, high school, and even college student and vocational school students for free, as long as the customer was going to some sort of schooling according to director and owner Fernando Lynn. Wassupwu Comedy partnered up with the LISC Barber School to provide 25 free haircuts for students this year. Lynn said that the barber school matched that, providing 50 in total for the Imperial Valley community.
Lynn said they wanted to give back to the community by helping out families who are getting ready for school as well as let the community know that the school/shop is there in the Imperial Valley.
"Haircuts aren't cheap anymore, and I knew it would help out parents who are preparing for school already," said Lynn. "It's just our way of giving back to our community."
Poofy, wild looking hair went in and clean cuts came out in a steady stream from morning until evening Saturday. Both boys and girls walked in to get their hair cut special to prepare for the first day of school.
Seven-year-old Noah Macias sported a new short cut.  "It feels good. I feel good," said Macias.
Eleven-year-old Angel Cota was smiling as he got out of the barber chair. 
"I feel great! I had that long hair and it felt so hot under there and now that I got that haircut, my head feels nice," said Cota.
Angel Cota Sr. said he was impressed with what he saw on Saturday, especially compared to what he sees in shops in the Coachella Valley where he and his son are from.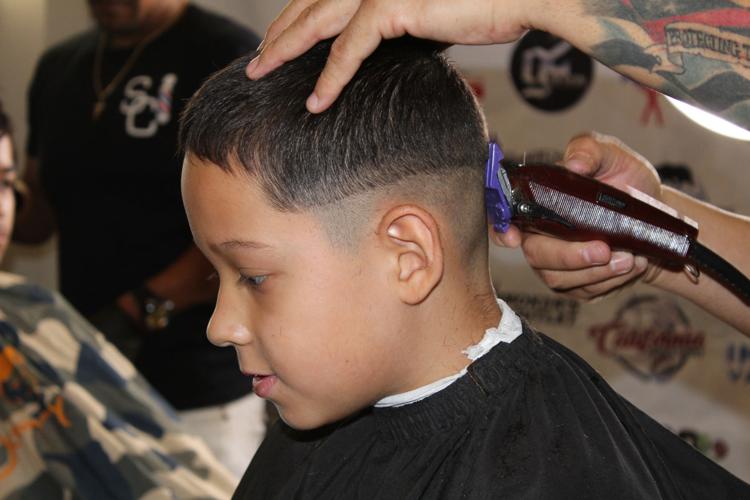 "What I am seeing here is very exceptional," said Cota. "They have very good skills and it's great that they did this for the community."
"It's nice that they are doing this for the kids, it helps the parents who need to get supplies and uniforms for school," said Jacqueline Castellanos from El Centro who brought in her daughters for their first haircut.
This also created a scene of a busy, working salon that the LISC students were not quite used to at the school. Lynn said the event gave his students a chance to experience the rush and bustle of an actual day at a shop without the books to guide them.
Carlos Romero, a retired firefighter and now a student at the school, said he opened his own shop but has learned much at the school. He enjoys being in service to his customers and making them feel good about themselves with a new hair style.
"Giving someone a haircut makes them feel like a million bucks," said Romero. "You make them feel amazing for the day, and they get to go home and celebrate their haircut and enjoy the night."
Willie Macias has long been interested in the barbering career and has been able to hone his craft at the LISC Barber School.
"I like to watch the people and see that smile when they leave the chair. Making them happy, and then for them to come back to get another haircut that means I'm doing something right," said Macias.
LISC Barber School has been open for a year and a half and teaches students all forms of cosmetology. It accepts appointments and all are supervised by instructors. The shop is open Monday through Friday from 10 a.m. to 7 p.m. and charges $4 for a cut.