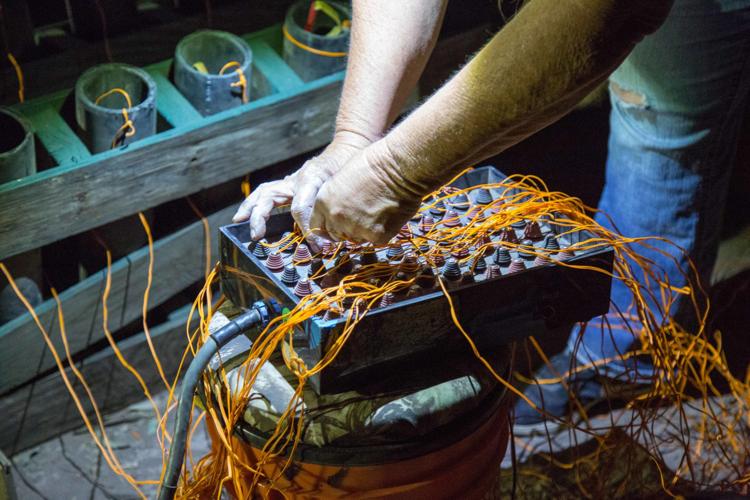 IMPERIAL — Pyrotechnicians wired mortars and shells Wednesday evening, July 3, readying them for launch at the Freedom Fest fireworks display July 4 at Imperial Valley College. 
These rugged men and one woman looked confident working amid explosives — which the community enjoys watching as fireworks float in the sky the evening of Independence Day. 
"Many people don't realize what goes behind the scenes," said Mike Mulligan, a state licensed pyrotechnician. According to him, preparations for the fireworks display this Independence Day took three days.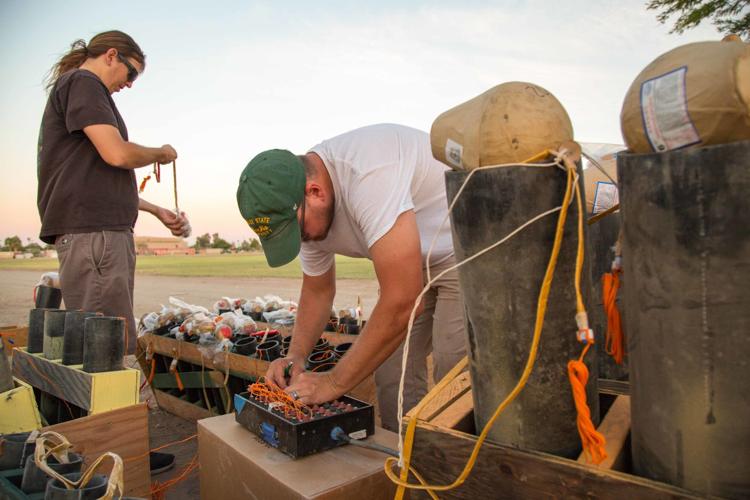 The racks, mortars (tubes) and shells (the round explosives that are shot up in the air) were hauled in three days in advance and were taken to a storage location at Imperial Valley College. 
The following day is the "wiring in" when pyrotechnicians and pyrotechnicians-in-training connect wires to the shells that are placed inside mortars. Each shell has a wire that is connected to a control board. 
The morning of July 4 is called "continuity check" and is when pyrotechnicians check every component of the system to ensure that are ready for the fireworks display.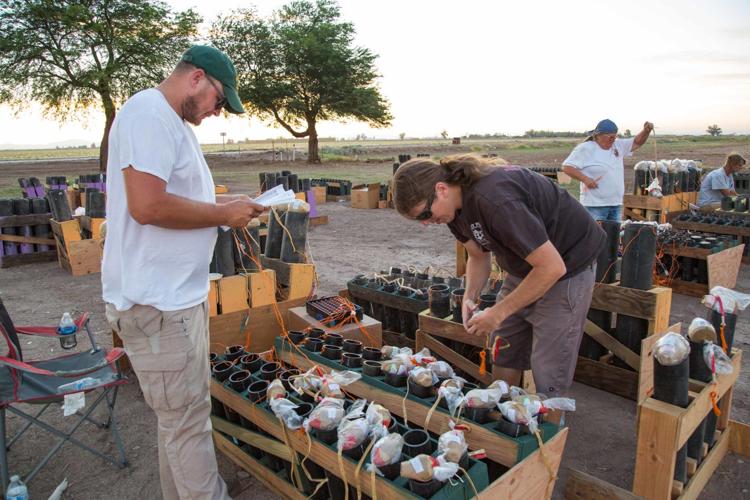 After the show, Mulligan continued, his team — which includes his wife — spend some time to dismantle and store all the equipment. 
As for the music that is synchronized to the fireworks, "It takes on average an hour per minute on a computer, to script the show," Mulligan said. 
"We have about 450 shells total with three- to eight-inch diameter shells," said Mulligan. As a rule, a one-inch diameter shell will travel 100-feet and the spread it makes is about half its diameter. Thus, a three-inch diameter shell travels anywhere from 150–300-feet high and the spread pattern it makes is about 150-feet, Mulligan said.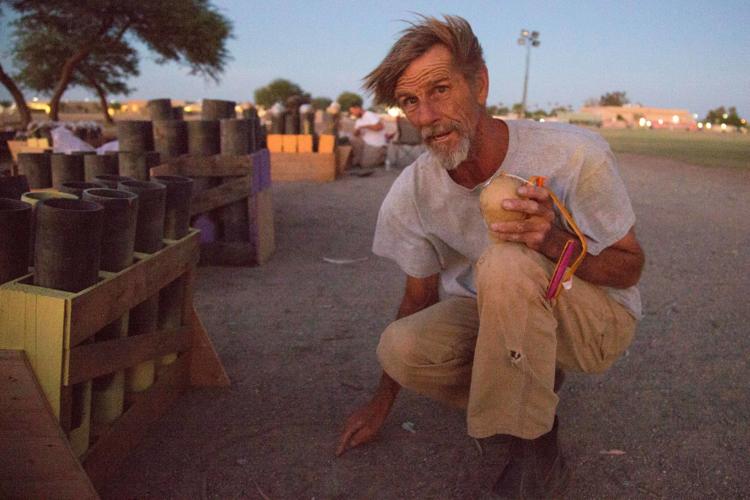 The larger eight-inch shells were placed several hundred feet further north from the main staging area for safety reasons calculated according to its potential spread. Those shells reach a higher altitude and create wider diameter patterns. 
Mulligan, a Vietnam veteran who served with the U.S. Navy from 1971–1978, said he has been in the fireworks business for the past 25 years. He has been working with Gene Brister, event chairman, and one of the three co-founders of the 29-year-old Freedom Fest. 
"I do the show because I like the people here. They are very military oriented," said Mulligan. 
One of the pyrotechnicians-in-training, Andrew Lowe, served in the U.S. Marine Corps from 2002–2008 and was deployed right after 9/11 to Afghanistan and Iraq.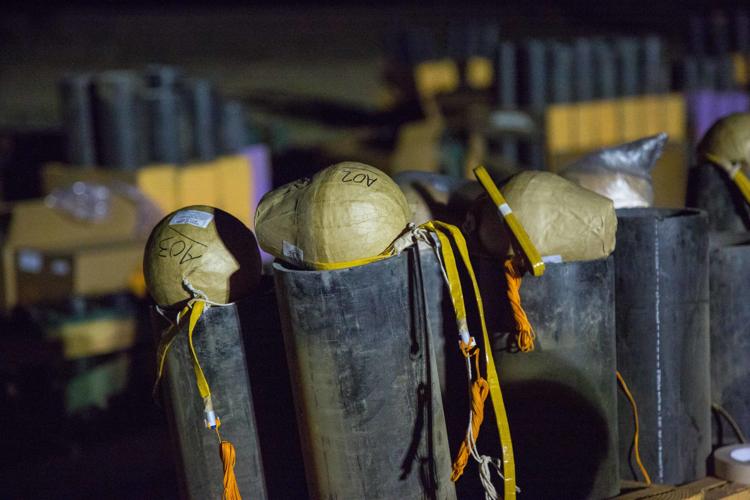 He and fellow pyrotechnician-in-training, Phillip Leitner, were wiring mortars into the control board. "Each mortar is timed to shoot off during the show," said Leitner. 
Freedom Fest is Leitner's third show, but "this is my first big show." The other two shows were high school homecoming events where the fireworks were manually lit and not synchronized to music. 
Leitner said, "I was an infantry mortarman with a 60 mm mortar. I had some experience with blowing things up before, so it feels natural to transition to fireworks … It is rewarding when you see [shells] go off. I think everybody likes watching a fireworks show but they don't really know what goes behind the scene. You get a lot of pride out of seeing a show that you actually helped set up," Leitner said. 
Brister said the cost directly related to the fireworks is $35,000. This includes the fireworks and insurance, among other things. "We make sure that the community will underwrite the show."