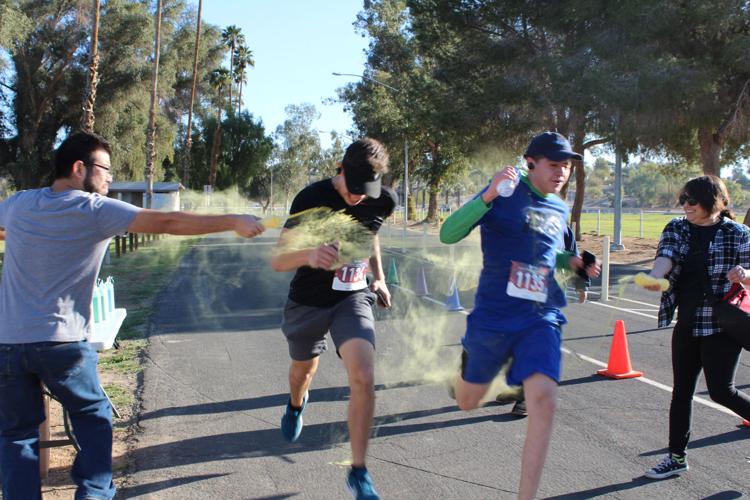 BRAWLEY — Poofs of color sprouted at the "color line" of the 4th annual Brawley Cancer Walk 5k Fun Run Color Run Saturday, March 7, in Brawley at Cattle Call Park as the Imperial Valley community ran and walked to support cancer patients and survivors.
Brawley community members created the walk after the American Cancer Society's Relay for Life event moved to Imperial Valley College, according to President Joseph Ramirez. Brawley's community still wanted to stage their own walk to raise funds and bring cancer awareness, so they banded together to come up with the Brawley Cancer Walk.
The 5k was originally created to spark interest in the larger Cancer Walk and has grown a bit each year, which Ramirez says is a little bittersweet.
"From one perspective it's kind of sad because you see a lot of families who have gone through the same thing," said Ramirez, "but on the other hand it kind of gives me chills and gets me excited that there are a lot of people who care about the cause.
Close to 60 people participated in this year's 5k. Puffs of color splashed in runners faces near the finish line to mark each lap, shirts soon dyed and splattered with yellow, green, and blue powder. Medals were given for the first, second, and third place winners for three age groups. Runners crossing the "color line" smiled and laughed as color was launched at the them, some even demanding to be hit with as much color as possible.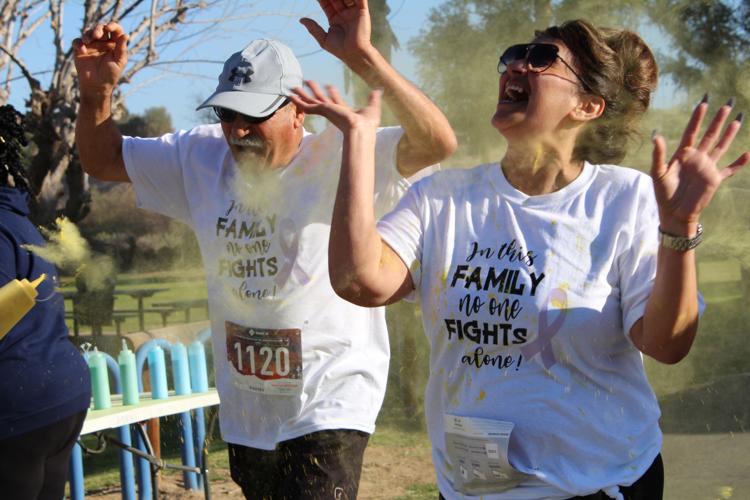 Fifteen-year-old Aaron Solorzano from El Centro, who was the overall winner of the 5k run, said he was running for his cousin Ruby Castro.
"I'm tired but I'm glad because I gave my one 100 percent for this cause," said Solorzano.
Jerry Call and Keja Beeson did the run after finding out about it at Snap Fitness. Both Brawley residents were happy to do something that would contribute to the fight against cancer.
"Everybody knows somebody who has cancer. I've had family members who have died from it, and it's good to contribute to something that will go to a good cause," said Call.
"As you're going, you're like 'Oh I'm tired, but I can run!' and cancer patients can't do this and so we do it for them and that just pushes you on," said Beeson about the mantra going through her head while she ran.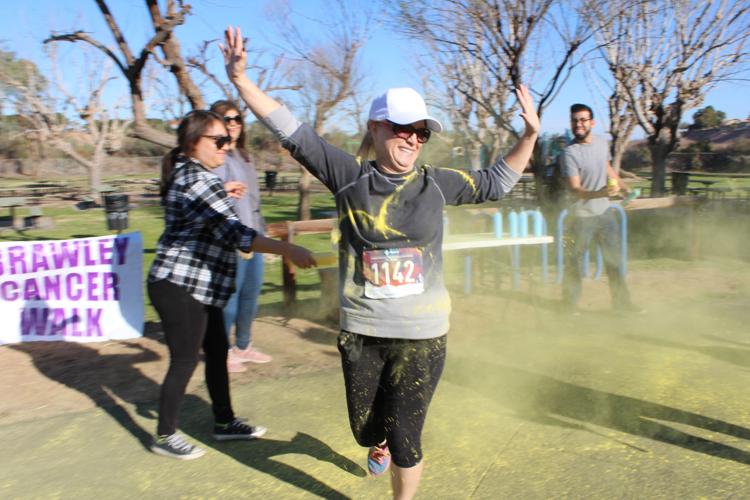 Guadalupe Soto is a two-time cancer survivor who was running with her family, "Team Lupe."  Soto said they were all running for friends and family who have been fighting and have lost to cancer including herself.
"I want to pay it forward to the cancer community because they need the help. I've been there and I know how lost you are when you hear those words 'You have cancer,'" said Soto. "So, this was a challenge for me, and I challenged my whole family."
All proceeds raised at the 5k and at the upcoming walk will go toward Imperial Valley cancer patients.
"You all know somebody, a co-worker, a friend, family," said Ramirez to the assembled participants at the 5k. "We know what you are going through and we support you."
The Brawley Cancer Walk will be May 2 at Cattle Call Park in Brawley. Anyone who would like to participate should contact Joseph Ramirez at 760-550-0452 or Maria Flores at 760-550-3062.