EL CENTRO —El Centro mayor Edgard Garcia appeared at the Imperial County Superior Courthouse in El Centro June 18 for a scheduled arraignment on charges of allegedly violating VC 23152 (a)/(b) driving under the influence of alcohol. 
Due to Civil Procedure Code 170.1 which allows judges to disqualify themselves from cases for reasons which may disallow a fair and unbiased judgment, Garcia was present before four different judges in five separate instances throughout the day.
The initially scheduled judge, Marco Nunez, recused himself from the case at the onset of the morning's proceedings where he passed Garcia's case to Judge Poli Flores.  
On the second call, Judge Flores also removed himself from the case where in turn it was reassigned to Judge Brooks Anderholt.
In Department Nine, Judge Anderholt declared that since he had not yet reviewed the case, he would have Garcia see Judge Eran Bermudez.
On Garcia's fourth call of the day, Judge Bermudez also recused herself from the case leaving the arraignment to be sent back up to Judge Anderholt.
After reviewing the reports, Judge Anderholt called Garcia a second time where Jason Amavisca represented the defense and out of county Deputy Attorney General Adrian Contreras represented the prosecution.
Judge Anderholt also declared that he too would disqualify himself from the case citing PCC 170.1 but informed council of the two remaining options: proceed with the arraignment due to the rule of necessity but schedule the remaining dates to be taken over by another judge (potentially retired judge Donal Donnelly) or contact the judicial council to appoint a judge.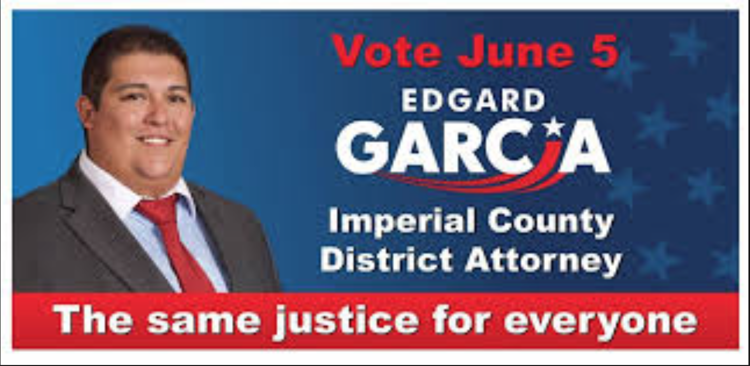 The county prosecutorial office also turned the case over to the State of California to avoid the impression of bias since Garcia ran against the current district attorney, Gilbert Otero, during the last election cycle.
Garcia opted to proceed with the arraignment where he pleaded not guilty.
A pretrial was set for 9 a.m. August 5 at the Imperial County Superior Court in El Centro.