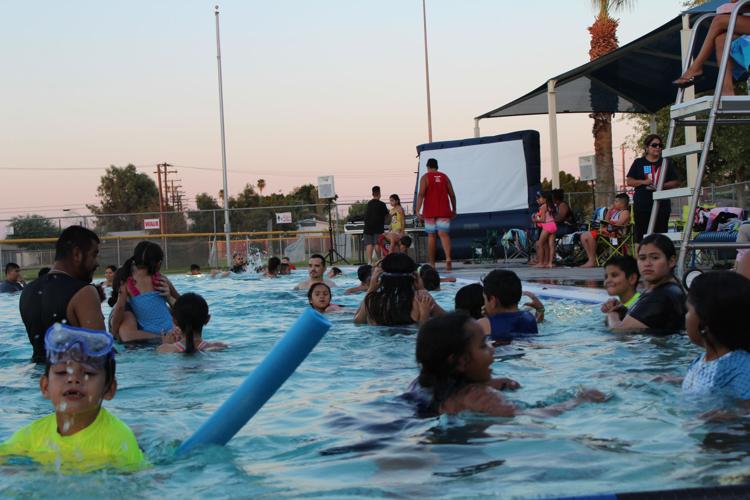 BRAWLEY— It was an evening of swimming fun at the Brawley Parks and Recreation fifth annual Dive-In Movie Night at the Brawley Lion's Center Friday night, July 5.
Linda Self of Brawley's parks and recreation said this is a special event that Brawley tries to put on in honor of the Fourth of July every year. Families were treated to a night of free fun that included swimming, free hotdogs with chips and drinks, shaved ice, and of course, the movie "Hotel Transylvania 3."
"We have a lot of people who come just to enjoy the water, the movie, and it's a fun family event," said Self. "This is a fun event for everyone."
Twelve-year-old Amelia Mata said that she and her family come every year to the movie night. "It's a fun time for us and all the kids," said Mata.
"I like coming to the pool because it's fun for me and my family," said seven-year-old Arianny Torres.
Adriana Meza brought her son after seeing the announcement on Facebook and was happy to bring her family to the pool to beat the summer heat.
"It gets us working parents out and keeps the kids entertained and out of the heat," said Meza.
"I usually come here every summer with family," said Elaine Padilla. "I can finally get to see friends I haven't seen."
This year, roughly 300 attended the movie night. Things got a bit bumpy when Brawley felt the residual shakes of the 7.1 Ridgecrest-centered earthquake Friday night, which caused the ground to rock and pool water to spill over. Most families kept enjoying themselves but others began leaving after the earthquake. One mom said she and her daughters needed to get home just in case there were aftershocks.
The event was sponsored by various groups in the community including Walmart, Donuts Plus, Costco, Mary Miller, and Rusty Garcia and family.