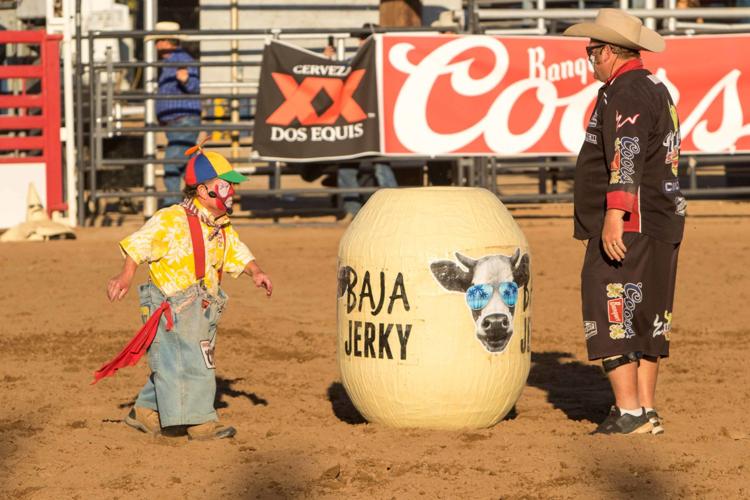 BRAWLEY — Clowning around bulls and wild horses to keep rodeo participants alive and fans cheering was the job of rodeo clowns at the 63rd annual Brawley Cattle Call Rodeo at Cattle Call Arena. 
Saturday morning's parade was followed by two rodeo shows, 2 p.m. and 7 p.m., at the Cattle Call Arena. Sunday's rodeo was at 1 p.m. 
About an hour before show Sunday, professional rodeo clown Charley "Too Tall" West was preparing for the rodeo at his truck parked near the bull and horse pens behind the arena. His traveling companion and show buddy, Louie, a Jack Russell Terrier, sat next to him.
"I'm the world's smallest rodeo clown barrel man," said Charley "Too Tall" West who stands at four-foot-six. "I'm too lazy to work and too scared to steal." 
Although he had not mentioned his current age, Too Tall got involved in the business as a 14-year-old teenager. Four years later, he decided to be a professional rodeo clown and followed the rodeo circuits. Too Tall has performed at Brawley Cattle Call rodeos on and off for the past 35 years. 
This year, Too Tall worked with Justin Rumford whom he refers to as "A big clown from Oklahoma. We cover all the bases." 
Too Tall and Rumford, in coordination with the rodeo announcer Randy Corley, make a team of entertainers that use a series of spontaneous comedy skits to keep the audience cheering for the competitors. Nothing is scripted as the events unfold before each audience. 
"We have a general show flow, but nothing is scripted," said Rumford, who at six-foot tall, is in contrast to the diminutive Too Tall's height of four-foot-six. 
Too Tall said, "I capitalize on the small stuff. Justin is a big guy; he does the big stuff." He has a miniature horse, a minibike, and a small pet dog he calls Louie, in the rodeo comedy. 
According to Too Tall, he included Louie in the fishing skit comedy at the first show yesterday. Louie was a mysterious "dog fish" he had been trying to capture. Using a fishing rod with a spinner and a ball (instead of a fishing hook), Louie was "caught" and Too Tall struggled to pull the playful dog fish until the tip of the fishing rod bent to create a letter C.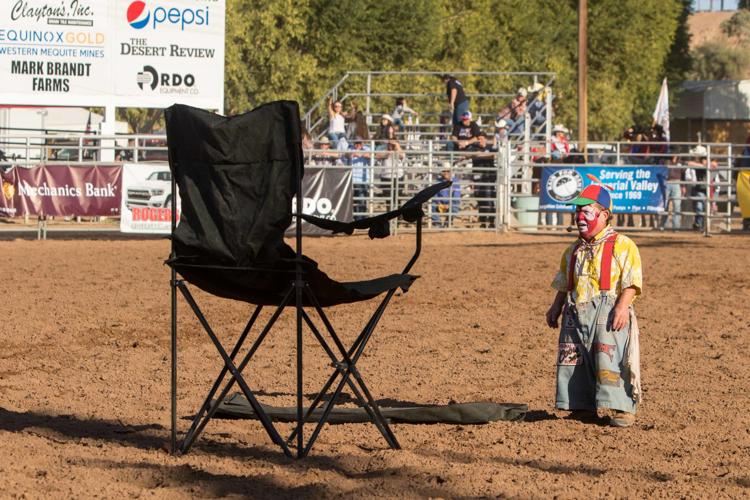 But for Sunday's skit, according to Too tall, he and Rumford used a folding chair. The small clown struggled to drag the protective bag to the arena, all the while engaging in a conversation with Rumford and Corley about what he was doing. Then, Too Tall opened the bag, took out the chair, and set it up in the center of the arena. It was a giant folding chair and the height of the seat was barely above his eyes. Once set up, the chair was about six feet tall. 
Too Tall took several steps backward and ran towards the chair, jumped, and got snagged. Then he managed to wiggle up, panting as he moved. Because he had a VIP bracelet, he could sit anywhere. Rumford responded, "But not in the middle of the arena. What do we do, Randy?" 
Randy responded by sending two muscular cowboys to pick up the oversized folding chair with Too Tall still seated and carried him out of the arena. Too Tall expectedly struggled and complained.  
"We entertain to keep the cowboys safe," said Too Tall. Livestock and large farm animals behave differently in the arena. "You can't predict what they will do. You don't know what will happen."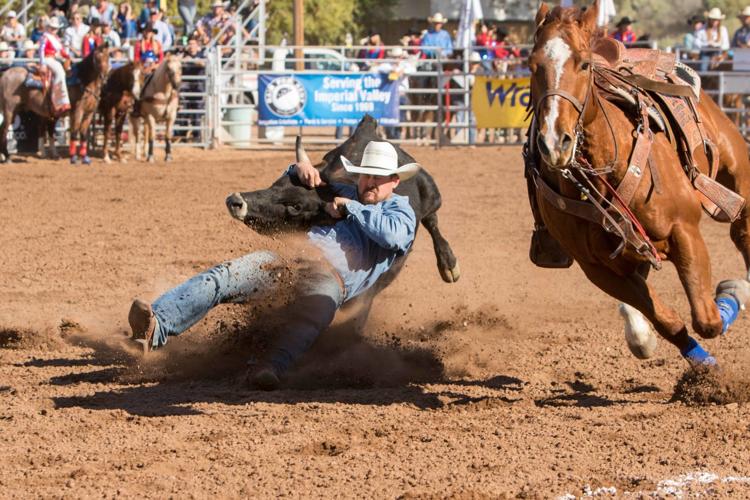 According to Rumford, when there is a part of the show where something is not going fast, or if there is a break in the action, the role of a rodeo clown is to keep the show going and make sure the people have a good time. "We interact with the announcer and the crowd." 
Rumford engaged the audience by asking individuals to raise their hands in answer to questions such as whose first time was it to watch the rodeo, who was married, and who was dating.
One of the fans raised his hand. And after a series of queries, rodeo clown Rumford convinced Eric Brandt to perform a cowboy dance with his wife, Tiffani. Brandt got up, stood on the cement, raised his hands, swayed his body, and made several kicks showing his cowboy boots as he turned around on the seat. Tiffani just smiled and went along. The audience cheered loudly and the audience took photos with their cell phones. 
"I love cattle call. It is a fun time. It is good to be involved," said Brandt.