EL CENTRO — Families with children have another entertainment option open to them this week with the reopening of Chuck E. Cheese in El Centro Monday, November 10.
Chuck E. Cheese adapted to COVID-19 restrictions by opening the doors in a different way. Known for its arcade games, the restaurant has taken its machines and moved them outside.
Currently the restaurant has moved 12 machines outside of the building onto the sidewalk. The games will likely not be switched out for others due to the immobility or lack of power.
Entertainment packages can be bought to play that include point cards for arcade usage and pizza. Chuck E. Cheese is also doing takeout for anyone who wants their pizza to go.
Families have been coming out to play at the outdoor arcade, taking time to have fun in a setting that is not at home.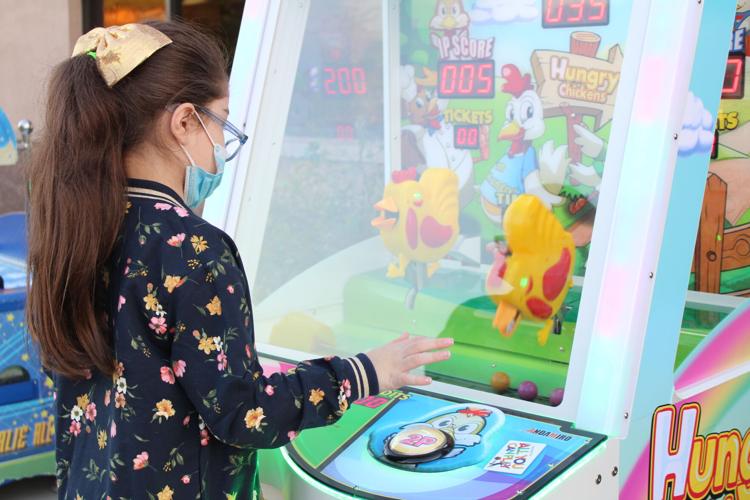 Jeanina Hernandez was out celebrating her daughter's seventh birthday on Friday, and after hearing rumors that the games were going to be outside the building, she stopped by to see if it was true.
Hernandez said every year her daughter asks to go to Chuck E. Cheese for her birthday and, due to COVID, was sure they would not be able to do that this year.
"We didn't think it would happen, but it did. It's not the same, but it happened," said Hernandez. "It's neat that they thought to put the games outside."
Another mother Velica Curiel heard Chuck E. Cheese was open through Facebook and took her children to play on the arcade games. She was happy to see another option open to families with children other than the parks or just staying at home.
"I wanted to bring my kids out to have some fun rather than being stuck inside," said Curiel. "This is the only place for kids that is open right now."
Chuck E. Cheese was unable to comment on the reopening.