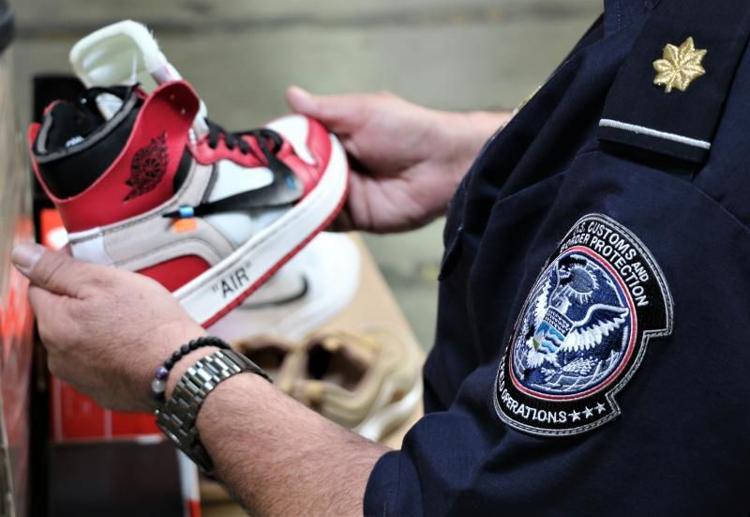 LOS ANGELES — U.S. Customs and Border Protection (CBP) officers assigned to the LA/Long Beach Seaport, in coordination with import specialists assigned to the Apparel, Footwear and Textiles Center of Excellence (AFT Center), recently seized 14,806 pairs of counterfeit Nike shoes. If genuine, the seized shoes would have an estimated manufacturer's suggested retail price (MSRP) of $2,247,680, according to a recent press release.
CBP officers reported in coordination with U.S. Homeland Security Investigations (HSI) special agents assigned at the Trade Enforcement Coordination Center (TECC), discovered the shoes while conducting an enforcement exam on a shipment from China. The shoes, which arrived in two containers, were declared as "napkins" in a clear attempt to disguise the illicit cargo.
AFT Center import specialists and the trademark owner confirmed that the shoes were in violation of Nike's Air Jordans and Air Max '97 protected designs and trademarks, per the release.
"Intellectual property theft is a crime that leads to lost revenue for American industry, a loss of American jobs, and often poses a threat to public health and safety," said Carlos C. Martel in the release, CBP director of field operations in Los Angeles. "CBP is the front line that protects American ingenuity, without any doubt, one of the most valuable assets of our country."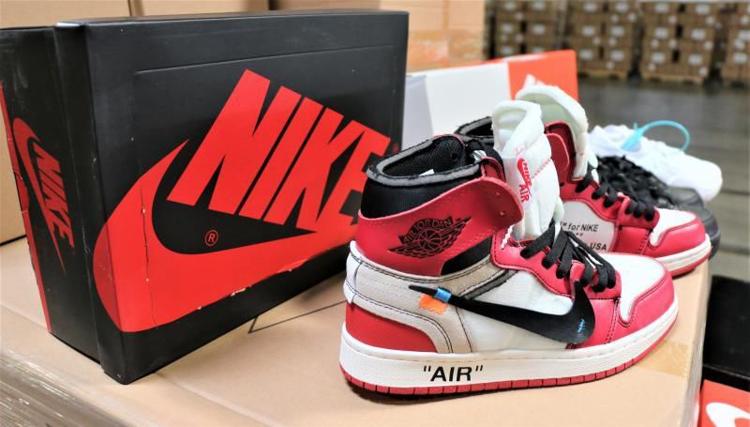 "Transnational criminal organizations continue to profit from American intellectual property by selling their counterfeit and piratical goods not only in the U.S., but around the world," said Special Agent in Charge for Homeland Security Investigations (HSI) Los Angeles Joseph Macias, in the report. "HSI, in conjunction with CBP, target both the domestic and international facets of these criminal conspiracies for disruption and dismantlement."
These special edition Nike and retro designs are highly coveted by collectors and sport shoes enthusiasts. A legitimate pair can potentially sell for $1,500 and up to $2,000 online. Consumers shopping online are eventually likely to encounter fraudulent sellers, the report said.
"Counterfeit brand-name shoes is a multi-million dollar criminal industry. The trafficking of these items is extremely lucrative and becomes more profitable in markets involving successful and popular products," said CBP Port Director of the LA/Long Beach Seaport LaFonda Sutton-Burke, in the report. "CBP commits substantial resources to detect, intercept and seize illicit goods at our nation's largest seaport." 
The trade in these illegitimate goods is associated with smuggling and other criminal activities, and often funds criminal enterprises, the release said.
CBP said in the report they focus on priority trade issues such as intellectual property rights and health and safety, in order to protect American ingenuity and consumers from harmful products.